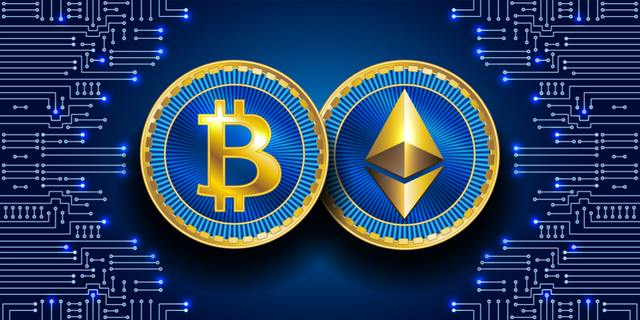 BITCOIN TA
We see massive bearish candles in range with significant indecision which can lead to breakdown to low side range of channel. From here looking for a retest of $3646 - 3650 on lower time frames. On larger time frames a breakdown would confirm a throw over and possible swift move down to the $3400 range. This is a danger zone or no trade zone for many as it lacks good sets ups on risk-to-reward entry/exits. For those in trades it is critical to respond to prices action and understand that the bottom could fall out at any point with this set up. VIOLENT bearish price action is expected by most bar any run up to $5200 by months end. Confirmation of reversal in any direction is not expected anytime soon in part because of low volume. Cryptocurrency is an immature, low liquidity market with current long term ranging sidewise.
CME FUTURES
Recent action and volume took BTC to above the daily 0.382 and the 50 MA then broke down
Touching the 0.500 Fibonacci ($3725)
Critical resistance to hold on downside is 0.618 ($3580)
If it closes below the 21 MA then downside to 0.786 ($3376) then 0.886 ($3254)
Daily stoch headed to downside
Historically this has signaled significant downside. Currently that is the $3400 range
Weekly stock is ticking up but has sideways PA which indicates market is cooling off
Consolidation likely to be resolved to the downside
CLEAR REJECTION AND BEARISH DIVERGENCE WITH RECENT 4-DAY DEATH CROSS
Close below $3750 takes BTC to buy zone $3530 - 3550 the 0.618
Taking out $3400 range would see BTC test $2308 - 2600 range, the 0.886
Gaining more strength to downside
GRAYSCALE BITCOIN TRUST
Confirmed lower high 4.41 which is a bearish signature
Next support 4.167 - 4.22 and possibly lower depending on volume
Also being governed by 50 EMA and 10 SME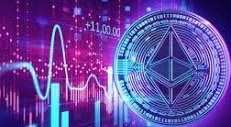 ETHEREUM - ETH
Weekly outlook is in a clear rejection which is bearish
Broke the 200 SME on lower timeframes
2-day stoch signaling down
Retest 0.50 fibonocci ($127)
Next resistance is 0.618 ($117 range)
KEN CHIGBO ETH TA (FXstreet.com)
Ethereum price is down on Monday, nursing chunky losses of some 3% in the latter part of the session.
ETH/USD is gradually giving back the gains which were made in February, as the bears take back control.
ETH/USD daily confluence detector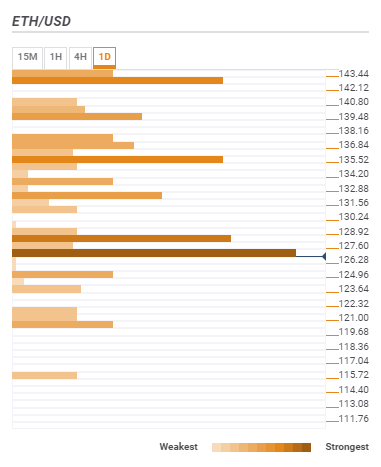 The Ethereum price took a further beating in the session on Monday, nursing losses of some 3%. Pressure resumed across the market, as participants remain very much cautious and have been since the big knock on 24th February.
ETH/USD is gradually giving back its big February gains, having dropped to its lowest level today seen since 17th February. The buyers have ben trying to defend the big $130 price area, however, have failed to do so in the session today – Monday.
Given the current downside pressure, eyes are on the big barriers of potential support, via the daily confluence detector. The levels of note; $126.26, monthly 61.8% Fibonacci, $124.96, daily pivot point support, 50 daily SMA.


ADDITIONAL BITCOIN TA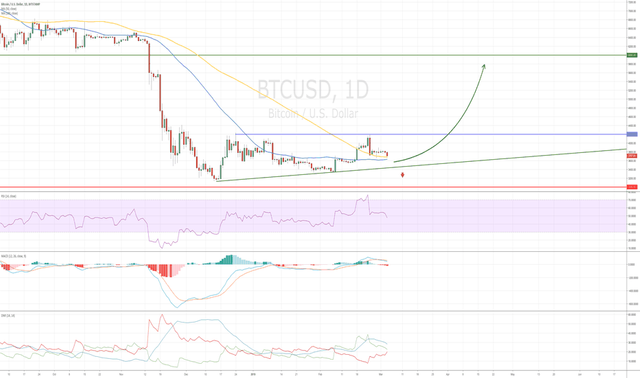 TradingView: DLavrov
The indicators give us the following signals:
RSI falls and supports bears. The line is far from the oversold zone. It also means that we have the opportunity to drop lower
MACD lines and histogram support the downward movement
DMI is bullish , and ADX falls confirming the correction movement in the trend market conditions
After a sideways movement, the price made a step-down and reached the combination of SMA50 and SMA100. These MAs form a new local support zone where the falling market can be stopped and reversed. It's possible to get such reversal from the zone at 3600.00 level, but the best reversal signal should come from the uptrend line. If the price reverses from this support line, the signal will be perfect for buying with targets at 4000.00-4200.00 and 6000.00 resistance and stop below the local swing low or 3000.00 support. The market tried to develop a new uptrend, and now it's the correction period in the trend market.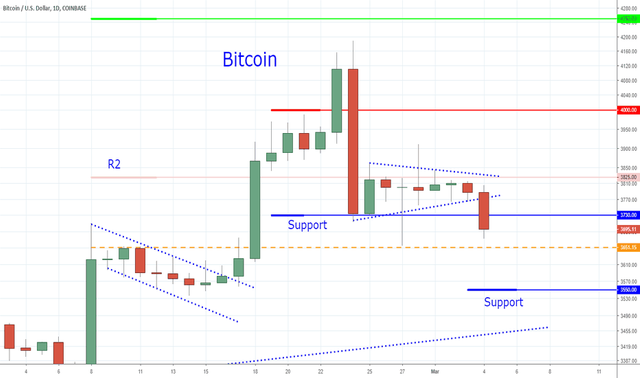 TradingView: Goldbug1
Bitcoin finally makes a move lower, and this was not to be un-expected. It was actually the higher probability move, but this is far from the end of a broader move higher. We remained neutral over the past week after our swing trade hit its second target and we are simply allowing the market to play out and provide a setup for going long.
Trading Article - For the Trolls that do not understand the difference between trading and investing, this is about swing trading. Not day trading, not scalping pennies in your mum's basement. I am Neutral in the short term, Bullish in the Long and Mid term.
Most of trading and investing is done waiting for setups. It is critical to be patient in any market, as impulsive decision making or acting early can often leave you holding the bag or actually losing it. We mentioned over the past week to be patient here, and again in our weekly review, where we were looking for Bitcoin and or Litecoin to print a lower leg before looking for setups. The selloff last week, took a continuation trade off the radar, and we went into wait and seek mode, where we simply wait for the market to play out, and seek setups for a bullish swing trade.
Yet patience has its disadvantages, and often you miss a quick reversal or sudden breakout. However over the long haul there is always another trade setup, and it keeps you from deteriorating your trading capital. All the crap we took last year, our trading capital was up, and it is up yet again this year as well. Many gambled last year and are now desperately trying to get back to break even. I won't forget the follower that could not understand why in a month we didn't take a trade. Well simply, it was not the environment and it probably kept you out of a lot of bad trades. No trade is still a trade!
To be clear there is no trade setup yet. The 3550 to 3650 provides the ideal area to look for a bullish reversal and setup to go long. Entering to early is not warranted as taking out the 3650 level puts the lower 3100-3300 in play. There needs to be a defined structure not a moving average, not a half winged bat, or dark cloud over Bart's head. We are looking for structure, yet Bitcoin's structure is not very clear, but there is a instrument that has a clear structure and that is Litecoin.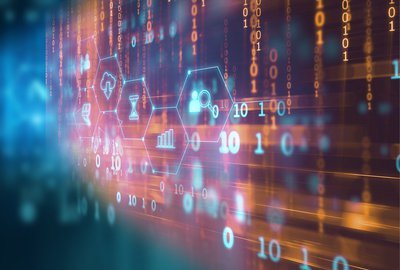 ADDITIONAL EDUCATIONAL CONTENT
WYCKOF ACCUMULATION
TradingView: Schematic by ProudClown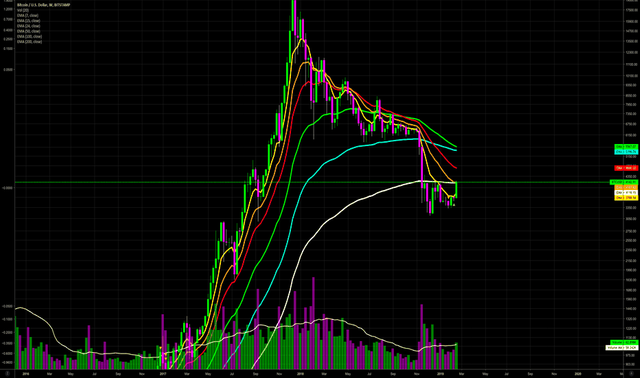 WE'RE NOT BEAR NOR BULL WE ARE IN ACCUMULATION!
ACCUMULATION HERE: https://www.tradingview.com/chart/BTCUSD/8r528kfU-We-re-NOT-Bear-We-re-NOT-Bull-We-re-IN-ACCUMULATION/

OUTLOOK FOR MARCH 2019
HERE: https://www.tradingview.com/chart/SPX500USD/66kx1XEQ-My-Thoughts-Beginning-With-Monthly-Down-to-the-4h-Time-Frame/

RISK MANAGEMENT BY CRACKING CRYPTO
TRADING CRYPTO 101: RISK MANAGEMENT
HERE:
TIGHTENING UP
THE CHART GUYS: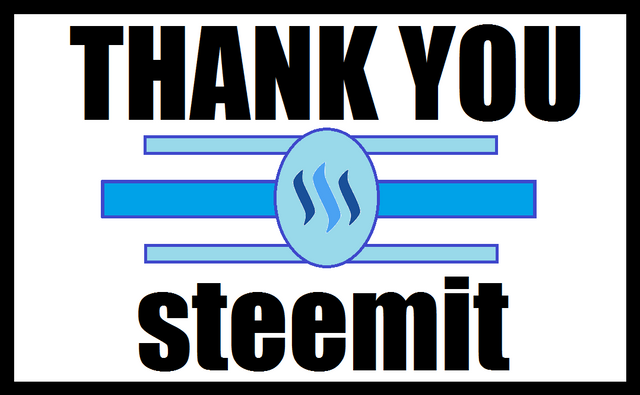 Tip Wallet - Contribute to Darcy's work here:
BTC: 17ensjJ2gaKfNfaZhzU7cEtJmV1Govtqq
LTC: LPKiZK65DFCoVQu7RAAizK1cCj4C9qcAHg
ETH: 0x2a19200dec8b815035960ad703e03a3f7796bbfd
BAT: 0x2a19200dec8b815035960ad703e03a3f7796bbfd
Darcy K. Butcher, MA. BA Print & Photo Journalism
Writer, Print and Photo Journalist, Blockchain Educator
I am interested in cryptocurrency from a social, cultural, financial point of view.

#bitcoin #cryptocurrency #trading #PriceAction #PricePrediction #BitcoinAnalysis #BitcoinTrading #ETH #Ethereum #CryptocurrencyTrading #Bitcoin2019 #BitcoinCrash #BitcoinMoon #BitcoinNews #BitcoinPrice #Finance #Business #CryptocurrencyAnalysis #WYCKOF #Accumulation #TradingView #ProudClown #RiskManagment #CrackingCrypto #Cryptonews #Steem #Steemit #darcykbutcher #Writer #Journalist #Photographer #Educator
For educational purposes only. This is not financial advice. DYOR
If this content is useful to you please consider an upvote, share. Thank you!