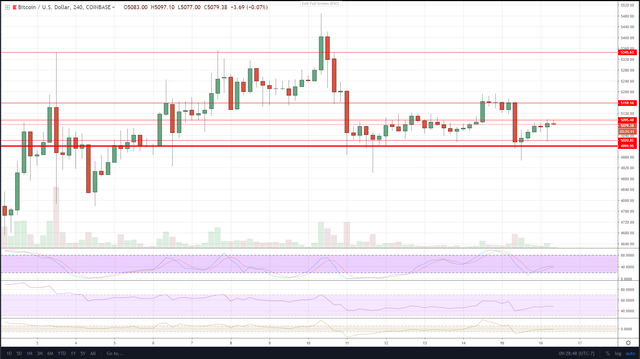 The chart above is the 4-hr, but the same is applying to the daily and weekly as well. $5,000 support is the thick bold red line.
We have seen quick dips below $5,000, but this level provides a lot of bull buying support as prices quickly rally once breaking this psychological level.
In the past, we haven't really seen the $5k level be super relevant as you would think, but there's definitely support this time around -- at least for the time being.
The weekly chart is still forming inside bars (post on weekly later), so the theory is that we are in weekly consolidation after seven great bullish weeks of upside. From there we'd break bullish in theory.
$5k is still the level I'll be watching for now. It's held closes above on the hourly as well for the last five days, so the shorter trend has this a relevant level too.
Have a great Tuesday!