Bitcoin Price Drops to 1 Dollar in Walmart!
Currently, the cryptoworld market keeps dropping as the day passed by. The bloodbath scenario in the marketcap is a normal status nowadays in which we can't hardly see it in the early year of 2017. Crypto was so volatile that in just a day, the market movement was so huge - it will skyrocket today and tomorrow it will drop like a log. But if you know how to play this game then you will surely maximize your gain. Crypto volatility is an advantage to some but a fear factor to many, LOL.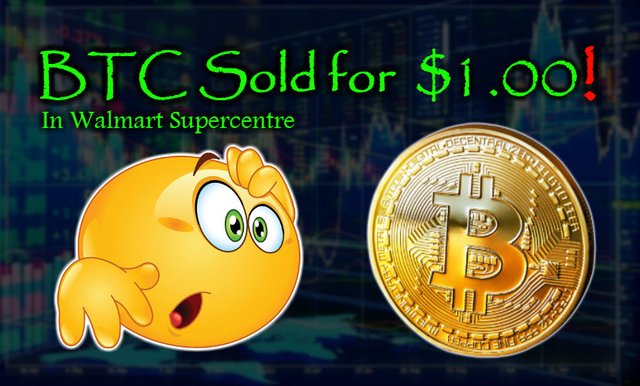 But there's a shocking news that I have read recently - the Walmart was selling Bitcoin for 1 dollar ONLY! When I first read this thread, I was totally shocked and never think twice to buy as much as I can. But unfortunately, as I continue reading the article, it turns out a joke, LOL
Walmart was selling Bitcoin that was made of chocolate that was manufactured by Frankford Candy, which has been in this chocolate business since 1947.
Walmart is now selling bitcoin for $1. But in a new spin on the volatile and ever-changing world of cryptocurrency, this digital currency is made of chocolate.
Frankford bitcoins, are 1.42 ounces of milk chocolate wrapped in gold-colored foil made by Frankford Candy. They're reminiscent of the regular old foil-wrapped milk chocolate coins of yesteryear. But of course, entirely different because they're called bitcoin.
Article Source
Anyhow, it is also one way to advertise bitcoin to the public for them to be acquainted with the Bitcoin logo and soon becomes curious about what really Bitcoin is.
---

---