In a tweet published today, Balaji S. Shrinavasan, the founder and CEO of Earn.com (previously known as 21.co) announced that Earn.com will be joining forces with Coinbase:
---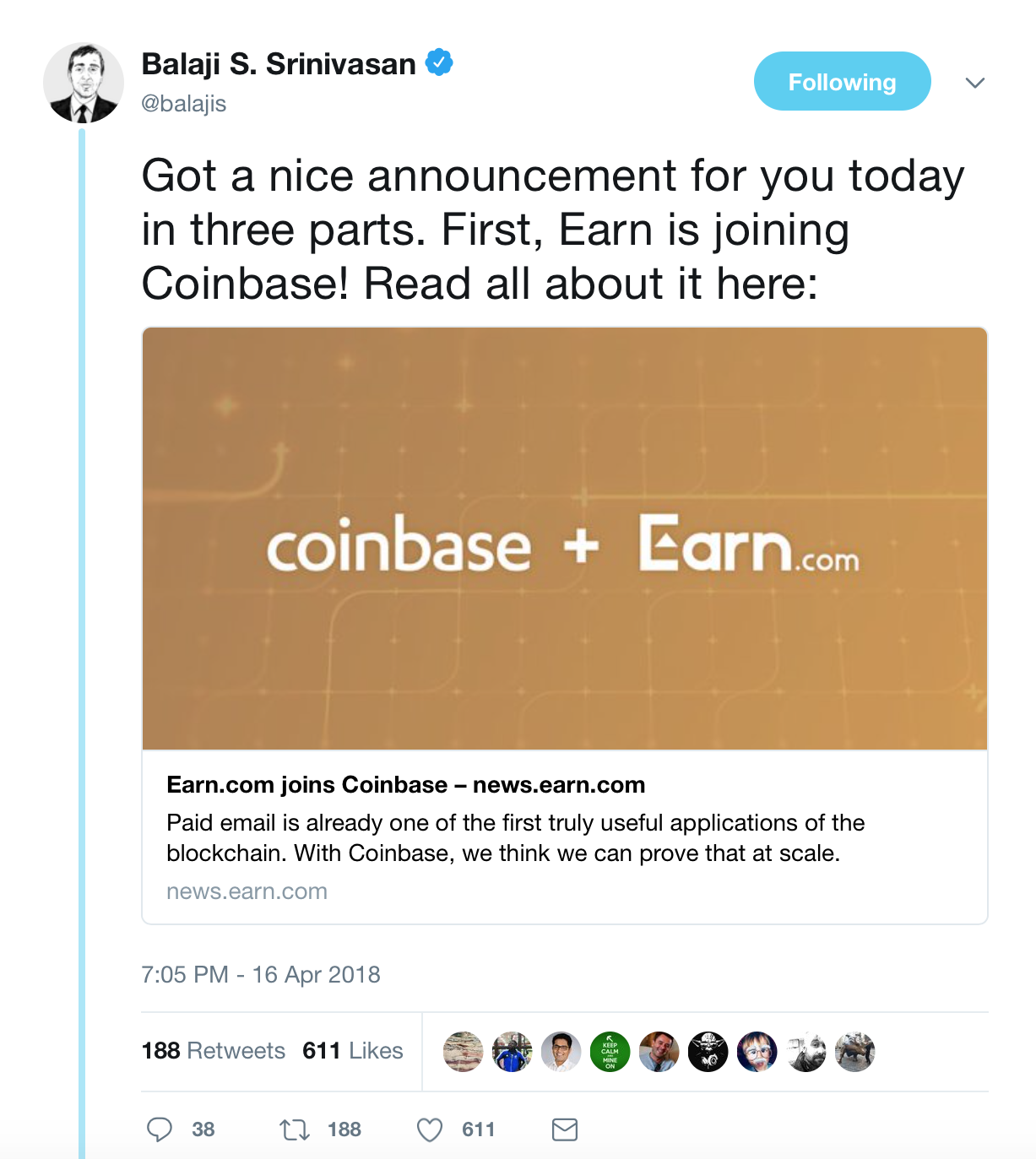 ---
One of the results of this acquisition is that Balaji will now take the role of Chief Technology Officer for Coinbase, according to a blog post confirming the acquisition:
As CTO of Coinbase, Balaji will serve an important role as the technological evangelist for the company. Balaji will evangelize for both crypto and for Coinbase, educating the world and recruiting crypto-first talent to the company.
This is the second major merger announced by Coinbase in less than a week, after the acquisition of Cipher, about which I wrote here.
This is an impressive stretch for Coinbase, 2 major players nailed down in just two days, reminding me of the golden days of dot coms, when, for instance, Netscape decided on an acquisition in a 10 minutes meeting, during lunch break.
Consolidation seems to be the trend in the crypto world these days.
Oh, and probably the most important consequence of these acquisitions is that it proves crypto is a real industry, with major players, making all that FUD spread by mainstream media about the "imminent popping of the bubble" even more ridiculous.
---
I'm a serial entrepreneur, blogger and ultrarunner. You can find me mainly on my blog at Dragos Roua where I write about productivity, business, relationships and running. Here on Steemit you may stay updated by following me @dragosroua.


---
Wanna know when you're getting paid?
I know the feeling. That's why I created steem.supply, an easy to use and accurate tool for calculating your Steemit rewards
It's free to use, but if you think this is a useful addition, I'd appreciate your witness vote.
Thank you!
Psst: new to Steemit? Start Here