I have no idea why this is happening (although I have quite a few theories - all of them speculation, obviously) but I just spotted this and thought it was too nice not to be shared:
---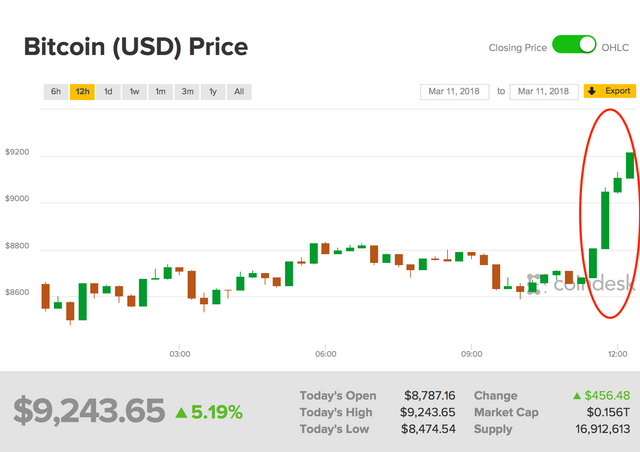 ---
It's the Coindesk Bitcoin price index, a chart which is usually more conservative than Coinmarketcap. During the last 2 hours, Bitcoin rose from $8,650 to $9,200.
I really hope you bought that popcorn I was telling about on Friday.
---
I'm a serial entrepreneur, blogger and ultrarunner. You can find me mainly on my blog at Dragos Roua where I write about productivity, business, relationships and running. Here on Steemit you may stay updated by following me @dragosroua.


---
Wanna know when you're getting paid?
I know the feeling. That's why I created steem.supply, an easy to use and accurate tool for calculating your Steemit rewards
It's free to use, but if you think this is a useful addition, I'd appreciate your witness vote.
Thank you!
Psst: new to Steemit? Start Here