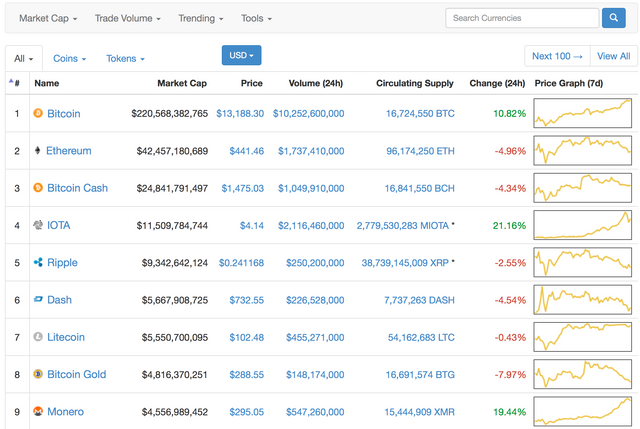 ---
Not much to be said about that, other than the fact that we're living historical times.
Wether or not this is a bubble, wether or not this is the preamble of a military conflict between North Korea and the rest of the world, wether or not this is just massive, massive speculation, we are in the middle of something big.
The only time that can have some sort of resemblance to what we're experiencing now is the dot com boom. I remember that one of the fist engineers who worked at Netscape (which was kind of a big deal back then) told in an interview that things were moving so fast that they were "forced" to buy companies instead of developing features. It was cheaper to buy a software studio that had a small library developed, that to build it themselves. Sometimes the decision to buy a company was made during the lunch break, after just a few dozens of minutes of talking. That's how easy was access to money.
We're in something very similar, only this time we have 2 layers on top of it:
decentralization - everybody can participate in this game, not only VCs
privacy - you can do it without other people knowing that you're doing it
These two new variables are enough to throw this on a parabolic orbit.
---
I'm a serial entrepreneur, blogger and ultrarunner. You can find me mainly on my blog at Dragos Roua where I write about productivity, business, relationships and running. Here on Steemit you may stay updated by following me @dragosroua.


---
You can also vote for me as witness here:
https://steemit.com/~witnesses
---
If you're new to Steemit, you may find these articles relevant (that's also part of my witness activity to support new members of the platform):