(14 October 2018)BITCOIN (IN USD): Weak consolidation between $6,20-$6,400.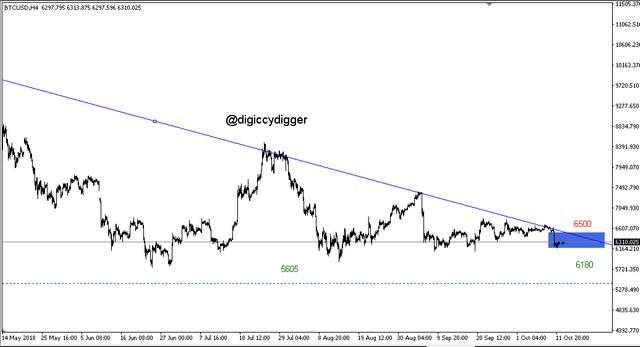 -----[Market News]---------------------------
1 If you're mining bitcoin from home, you're now losing money--YAHOO
-----[Analytics&Forecasts]-------------------
.Bitcoin price has hold above $6,000 this weeks,it had faded from $6,600 and then weak consolidation nearly $6,200 till now,the market sentiment negistive more than the invester expect ,but when the crypto market plunged a few days before. we can see the Bitcoin price still strong than other cryptocurrency . Let's pay patience to wait for the next move.
The technical structure suggests short-term weak consolidation continue.
Hourly support is given at $6'200 .
and resistance remains at $6'400 .
Strong support stands at $5'605 (13/11/2017 low) .
strong resistance remains at $12'130 (08/02/2018).
. In the long-term, the digital currency has had an exponential growth but also
presented important downturns. There is decent likelihood that the currency could stabilize between $5'000 - $12'000 in 2018.
---
-----[市场资讯]---------------------------
1.如果你是在家开采比特币,那么以现在的价格是亏损的 --雅虎
-----[分析和展望]------------------------
.比特币价格在$6,000美元之上弱势整理,过去一个月持续在$6,200-$6,800的区间振荡,目前加密货币市场进入低迷期,但在前面的全部加密货币下挫的行情中,我们可以看到比特币仍旧相对其它币类坚挺,请给点耐心等待行情再次启动。
技术上看,短期同仍是弱势整理。
时线的支撑位在$6,200,压力位在$6'400。
最近的强支撑位$5'605 (13/11/2017 低点),强阻力位在$12'130 (18/01/2018高点).
.长线上看数字货币还将向上增长,但动能开始衰弱,2018年趋向于在$5'000 - $12'000 之间运行
================================================