I'm going to go with the latter.
So I was listening to Peter Schiff the other day. I occasionally tune into his podcasts because he sometimes offers interesting takes and generally has the same sentiment that many crypto enthusiasts do about FIAT currency and the current monetary system. Where he vastly differs, is in his opposition and consistent bleak predictions involving Bitcoin and other cryptocurrencies. Maybe it is because it conflicts with the physical gold and silver he is trying to sell and his fund represents, but I believe he genuinely believes Bitcoin and other crypto projects are frauds and will never amount to more then a novelty item.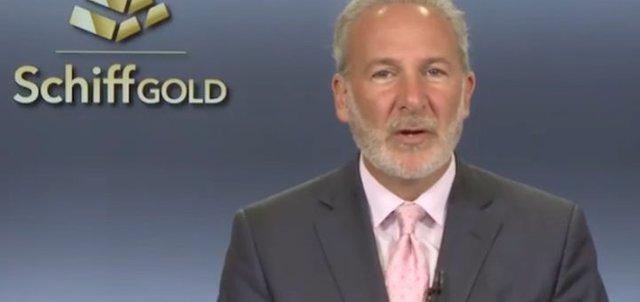 While he can certainty weave a convincing argument at times, I don't think he is looking hard enough. The last two podcasts that I have caught, he talked about Bitcoin for a good 15 minutes in each. Certainly he understands money and I think he has a better grasp of Bitcoin then many give him credit for, but he isn't deep in it. He isn't engaging with the community and exploring all the projects jutting every which way in the industry. He doesn't see the hunger of the coders, libertarians who have jumped into this technology.
You know he said something that wounded me, wounded me because it was true. Certainly not entirely, but it rang for me because it at the very least is a subconscious motivation. He said, "these young crypto guys, they mostly care about getting rich. They wanted to see the system upended and they will rise to be the millionaires and billionaires influencing the world. That's why they keep peddling this and why the hodlers will hold on until Bitcoin is nothing, until it is traded as a near novelty."
Well shit tell me what you really think
I think that motivation is different for every crypto enthusiasts, but it holds some truth. Some may not care as much about the money, but the ability to enact real lasting positive change. Is Schiff so naive to thing Bill Gates and Steve Jobs didn't have that subconscious, or conscious aspiration while they were inventing the computer and trying to change the world? And what about Jeff Bezos? Does Schiff not think he had monetary aspirations?
Let's imagine Bitcoin hit a trillion dollars. Not even Satoshi, who owns 1/17th of all Bitcoins would reach wealth that equaled Bezos. He was worth 150 billion at one point. One man, in charge of one company. The Winklvoss twins were reported to be holding 1 billion worth of Bitcoin at about 15k a pop. If Bitcoin has worth a trillion, they would not hold more then 5-10 billion.
Peter sings a good tune, but he doesn't no it all
Then again, maybe I'm just lost in the crypto delusion.
He