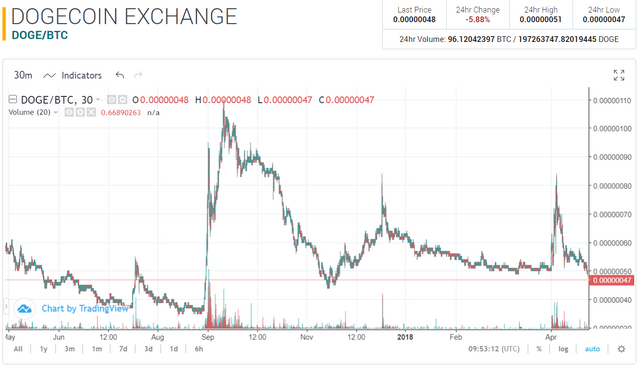 Poloniex
I have some BTC for trading purposes only and yes I am willing to lose it with trades but this time I am seeing some alt coins with a potential to get up again in midterm and one of those is my favorite Dogecoin.
Dogecoin is one of the best leading altcoins out there and sometimes added as a mode of payment. But the issue I wanted to point out is that it is quite cheap right now and a good reason to buy it. So I am buying some of it and hold a long position to sell it when it again finally goes up.
So why I am buying Dogecoin?


[Poloniex]https://poloniex.com/exchange#btc_doge)
Because it is cheap and you do not buy things when they are mooning otherwise you will get rekt especially in cryptocurrencies where there is always a "correction" when prices spikes up and we can see this time and time again.
The other question is will Dogecoin go up again from its current price now? The answer is yes it would and I am as patient as a rock when it does and by the time it does I am collecting my profits from today's trade.
What alts are you buying today?