Bitcoin has run from $11617 all the way down to $10343 and has just run up to $11140 in the last 24 hours. But if you look at the last 4 to 5 days we have moved sideways with no clear direction. The range is tightening, and I am still waiting for a breakout.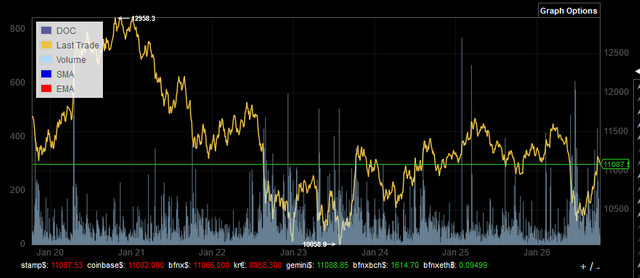 In yesterdays post I gave you the views of Tone Vays and Haejin Lee. They think the market is weak and that we will see a down turn soon.
Yesterday I said that The Chart Guys are expecting a big move this weekend.
In today's video from Haejin Lee he still thinks we will see one more down wave. See his analysis here:
Watch Crypto Daily for the lighter side of Bitcoin and his view of the possible Dump or frustration of the bitcoin market:
Let me know what you think about the current bitcoin price. Are you buy, selling or holding?
Please give us an Upvote if you think this info was helpful. It will help my online business a lot and I hope to return the favour soon.
Thank you. :)
PS. Hot tip 1, Remember don't upvote this post if older than 7 days, you are wasting your voting power!
PPS. Hot tip 2, when buying upvotes, do it in the first 3 to 15 min of posting. You get 90% to 100% of curation rewards.
PPPS. Hot Tip 3, upvote your own post in first 3 min. You will get all of it back.
Thank you for your support.
Regards
Colin Brazendale
Email: cwb197@gmail.com
Facebook: https://www.facebook.com/colinbrazendalesinternet/
Youtube: https://www.youtube.com/user/czb1972/

More information about me:
I am a successful bitcoin cloud miner and affiliate of Genesis Mining and USI Tech. I have been mining for the last 19 months. I highly recommend Genesis Mining and USI Tech to earn bitcoin and make money online. I believe it is more important to earn income than hold assets. That is why I recommend mining crypto and blogging on Steemit.