Steemit Week 7 of 52 crypto 100$ Investment ( Journey to 100K)
Dear Readers and followers of my Journey
Welcome to week 7 of my trading and investment journey where I start investing 100$ weekly into crypto and change them to 100K after 52 weeks. It is my personal experiment so this is not a financial advice.
This week I have added a third and new method to my strategy. I have decided to invest 200 this week instead of 100 $.
Strategy of this week as follow:
I focus the 200$ on xrp only.
I buy xrp in levels of multiple orders. Example Buy order 40XRP at 0.50$, Buy order 40xrp at 0.49$, Buy order 40xrp at 0.48$, Buy order 40xrp at 0.47$, Buy order 40xrp at 0.46$, ...etc
I just take profit for every 0.01 increase in price, so I continuously earn the whole day and week because of the fluctuation in price.
If the price did drop too much, then we hold them future and we go in with another amount later on because I believe in this asset.
So now we have coins that we hold from week one. (Strategy 1)
we have coins we traded such as Polymath trade last week . (Strategy 2)
We trade and profit with small fluctuations such as this weeks plan. (Strategy 3)
My current portfolio below: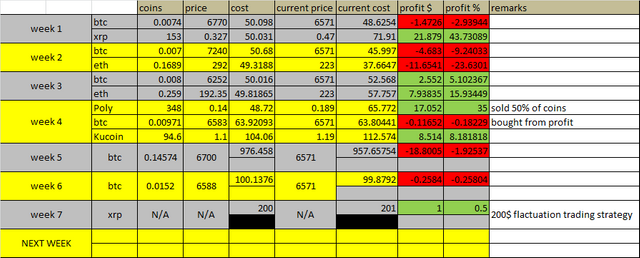 Thank you
Captain2020