Steemit Week 6 of 52 crypto 100$ Investment ( Journey to 100K)
Good morning all,,,
Sorry I have not been posting daily recently because I have changed the strategy to post in the weekend. As you all know life is busy sometimes. Any way I bought bitcoin again this week with our weekly 100$ investment. I believe it will go very high soon.
For any new reader who did not follow me I am doing my own public experiment were I invest 100$ weekly to reach 100,000 $ in 52 weeks. Week five is the only week were I broke the rule and invested more. My portfolio looks like this now: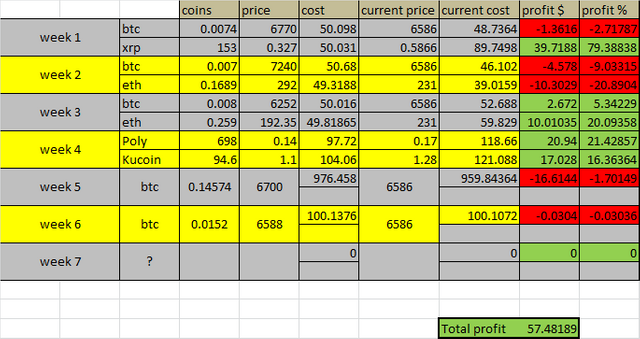 I will sell half of the XRP tokens when they reach 100% profit, so then I have my investment back and free xrp for future.
Please feel free to feedback my strategy and I hope you all learn from my journey.
Best Regards,
Captain2020