Japan continues it's ascendance as the land of the rising coin in the world of crypto, attracting one of the US' biggest exchanges, Coinbase, and another institutional Japanese financial giant, SBI Holdings, announcing the launch of their own exchange called VCTRADE.
Coinbase, which operates in 32 countries, will appoint a former JP Morgan investment banker Nao Kitazawa as CEO of the Japan branch. Coinbase is a US regulated, compliant crypto company that has served over 20 million customers. Coinbase will still need to secure a licence to expand in Japan from the country's Financial Services Authority. Another Japanese financial powerhouse Mitsubishi UFJ Financial Group Inc is already invested in Coinbase to help fund its global expansion and is a potential banking partner if it is established there.
VCTRADE will be the first bank-backed native crypto exchange that will only trade Ripple's XRP in the initial phase, with plans to expand to the other major coins. SBI has ties with San Francisco-based Ripple and is counted by Ripple as one of the users in their global network. The launch of VCTRADE was pushed back from its initial release date due to security concerns after the Coincheck hack.
SBI's stock is traded on the Hong Kong Stock Exchange and it's share price was up near 5 percent from before the announcement. Meanwhile, XRP's price hit a high of close to $.70c but couldn't break that level and has retraced back to around $.66c. The two announcements resound with reports of cryptocurrency uptake among the Japanese public, especially in Bitcoin (BTC).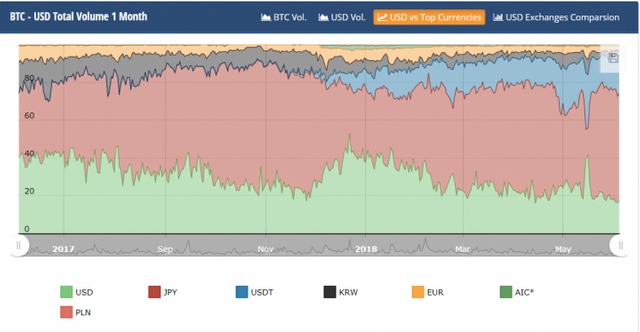 Source -Crypto Compare
Japan: Land of the rising coin

GMO Coin, a subsidiary of Tokyo Stock Exchange-listed GMO Internet Inc, has announced it will start handling altcoins through its cryptocurrency lending service. Users of GMO Coin lend their cryptocurrency to the platform and receive rental fees according to the volume of cryptocurrency they lend. The service was initially launched in April, focusing exclusively on Bitcoin.
In May, Ethereum, Bitcoin Cash, Litecoin, and Ripple were added to the service. GMO Internet Group also focuses on the mining business. According to its May cryptocurrency mining report, both Bitcoin mining volume and hash rate (measure of mining performance) increased in April to 373BTC (+26% vs. March) and 241PH/s (+87% vs. March), respectively.
Besides SBI Group announcement, the GMO Internet Group and Monex Group - operator of a leading online securities company - have also expanded into the cryptocurrency market in Japan. Monex Group announced its plan to acquire the Coincheck cryptocurrency exchange in April, which suffered major damage after the theft of $530m of NEM, and will restructure the company by making Coincheck a wholly-owned subsidiary. In addition, Yahoo Japan acquired shares in cryptocurrency exchange BitArg Exchange Tokyo in April.
At Consensus this year, Nomura Group, another listed Japanese financial service company, announced a joint venture with crypto fund provider CoinShares and wallet solution Ledger to create Komainu, a full custodial service for institutional investors. Nomura Group, also an NYSE-listed company, offers broker services and both institutional and retail financial services across 30 countries in Asia.
Although the growth of Japan's crypto services industry is outpacing other countries, legal frameworks such as tax laws and Initial Coin Offering (ICO) regulations have not yet been fully developed, so attention is focused on the country to see how that develops.
Coin and exchange hacks

Japan has also become synonymous with crypto exchange hacks and currency theft, from the most world's most notorious Mt Gox in 2014 to the more recent Coincheck theft this year.
Monacoin, a Japanese cryptocurrency, was attacked in May causing $90,000 in damages when a "selfish miner" who created their own chain after mining a block without broadcasting it to the network effectively voided previous transactions. User accounts were largely unharmed in the attack, but an overseas cryptocurrency exchange lost a significant amount of Monacoin deposits. While the possibility of a selfish mining attack had long been a concern, such an open attack as this was considered rare.
Security for coins using a proof-of-work (PoW) consensus algorithm are determined by the size of their hash rate and miner dispersibility. Cryptocurrencies with low hash rates or a narrow dispersion of miners are expected to become targets for so-called 51% attacks, where a miner, or miners in concert, control the majority of the network's hashrate. Monacoin uses GPU for mining, alongside many other cryptocurrencies and it may be the case that cryptos using GPU mining are always exposed to these larger threats.
Some time ago, Monero implemented a hard fork to prevent ASIC chip mining that would wipe out the GPU and CPU miners with their superior hashing power. However, this is also an admission to the vulnerabilities in GPU mining.
In April, the Japanese financial regulator (JFSA) asked exchanges to stop trading Monero, along with all other privacy coins that offer users anonymity, for fears they can circumvent the law. Binance, one of the world's largest exchanges by volume, also recently announced they would move headquarters from Japan to Malta after failing to obtain a license from the JFSA.