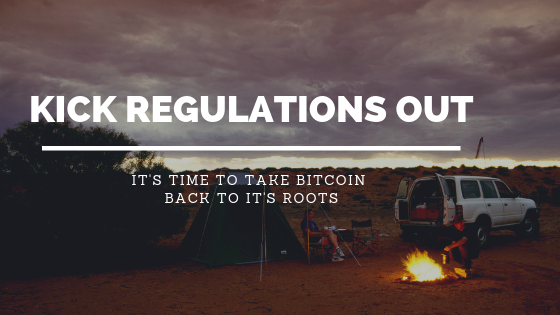 Bitcoin was designed not to baby the financial system we currently have with regulations and all the BS (which we can see from the last year and a half resulted in nothing and just a huge waste of time) but instead to beat it and replace it.
It's time we go back to the cores and realize the Bitcoin is NOT there to appease and help current regulations but instead replace it as a real alternative to greedy banks and corporations. It really is almost our last shot to take back some power from corporations and governments which have become way to powerful and out of control.
I feel like the market has slowly mad this turn back because of the last few ETF rejections that have happened Bitcoin seems to have been unaffected by it holding its price between $3,000 - $4,000 which is still massive gains from where we where when bitcoin was $800 without any ETF etc notice. It was not till the end of 2017 when the though of ETF approval and real world wide adoption sky rocketed the price. However since then governments and the SEC have rejected and trash talked bitcoin. This is why we as a community need to step up again and get back to our root goals and that time needs to be now.
Why now?
With the world slipping into recession and the united states slowing down now is the perfect time to get cryptocurrenty in the front of people as an alternative investment.
---