What Can a Crypto Exchange Do in 5 Days? | Co może zrobić giełda kryptowalut w 5 dni?
In BitBay we think that holidays aren't the time for laying back. That's why we rolled up our sleeves and from 29th of July up to 2nd of August day after day we were introducing news specials and improvements.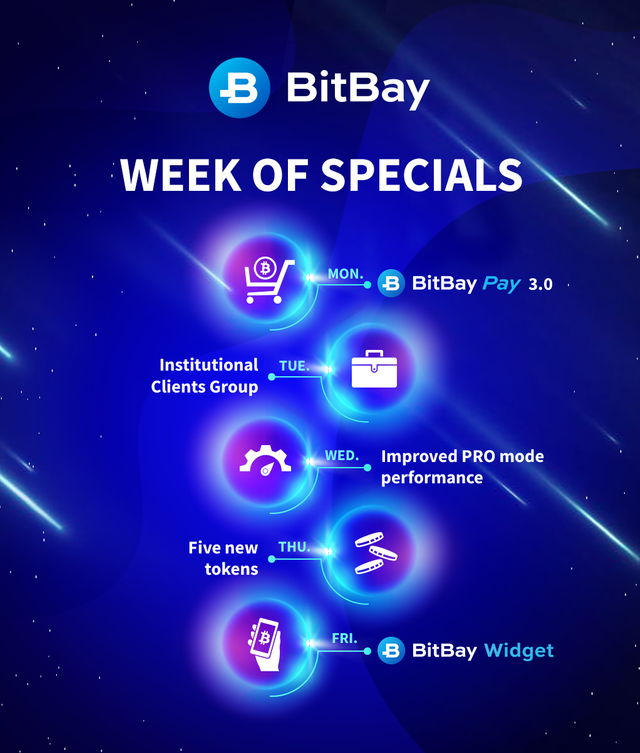 BitBay Pay 3.0. - Monday - 29th of July
Licensed payment operator from BitBay group - BitBay Pay launched 3.0 version of its platform, thereby refreshing its image and expanding the offer. What exactly changed?
• New cryptocurrencies - next to digital gold (BTC) BitBay Pay now accepts payments in BCH, BTG, ETH, LSK, LTC, XRP, TRX, ZEC and DASH,
• Immediate conversion - every cryptocurrency payment can now be converted automatically to one of FIAT currencies - USD, EUR or PLN,
• Improved payment gateway - with 15-minute rate freeze and the possibility of payment refreshing,
• Withdrawals via bank transfer,
• Quick cryptocurrency withdrawals with a possible crypto-crypto or fiat-crypto conversion,
• BitBay Pay POS mobile application - available for iOS and Android,
• New, transparent interface,
• Direct integration with BitBay exchange - free and instant transfers between BitBay and BitBay Pay account,
• One account, multiple users.
Institutional Clients Group - Tuesday, 30th of July
We introduced an offer dedicated to institutional clients - Institutional Clients Group. ICG participants can gain exclusive access to a number of benefits like VFA Line, Over The Counter Trading (OTC), Clearing & Settlement and dedicated support.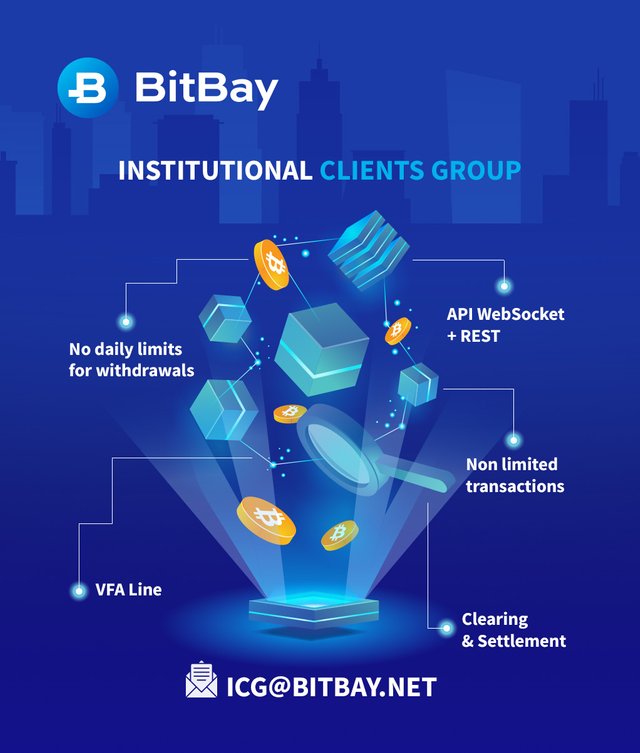 PRO Mode update - Wednesday, 31st of July
PRO Mode - version of our platform, which was created to meet the expectations of advanced traders came out of beta. We have increased the efficiency of BitBay PRO by 100% and thanks to your feedback; we refined the details.
Five new tokens - Thursday, 1st of August
We like to start a month with a blast. On this day on our exchange landed five new tokens from the top of CoinMarketCap ranking, which in total gives us 36 coins in our offer. Which tokens did we add to our exchange?
• MKR - Maker platform utility token which 24-hour volume exceeds 1,5 million US Dollars.
• NPXS - used as means of payment in Pundi-X ecosystem. With market cap well over 100 million dollars, we can find it on the first site of CoinMarketCap.
• SRN - the foundation of Sirin Labs - a company which created the first, fully-functional blockchain smartphone.
• LINK - token created for the Chainlink - the bridge between the blockchain and real world. In contrast to the other listed tokens, LINK works in ERC677 standard.
• ALG - utility token used in app.algory.io platform.
Along with the coins, the new market appeared on BitBay:
• MKR/BTC,
• NPXS/BTC,
• SRN/BTC,
• LINK/BTC,
• ALG/BTC,
• ALG/PLN.
At the moment, BitBay can offer 123 different markets. It is worth mentioning that on crypto-crypto markets maker commission on BitBay amounts to 0%.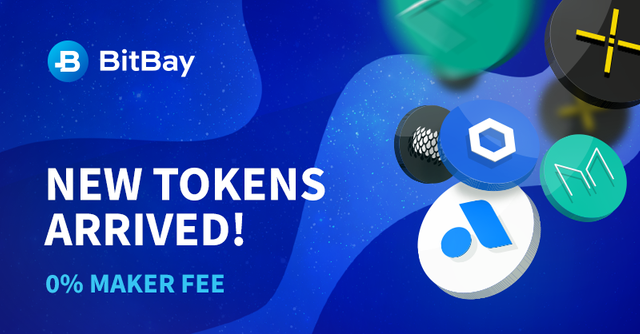 Widget for BitBay mobile app - Friday, 2nd of August
We created a widget for our mobile app dedicated to iOS and Android systems. BitBay widget allows you to keep track of the chosen cryptocurrencies exchange rate on the main screen of your smartphone or tablet without logging into BitBay.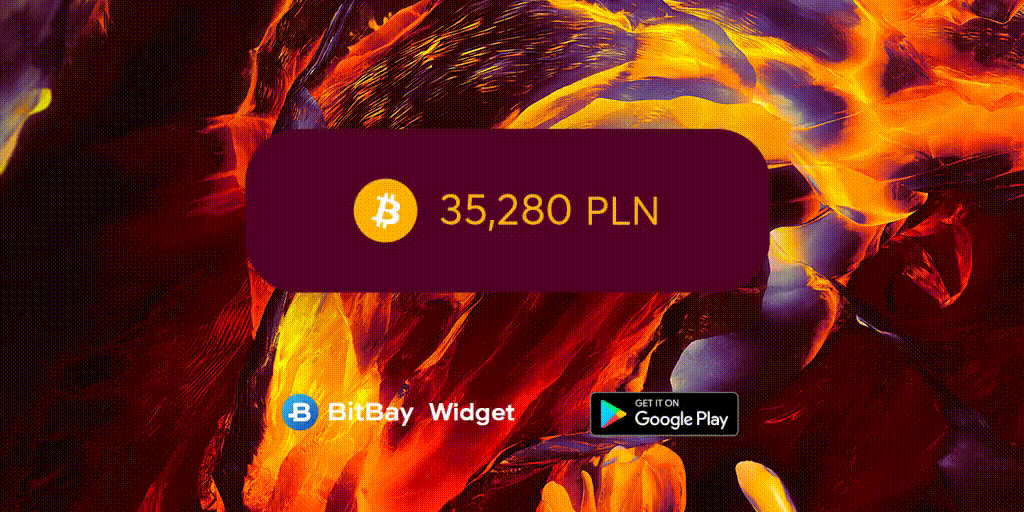 Five days, five specials. Which are your favs? Let us know in comments, what should we change/add in future? We are always open to your feedback. Cheers!
---
Chociaż sezon wakacyjny w pełni, nasz zespół nie leniuchuje. Od 29 lipca do 2 sierpnia, dzień po dniu dodawaliśmy kolejne nowości do naszej platformy. Poniżej prezentujemy podsumowanie całego tygodnia.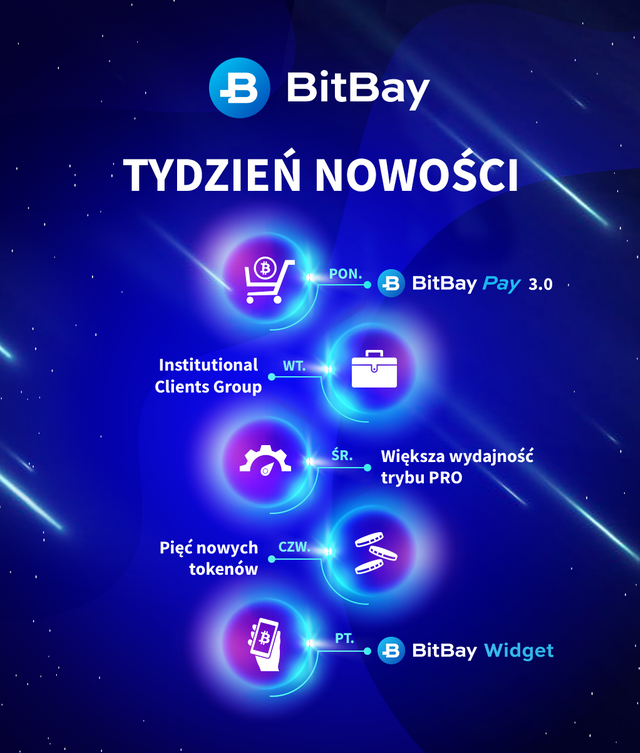 Poniedziałek, 29 lipca – BitBay Pay 3.0.
Tydzień rozpoczęliśmy od aktualizacji BitBay Pay. Nasz licencjonowany operator płatności uruchomił wersję 3.0. Co się zmieniło?
• Nowe kryptowaluty – obok cyfrowego złota (BTC) możesz teraz zapłacić w BitBay Pay używając BCH, BTG, ETH, LSK, LTC, XRP, TRX, ZEC oraz DASH.
• Natychmiastowe przewalutowanie – każda płatność kryptowalutą może zostać automatycznie przewalutowana do jednej z walut fiat – PLN, EUR lub USD.
• Ulepszona bramka płatności – z 15-minutową gwarancją kursu i możliwością jej odświeżenia.
• Wypłaty przelewami bankowymi.
• Szybkie przelewy kryptowalut z możliwą konwersją krypto-krypto lub fiat-krypto.
• Nowa aplikacja mobilna BitBay Pay POS dedykowana na system iOS oraz Android umożliwiającą przyjmowanie płatności stacjonarnie.
• Nowy, przejrzysty interfejs.
• Bezpośrednia integracja z giełdą BitBay – przelewy między kontami w BitBay i BitBay Pay odbywają się natychmiastowo i są pozbawione prowizji.
• Multilogowanie – współpracownicy mogą nadzorować transakcje.
Wtorek, 30 lipca – Institutional Clients Group.
Odsłoniliśmy ofertę skierowaną do klientów instytucjonalnych – Institutional Clients Group. Członkowie ICG otrzymują wyłączny dostęp do szeregu korzyści takich jak: VFA Line, Over The Counter Trading (OTC), Clearing & Settlement oraz dedykowane, specjalistyczne wsparcie.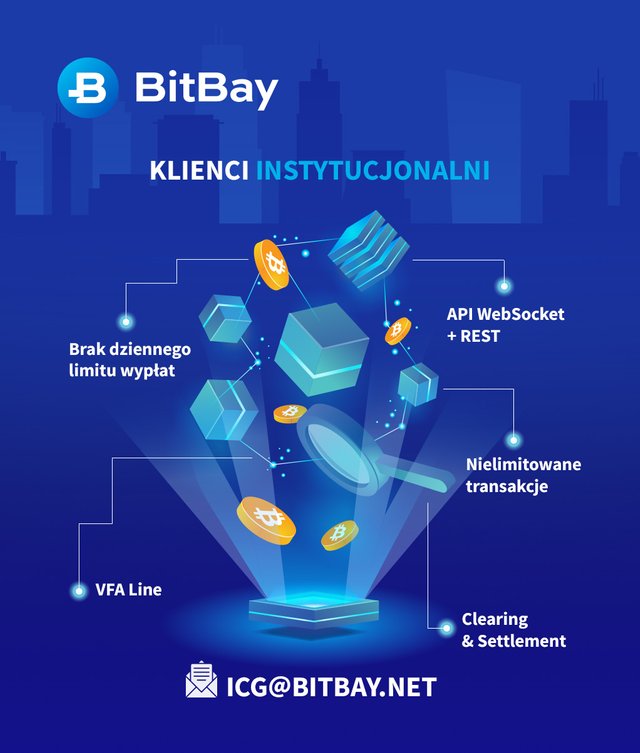 Środa, 31 lipca – aktualizacja trybu PRO.
Tryb PRO – wersja BitBay, którą stworzyliśmy aby spełnić oczekiwania zaawansowanych traderów wyszła z wersji beta. Poprawiliśmy wydajność o 100%, a w oparciu o Wasz feedback dopracowaliśmy szczegóły.
Czwartek, 1 sierpnia – Pięć nowych tokenów
Lubimy rozpoczynać miesiąc z rozmachem. Tego dnia na naszej giełdzie pojawiła się nie lada gratka dla traderów: dodaliśmy aż pięć nowych tokenów z czołówki rankingu CoinMarketCap, co daje w sumie 36 coinów w naszej ofercie. Które tokeny dodaliśmy?
• MKR – token platformy Maker, którego 24-godzinny wolumen przekracza 1,5 miliona USD.
• NPXS – wykorzystywany jako środek płatniczy w ekosystemie Pundi X. Z kapitalizacją rynkową przekraczającą 100 mln dolarów znajdujemy go na pierwszej stronie CoinMarketCap.
• SRN – Fundament ekosystemu Sirin Labs – firmy, która stworzyła pierwszy, w pełni funkcjonalny blockchainowy smartfon.
• LINK – token stworzony na potrzeby działania Chainlink – mostu między blockchainem a prawdziwym światem. W przeciwieństwie do pozostałych wymienionych tokenów działa w standardzie ERC677.
• ALG – utility token używany w ramach platformy app.algory.io.
Razem z coinami pojawiły się u nas nowe rynki:
• MKR/BTC,
• NPXS/BTC,
• SRN/BTC,
• LINK/BTC,
• ALG/BTC,
• ALG/PLN.
W sumie możemy zaoferować naszym klientom aż 123 rynki. Przypominamy, że na rynkach krypto-krypto na BitBay prowizja maker wynosi całe: 0%.
Piątek, 2 sierpnia – Widget mobilny
Stworzyliśmy dedykowany widget do naszej aplikacji mobilnej na systemach Android oraz iOS. Widget pozwala na podgląd kursu wybranych kryptowalut na ekranie głównym smartfona lub tabletu bez konieczności logowania się do giełdy.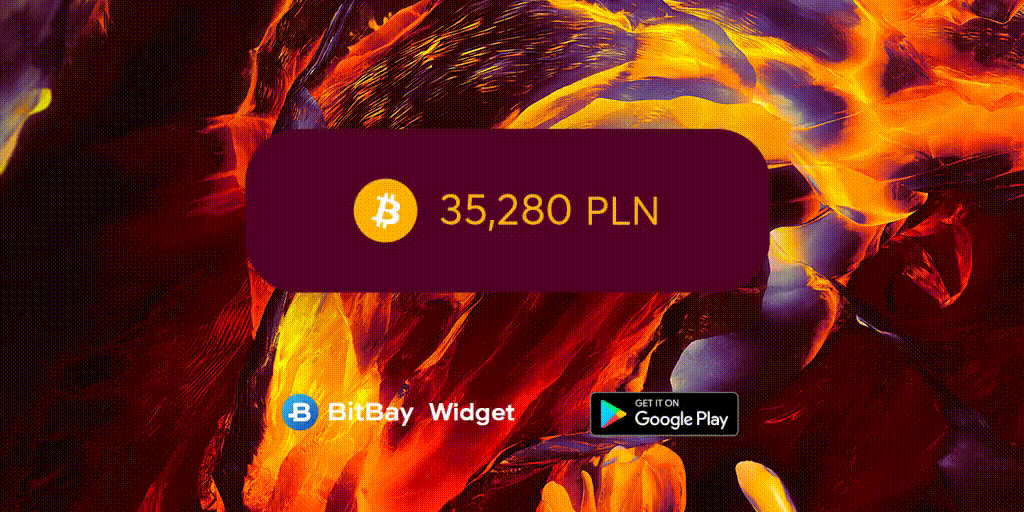 Piszcie w komentarzach co podobało Wam się najbardziej i jakich rzeczy oczekiwalibyście od nas w przyszłości? Pamiętajcie, że nie wszystko da się szybko wdrożyć, ale bardzo się staramy ;)