The Right Time For Bitcoin Trading
Trading crypto currency is wild, sometimes even too wild. Not just Bitcoin trading, Ethereum trading, Ripple, Litecoin, and others are also using volatility to gain profit opportunities. But keep in mind, losses can also arise when you are not ready with sharp fluctuations in a short time.
To avoid the risks, here we will review the most appropriate time for Bitcoin trading, in order to maximize the profitability probability.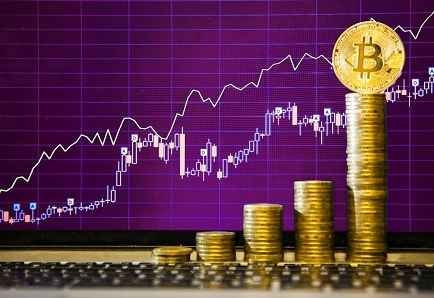 Trading Bitcoin Asian Session, Busy But Not Too Risk
From 01:00 to 07:00 GMT (8:00 am to 14:00 pm), the Asian session is in progress. Given the large number of crypto trade taking place in South Korea, the busy session in crypto trading follows South Korea's active hours. Any activity associated with regulators, crypto market exchanges, or other market-driving events in Seoul, could be a catalyst in Bitcoin price movements.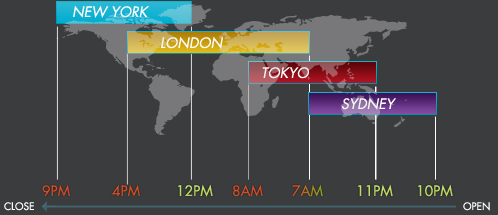 You can start trading an hour after the Asian session is opened to reduce the risk of "jawdropping gap" on the chart, due to the shocking news that could cause the price to fall or rise in seconds. However, high trading volumes during working time in Korea and Asia, generally provide a conducive atmosphere for transactions (buy or sell).
Ahead of the Asian session closes at 7:00 GMT (14:00 GMT), European traders are getting ready. They search for any info that has moved the price in Asian session, to prepare Bitcoin trading position in European session. Although you also have a trading opportunity at these times, but the movement is somewhat less predictable.

Overlap Sessions (Europe And Some Americans)
Get ready around 09:00 - 16:00 GMT (16:00 to 23:00 pm). The forex traders would already know that this is probably the busiest hour, because American news released around 13:30 to 15:00 GMT (20: 30-22: 00 WIB) can be very dangerous. But in the world of crypto currency, the number of market participants will begin to decrease as transaction activity in Asia has subsided. There may be important rolling news and coin prices may fluctuate, but they may still be of a limited extent. An important part of activity in crypto currency in Overlap sessions takes place in the Bay Area, the area around San Francisco Bay, in California.

The American Market is Relatively Calm
This session takes place at 18:00 - 23:00 GMT (01:00 - 06:00 GMT). After the important moments on the West Coast and Asia in the evening passed, all markets will usually calm down. Sometimes, this time is too quiet to predict trading opportunities, but the risk of unpleasant surprises is also reduced. Approaching the opening of the Asian session, there may be catalysts from countries such as Australia and New Zealand. However, the risk of price shock only occurs when the cycle repeats and the Korean market is busy again.

When Trading Bitcoin In Weekends, Watch the Asian Session
In contrast to forex, Bitcoin's marketplace remains open on weekends. During Saturday and Sunday, we may see high volatility. However, the surprising movement was more dependent on the existence of a significant news release. In general, the chances of surprise are more awake in the Asian session.
If you wish to anticipate, please note that market conditions within the time span from 23:00 to 3:00 GMT (6:00 to 10:00 pm) may be more turbulent. Usually, trading volume may be lower, and price shocks may arise because of low liquidity. Therefore, at 15: 00-23: 00 GMT (10: 00-18: 00 WIB) is the most prudent time to trade at the weekend

Do Trading Bitcoin In Trending Market
The market that is trending is a market leading to a certain direction. The market may have a bullish, bearish, or sideways trend. Trending markets can provide many trading opportunities for technical analysts. The technical analyst will map the price pattern of a market to identify the direction of the trend to place the position.
Investors can also follow the direction of market trends that serve as a benchmark for certain security. The trending market is the main focus in technical analysis. Technical analysts believe that market trends occur in predictable recurring patterns. The ability to recognize trends correctly, can have a big impact on Bitcoin trading results.
Trend Market Characteristics
First and foremost, we need to know how to identify trending markets. Many traders complain of the difficulty of understanding this method over the years, whereas the concept is very simple.
Here is an example of market trends: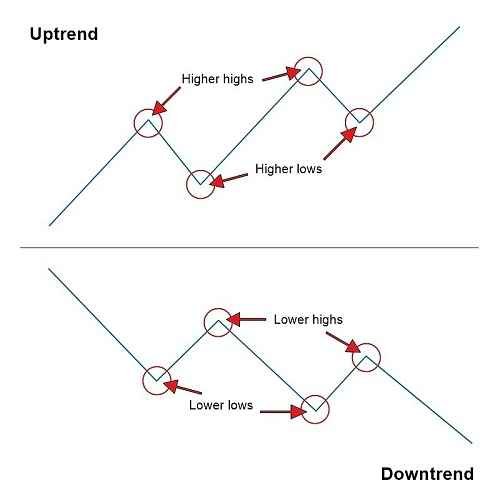 Identify Trend With ADX Indicator
How to determine whether the market is trending is through the use of the Average Directional Index Movement or ADX indicator. Developed by J. Welles Wilder, this indicator uses values ranging from 0-100 to determine if prices move strongly in one direction (trend) or just leveled. Value over 20-25 usually indicates that the price is being trend or already in a strong trend. The higher the number, the stronger the tendency.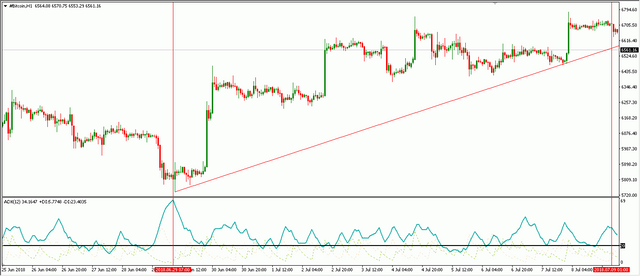 However, ADX is a lagging indicator, so it is not 100% reliable to predict the next price movement. This indicator also only measures the strength of the trend, which means it does not really indicate the direction of price movement.

Moving Average in Trending Market
If you are not a fan of ADX, you can also use Simple Moving Average (SMA) as a filter for Trend Markets. Place the 7th, 20th, and 65th SMAs on your chart.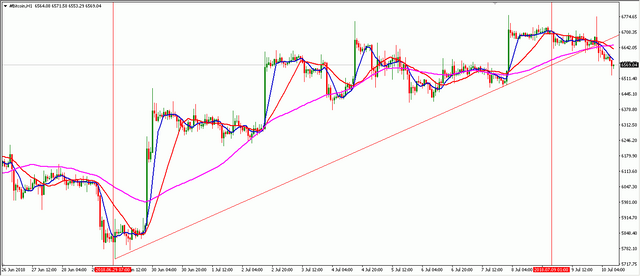 If the SMA period is above SMA 20, and SMA 20 above SMA 65, then the trend is going up, and vice versa
Moving Averages is undoubtedly the most popular indicator for identifying market direction. However, there are some things to watch out for when analyzing trending directions with Moving Average:
Moving Average with a small (fast) period may provide many false signals because it reacts too quickly to price movements. On the other hand, a fast moving Moving Average can get you out early when the trend changes.
Moving Average with large periods may signal too slow. However, it can help you recognize trends and filter out the noise.