INTRODUCTION ABOUT THE POSTS SERIES
The blockchain came up with Bitcoin, in a very autonomous context of search for security solutions based on decentralization. Now, with its popularization, technology is penetrating institutional and business environments, which makes it necessary to formalize this knowledge through recognized educational institutions, such as universities.
The institutionalization of a knowledge that was generated in such an experimental way is a rather curious phenomenon that reinforces the importance of this technology to the extent that it is spontaneously being incorporated into territories beyond entrepreneurial, also academic. Interest is growing, and the market sees the need to generate more knowledge to apply in their services..
It isn't possible to control the dissemination of knowledge. Still, this knowledge isn't being retained within these institutions, so I still believe in its anarchic potential.
A INSTITUIÇÃO
The Getúlio Vargas Foundation was founded in 1944, and is today one of the best educational institutions in Brazil. It began with the objective of qualification for public and private administration in a context in which Brazil was in full economic development. Later, it expanded to social and economic sciences.
It currently has more than 5,000 undergraduate students, 1700 masters and 800 doctorates. It has agreements of academic cooperation with institutions of 46 different countries for activities like elaboration of research and exchange of studants. He is well placed in reliable national and international assessment surveys, such as the Global Go To Think Tanks Ranking and the ENADE (National Student Performance Exam).
INTRODUCTION TO CRYPTOCOINS AND BLOCKCHAIN APPLICATIONS - DISCIPLINE
Last semester the FGV announced (news of Guia do Bitcoin) which would launch a masters program on crypto-coins. Apparently, it has not been released yet, because I didn't find it on the official website of the institution. At the time, the possible coordinator of the course, Ricardo Rochman, said:
"We have economic and financial foundations into crypto finances that are worth being debated, researched, and taught".
However, the subject has already become a discipline of the Masters in Mathematical Modeling. Introduction to Cryptotomes and Applications at Blockchain has a 30-hour workload and aims to address basic cryptography concepts. But it seems that the theme in the institution is just starting (if anyone has more information, please share), since it was only found a master's thesis one. The work is by Vivian Tostes Tom, dated 2017, and has the title Use of Machine Learning to Categorize Bitcoin Expenses in Brazil.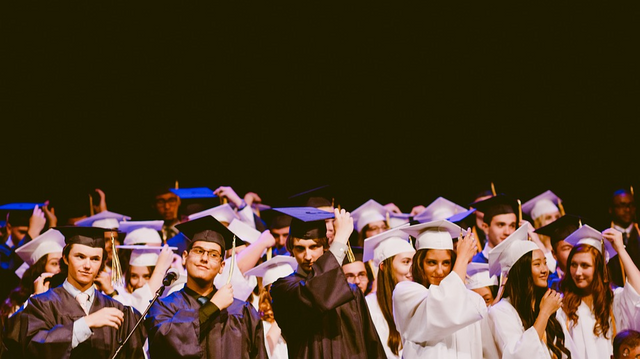 We hope that the representation of this theme only grows in Brazil and in the world in important institutions such as the FGV. As one of the students (Michele Araújo) said at the time was announced the course would be launched:
"there is a conceptual gain in knowing how the practical application works and in knowing how it can be an investment alternative".
Information source:
https://guiadobitcoin.com.br/fundacao-getulio-vargas-tera-o-primeiro-mestrado-do-brasil-sobre-criptomoedas/
https://portal.fgv.br/
Image source:
https://pixabay.com/pt/pessoas-homens-mulheres-gradua%C3%A7%C3%A3o-2562626/