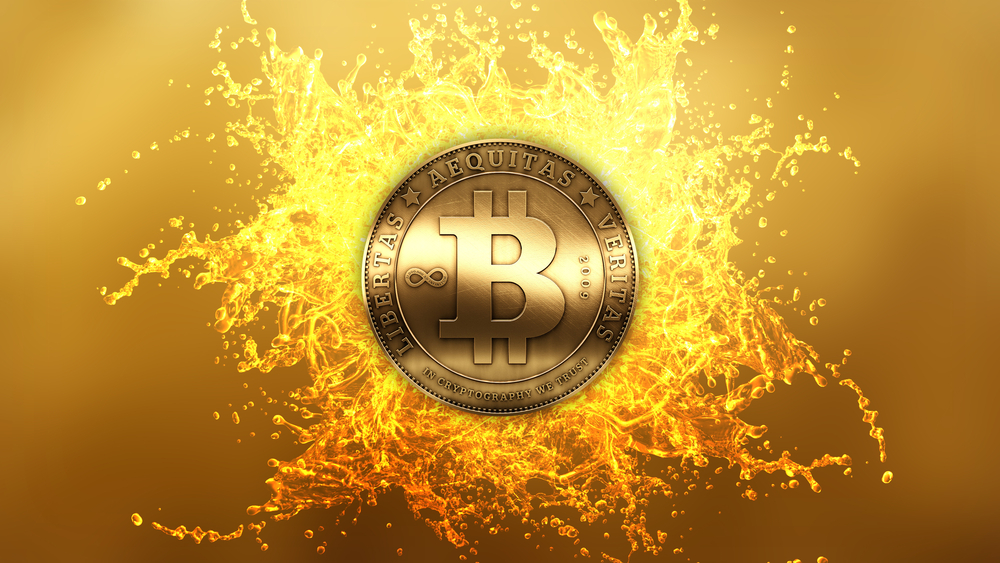 Bitcoin looks like it may be breaking out of a flag formation any second. I've been watching to see what it was going to do the last couple days. Let's see what's going on.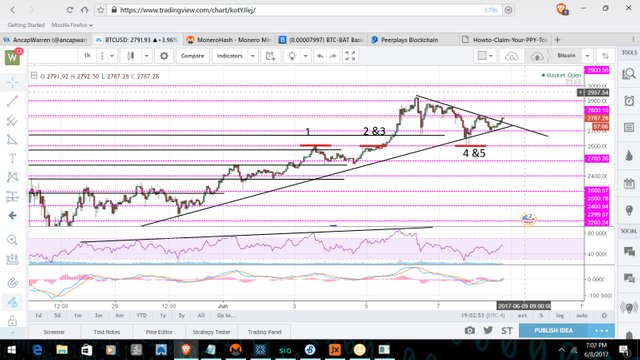 I was expecting a breakout yesterday, but the market had other plans. I said we could see price break towards $3000(which I thought it would), or pull back and retest $2670 again. We did get a retest of $2670, but the price also dropped to $2600 for a little bit. It appears the market wanted to establish some more support at the $2600 level. That most definitely looks like a strong support level now. Yesterday made the 4th and 5th time the price of Bitcoin has tested $2600. Look how it bounced right off of it twice as buyers bought each drop to $2600 all the way back up to just under $2700!
Currently, price is at $2797 and has broken above the resistance line. Price was making lower highs and higher lows until it got squeezed right out of the flag formation between the resistance line and the trend line. The price of Bitcoin is bumping it's head on $2800 again right now, and I'd say we'll see a pop when it breaks above $2800. Once it does, the next resistance level is in the $2860s to $2870s, so I would be looking for a retest of those levels. Then we can aim for a retest of $2900. It would be good if a little more time was spent building support in the $2870s, even though it made a decent bit of support there a couple of days ago.
If the market decides to pull back and test support again, we could see a little more action in the $2670s. I'm not expecting this though. We're still in a bull market and the RSI and MACD are in decent position for a swing to the upside. The MACD is right in the middle and just started to turn up. The RSI is a little above center, but nowhere near overbought. This should be an interesting night for Bitcoin traders. As always, keep your stops tight and trade safely!
Did you find this article useful? Please upvote and Resteem if you wish!
Special thanks to those who have donated and used my mining links and code! It is very much appreciated!
BTC: 13vkcSViikMSmhokiHxgRqWnFz2ErgApyw
LTC: La3rT258PJ8kX2WiWLfX5MrmurSEuRHX1W
Dogecoin: DNHjTrBssQx6v5u8W6hSrej9ocAX5ShGDb
Monero: 47PwackL2h6H7myZVjMAKfGEViXEHsYgHUup28BeKtEEasYg9MxB5RtaUktb5AUK69YbQ28EYCEe1LTnYcz5AkmFRU1rPWk
Dash: XavE5B9FicDbeTeemGoYi1dnx8s1U5vsDR
ZEC: t1ZGnFx54UDW66d2rfSvcHMNYqpm8iraCMf
Ethereum: 0xca036585ccb3732188adc69c62f3c3c0f0177e1d
ETC: 0x2f185ff241b543d6452455d4b73376b7958b5209
PIVX: DSBKpyUY6epRQmpaFesFFV3H93QTPmJmQQ
Burstcoin: BURST-XFYD-YU7K-9MC5-3GYMT
Golem: 0xca036585ccb3732188adc69c62f3c3c0f0177e1d
Augur: 0xca036585ccb3732188adc69c62f3c3c0f0177e1d
Disclaimer: I am not a professional. Trading is risky and you could lose money. Only invest if you're sure what you're doing.
Thinking about cryptocurrency mining? Please consider using one of the following:
3% off at Genesis Mining with code: mAWnvI (let me know in the comments if you use this code so I can return the favor when I upgrade)