bloodbath Continues -- Bear trap caused bitcoin to fall Near About $1112 within two days.... 400$ points todays itself...
Hello steemian
Lets start with our today technical analysis on bitcoin......
This is the Third part of this Series live market statistics guys....
As we can see that market condition is not good and Bear taking charges and smashed Bull very badly.
As we are here for technical analysis we should follow and believe only on technical not to allow our emotion comes into play with our mind.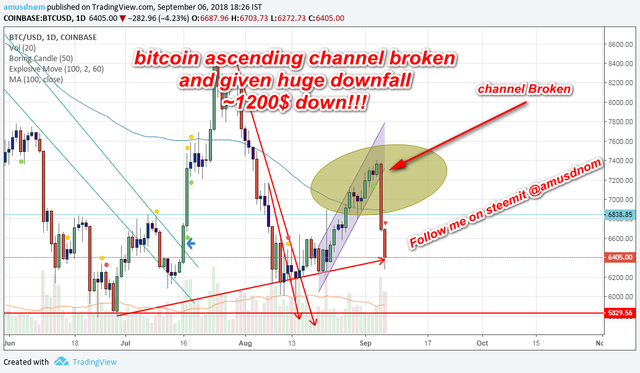 BTC/USD price took to rise 6200$ to 7400$ for at least 15 days but pullback downfall take to landing this starting price only 2 days....and make near about 1200$ prive fall at super speed.
IF we look todays OHLC data we can see that....
Data shows today's currents market level as on 06.09.2018
OPNE =6687.96
HIGH=6703.73
LOW=6272.73
CLOSE=6428.99
Here OPEN & High have minimal Differences 12-13 points roughly- not very much as you can see the OHLC dat.
but high to close has major difference , near about 400$ points which is till showing bear strike at full their full strength. ... which can shows how the bloodbath happening nowadays in crypto market specially Crypto Giant Bitcoin
On Sept 05.09.2018 you can see the high was made High =7384.00 now todays low made as of now... Low =6272$
roughly it crashed 1200$ points at a single shot with in two days..
Here is the trading volumes and market statistics.... Market capital Supply and Current trading price..

If you missed above three post please don't Disappoint ... Here is link already given just move to these bellow link and read those two article...
1.https://steemit.com/bitcoin/@amusdnom/caution-caution-bitcoin-dead-cat-bouncing-will-like-to-fall-again-from-usd7509-6-level
2.https://steemit.com/bitcoin/@amusdnom/why-bitcoin-crashed-near-usd487-earlier-prediction-was-correct-bitocin-acted-as-dead-cat-bouncing
Thanks for Reading ..
Follow me on steemit.... @amusdnom