ICON (ICX) Is Attracting Smart Money With Its Hyper Connectivity Promise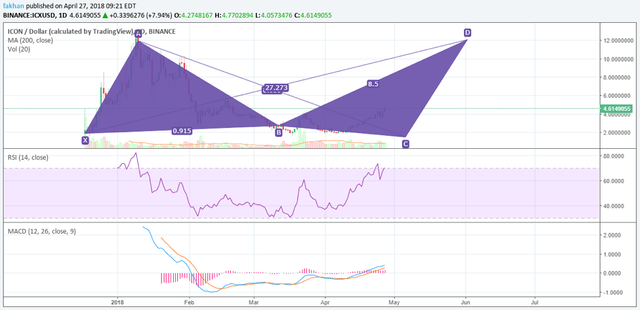 Icon (ICX) has been a true icon of the crypto market for quite some time now. The coin is up today with double digit gains and still looks bullish for further action. Icon (ICX) just recently received a big price boost when Dan Morehead of Pantera Captial announced that ICON (ICX) is the biggest bet of their billion dollars hedge fund. Icon (ICX) which launched its main net on January 24, 2018 is currently the centre of interest among financial institutions looking to invest in blockchain technology. Icon (ICX) was a Korean startup which ended up launching its ICO from Switzerland to avoid legal issues.
The reason smart money is flowing into Icon (ICX) is because of its promise of hyper connectivity. Icon (ICX) aims to connect different blockchains so they can communicate, transfer data and payments among one another. This also makes it a very attractive bet for smart money who can invest big in Icon (ICX) with the confidence that Icon (ICX) will be there to connect any blockchains that exist in the space let's say 10 years from now without having to worry if a particular coin will exist 10 years from now or not.
Icon (ICX) after its main net launch now runs on its own blockchain, the loopchain which also serves as a platform for multiple blockchains to connect with one another as well as vote on issues of common interests concerning Icon (ICX). The coin is currently up 21.27% with a price of $4.68. It should be noted that Icon (ICX) reached its all time high of $12 less than three months after its launch. This goes on to show that investor interest in Icon (ICX) has been one of the highest and the price has traded well against Bitcoin for the most part.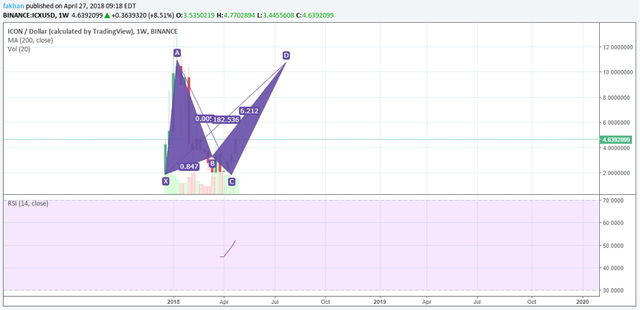 On the ICX/USD chart, the coin has broken past what was deemed as a double top resistance and is now on its way towards its all time high of $12. Another interesting observation regarding ICON (ICX) is that it s one of the few coins which has similar price movements on both ICX/USD and ICX/BTC charts. The price is currently trading in overbought territory but shows no signs of slowing down. On the weekly ICX/USD chart, Icon (ICX) seems to be trading in a bullish cipher with big steady candles.
Icon (ICX) has also announced a weekly incubator program that aims to assist new blockchain startups. Recently, the coin has been on the move in South Korea with widespread adoption. Several large scale corporations in South Korea have already adopted Icon (ICX) with more to join as corporations come up with their own blockchains. While investment in coins like Bitcoin, Ethereum and Ripple are solving near term problems, Icon (ICX) is an investment long in the future when blockchain reaches such adoption that every company from Exxon to Deloitte has its own blockchain and they need a platform to connect with one another.