Why Are Cryptocurrencies so Popular in Argentina?
The Bitcoin and Blockchain scene in Argentina is very active. Buenos Aires probably has one of the highest densities of Bitcoin / Blockchain start-ups and stores that accept Bitcoin in the world. If we want to understand this, we need to take a look at the history of Argentina.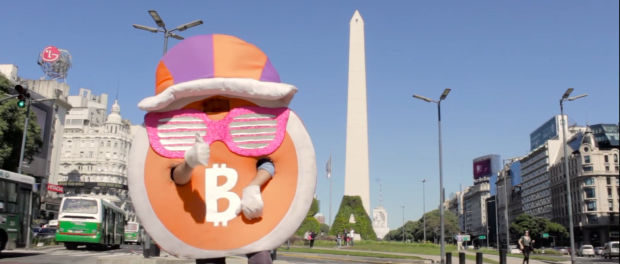 Mr. Bitcoin, Mascot of the Argentine Bitcoin scene
On December 1st, 2001, Argentinians were taken by surprise. They could not access their bank accounts freely and were only allowed to withdraw 250 pesos per week*. The government did this to avoid the exodus of capital from Argentina's struggling economy. The so-called Corralito (Spanish for "small stable") lasted for nearly a year. 
It was even hardened into a Corralón ("big stable") a few months later, when people were forced to exchange the dollars on their bank accounts to goverment bonds denominated in pesos. Only in December 2002 Argentines could finally access their savings - but then they were depreciated to about a quarter of their original value.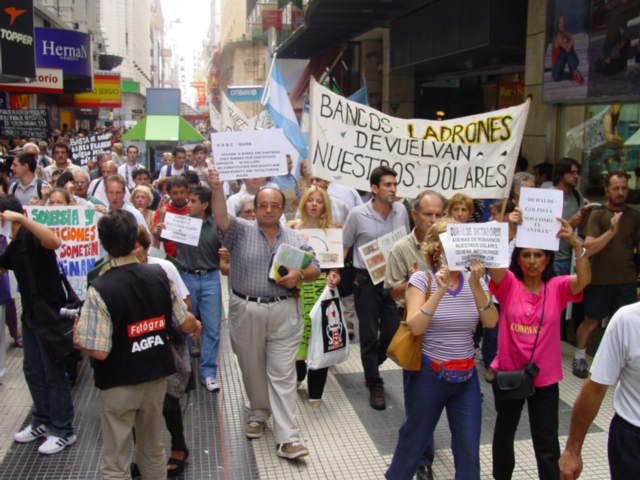 Protests against the Corralito in 2001
Before the Corralito, the peso was pegged by law to the US dollar. This was nice for Argentinians, who felt rich and could go shopping cheaply in neighbouring countries, but it made exports from Argentina very expensive. That harmed the Argentine economy, which to a high degree depends on exporting agricultural goods. To keep the dollar parity of the Argentine peso, the government had to borrow money from international banks, which they still have not paid back today.
The reason for pegging the peso to the US dollar was the hyperinflation of 1989 / 1990, which at its peak reached 200% a month. This was not the first inflation in the history of Argentina, which went through several economic crises and currency reforms since its "golden age" in the late 19th and early 20th century. In those days, Argentina was one of the wealthiest countries in the world. In Spanish there even existed a saying "Rico como un Argentino" ("Rich like an Argentinian"), which no one would use today after decades of socialist politics and economic decline.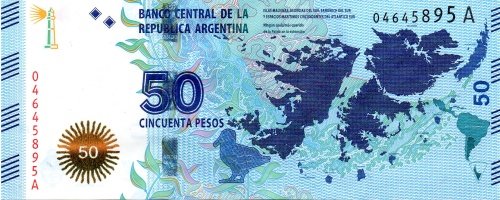 A 50 pesos note sporting 'Las Malvinas Argentinas' (a.k.a. Falkland Islands)
Due to these experiences, Argentinians know only too well that you should better not trust banks and governments. Buying US dollars on the black market and hiding them in a safe place - definitely not on a bank account! - has become the normal way of saving.
So it is no surprise that money which does not depend on banks and governments is much more attractive for Argentinans than e.g. for Germans, who in their majority still believe that Angela Merkel will "save the Euro". 
We Europeans should better learn from people in countries like Argentina which have been through crises that will inevitably happen in Europe in the near future. So if you have not invested in gold, silver, bitcoin and Steem dollars yet, better do it now - before the whole Euro zone will be caught in a Corralito.
Today, there is hardly a city in the world with a more vivid Bitcoin and Blockchain scene than Buenos Aires. In downtown Buenos Aires there is a three story building called Espacio Bitcoin, which host about a dozen Bitcoin and Blockchain start-ups, as well as meetups, workshops and parties. In the streets around it (and not only there) you find many places where you can pay with Bitcoin.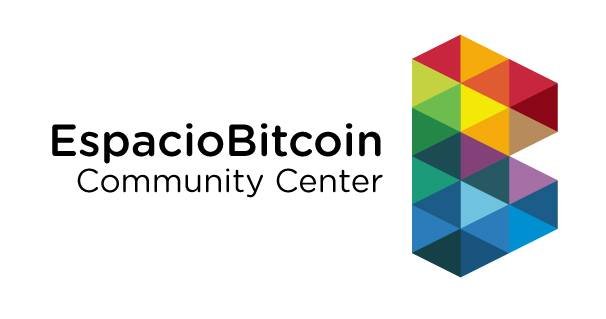 The logo of Espacio Bitcoin
Even the new president Macri tries to position himself as Bitcoin friendly. After the economic forum in Davos, he proudly posted a picture of him and entrepreneur Richard Branson on his Facebook page, claiming that they had a good talk about new technologies such as space travel - and Bitcoin.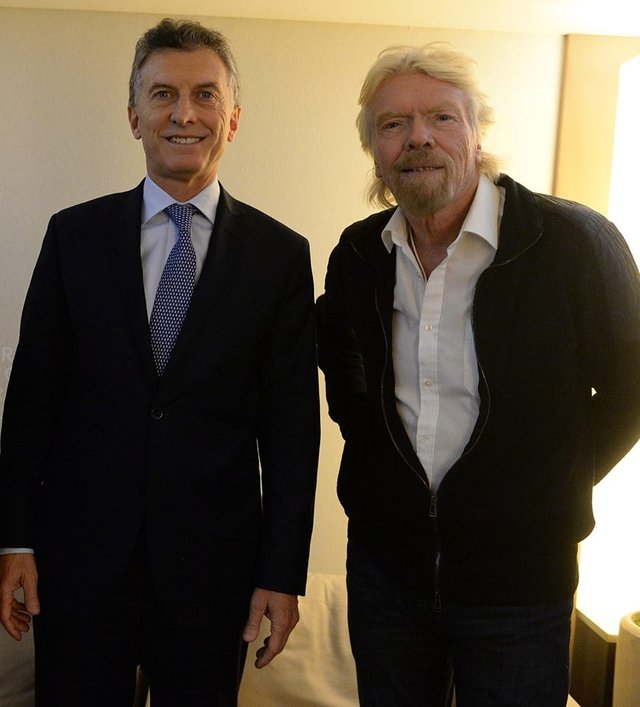 Mauricio Macri and Richard Branson
So I would not be suprised to meet El Presidente at the Latin American Bitcoin Conference, which will take place in Buenos Aires in November (read more about it in this Steemit post).
The trailer for LaBitConf 2016, made by Bitfilm.com 
* In 2001, 250 pesos had a value of 250 US dollars. Today: about 16 dollars.