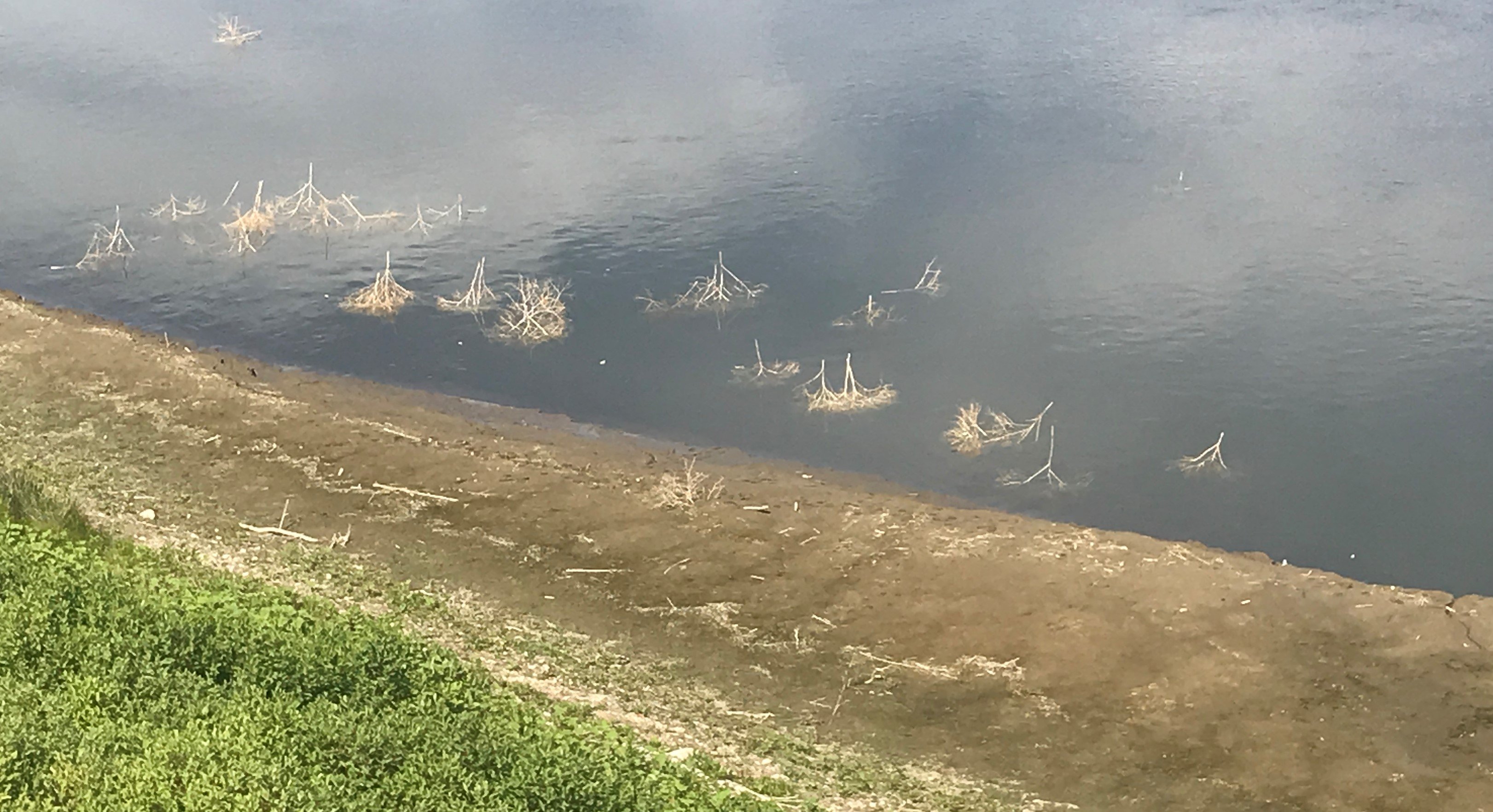 Floating Tumbleweed in Lind Coulee near Moses Lake, WA.
I just got home after a 4-day birding trip to central Washington in search of migrant shorebirds and vagrant passerines. This is the time of year when many shorebirds that generally migrate down the middle of the continent stray west to the our area, and we hoped to find some of these around the Moses Lake region. It is also the time when some passerines that are considered eastern U.S. species stray west and are found in Washington. 12 birders from our ABC Birding club http://abcbirding.com/ , led by Ken Brown, had a great trip, visiting 21 places with enough interesting findings to post eBird lists, along with a few other minor stops. In this post I plan to briefly go over our route with annotations of interesting species seen and a few photos.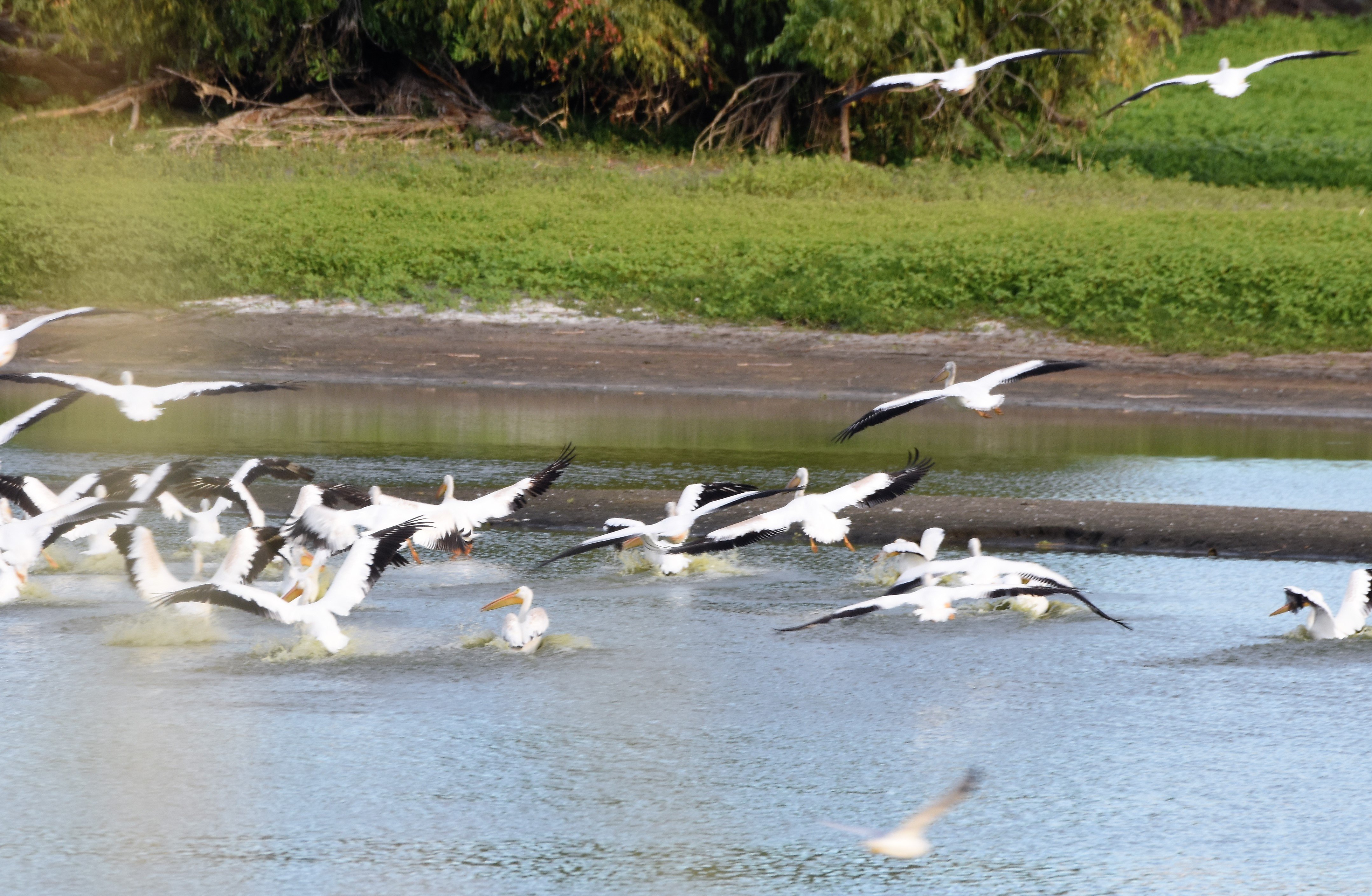 A flock of about 90 American White Pelicans Pelecanus erythrorhynchos were roosting near the road at the rookery in North Potholes Reserve seen on the last day of the trip.
We started by going to Getty Cove, a cove off the Columbia River near Vantage off Hunzinger Road. It is a well know migrant trap, and there we saw lots of Yellow-rumped Warblers, a few other common WA warblers, and a Great-horned Owl. Next stop was at Wanapum State Park, on the Columbia River where we spent a couple of hours looking for vagrants, but saw more of our common migrants and residents. We did see 32 species there though including a Townsend's Warbler.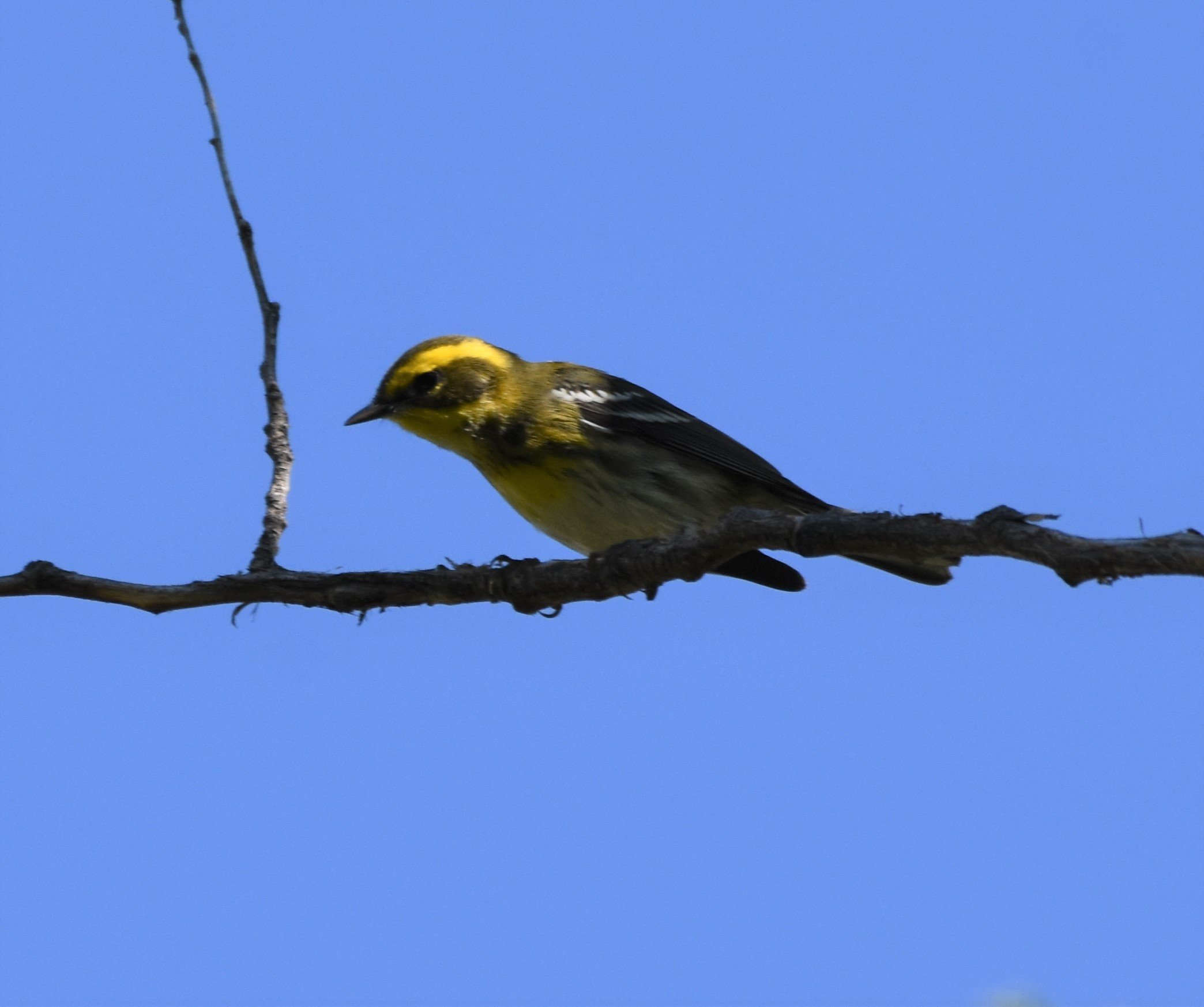 Townsend's Warbler Setophaga townsendi
From here we headed east to the Scooteney Reservoir where water levels were high precluding shorebirding, and we settled for expected ducks, gulls and a few migrants. We stayed our first night in Connell where the hotel was pretty good, and we were able to eat at a restaurant right next door for both dinner and breakfast. Then off to Bassett Park in Washtucna. This is a well known migrant trap, a patch of trees in an otherwise arid scrub-sage habitat. We spent about 75 minutes looking for passerines, with our best species Black-throated Gray Warbler, a species usually found near home in western WA, but uncommon in eastern WA.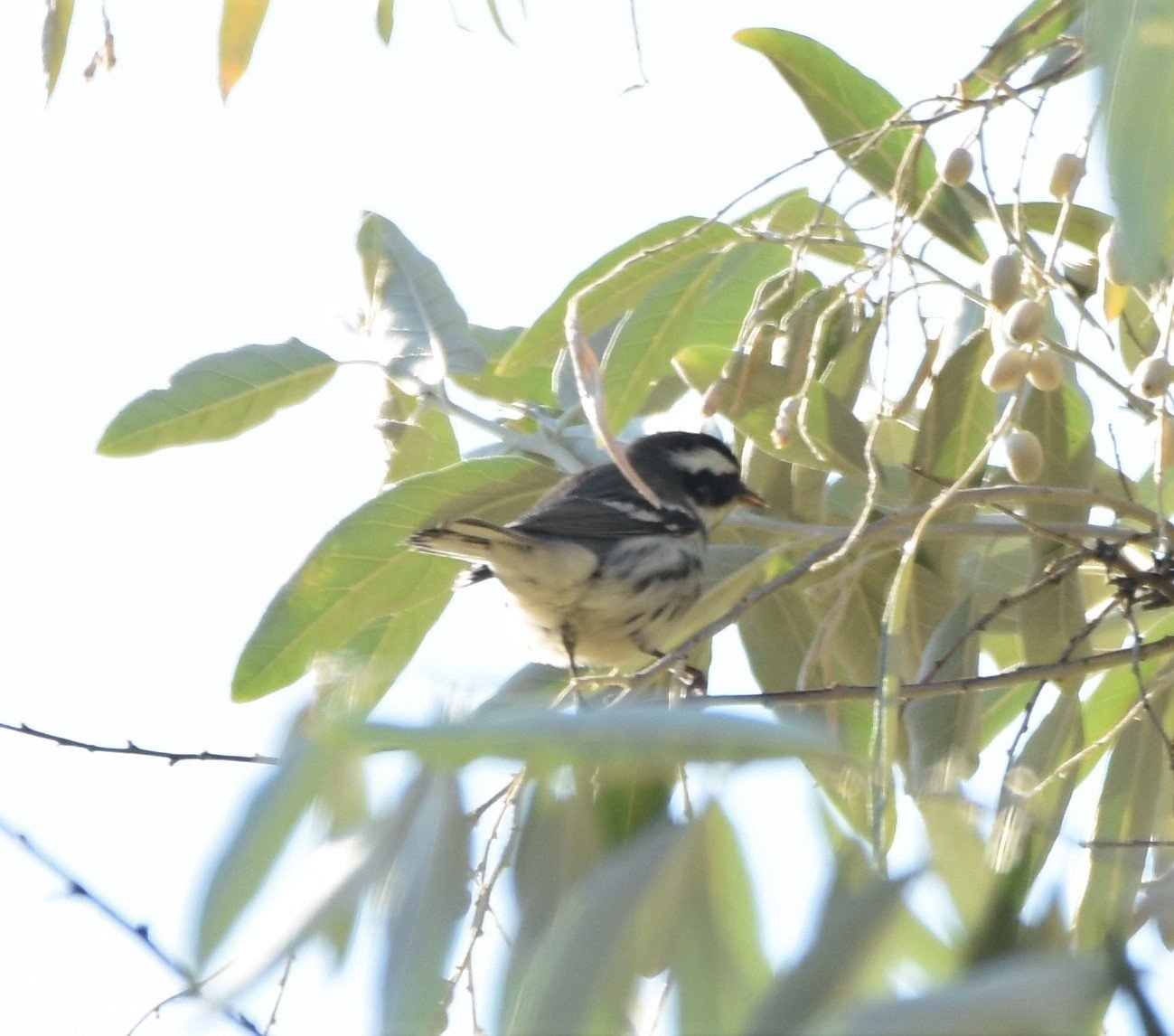 Black-throated Gray Warbler Setophaga nigrescens (female or first year male)
After about an hour another top birder at the park, Matt Bartel, told us of a tweeters post that Michael Hobbs had just found a Chestnut-sided Warbler at Lyon's Ferry State Park, a place we were considering birding at the end of the day. We briefly huddled, and decided to dash there and try for the CSWA. We got there, and both Matt and Michael were on the bird near the old ferry. Almost immediately Ken found the bird, and over the next hour or so all of our group of 12 got great looks, and passable photos of the bird. CSWA is an eastern U.S. warbler, that has only been seen about 3 times previously in WA. This was the biggest thrill of the trip for all of us. While there we also got looks at a Lewis's Woodpecker, a species not usually seen at this location.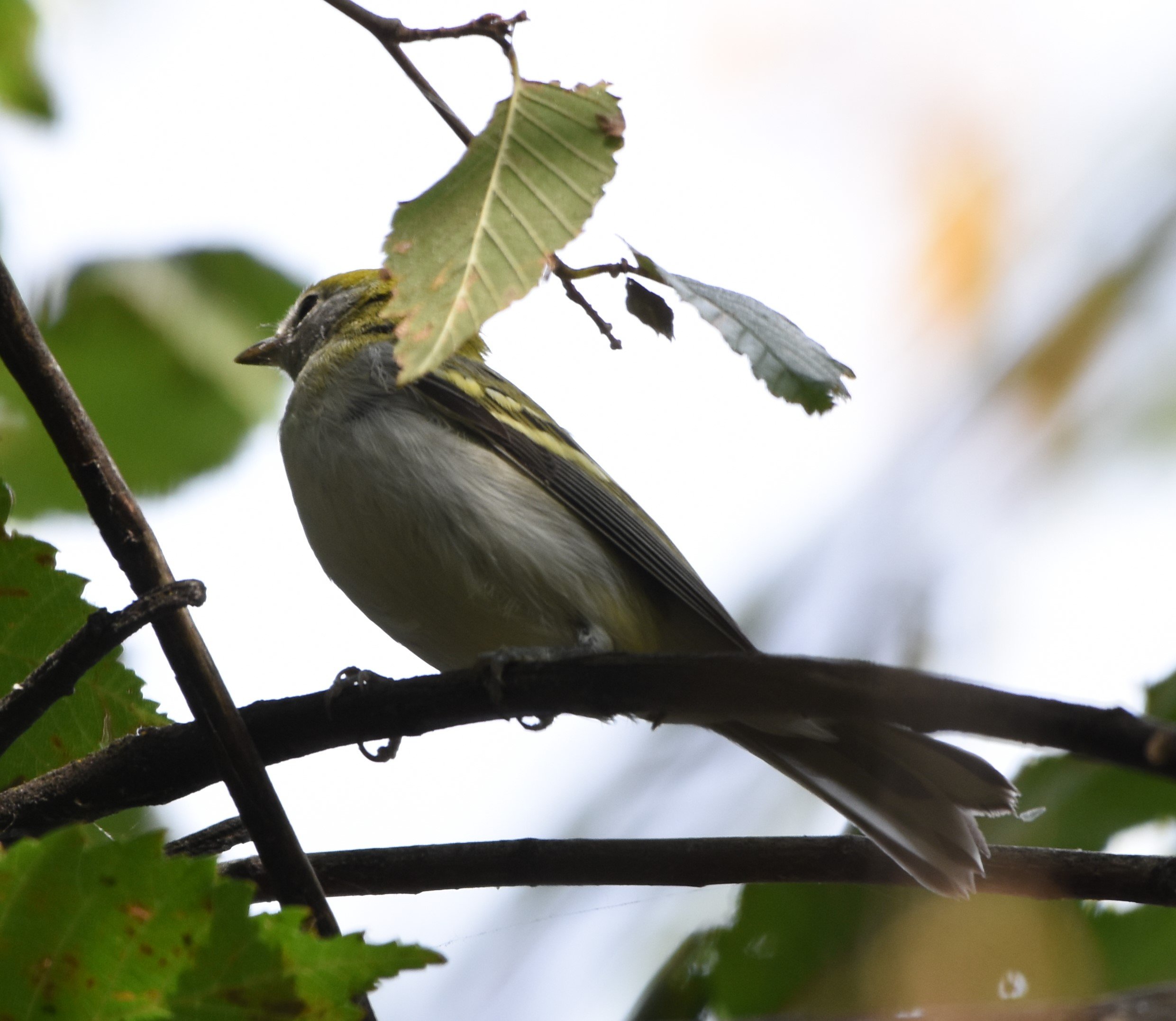 My best of a lot of poor photos of the Chestnut-sided Warbler Setophaga pensylvanica.
Our next stop was at Palouse Falls State Park, where we didn't see many birds, but the stop was worth making just to see the spectacular waterfall where the Palouse River cascades over a cliff into a huge pool below. We did manage to see a Hairy Woodpecker and did poach across the river to add two birds in Whitman County, Common Raven and feral Rock Pigeon. Of note Rock Pigeon was a county first for me, as I'd only birded Whitman County once in the past, in 2014, to bring my county list to 25 species.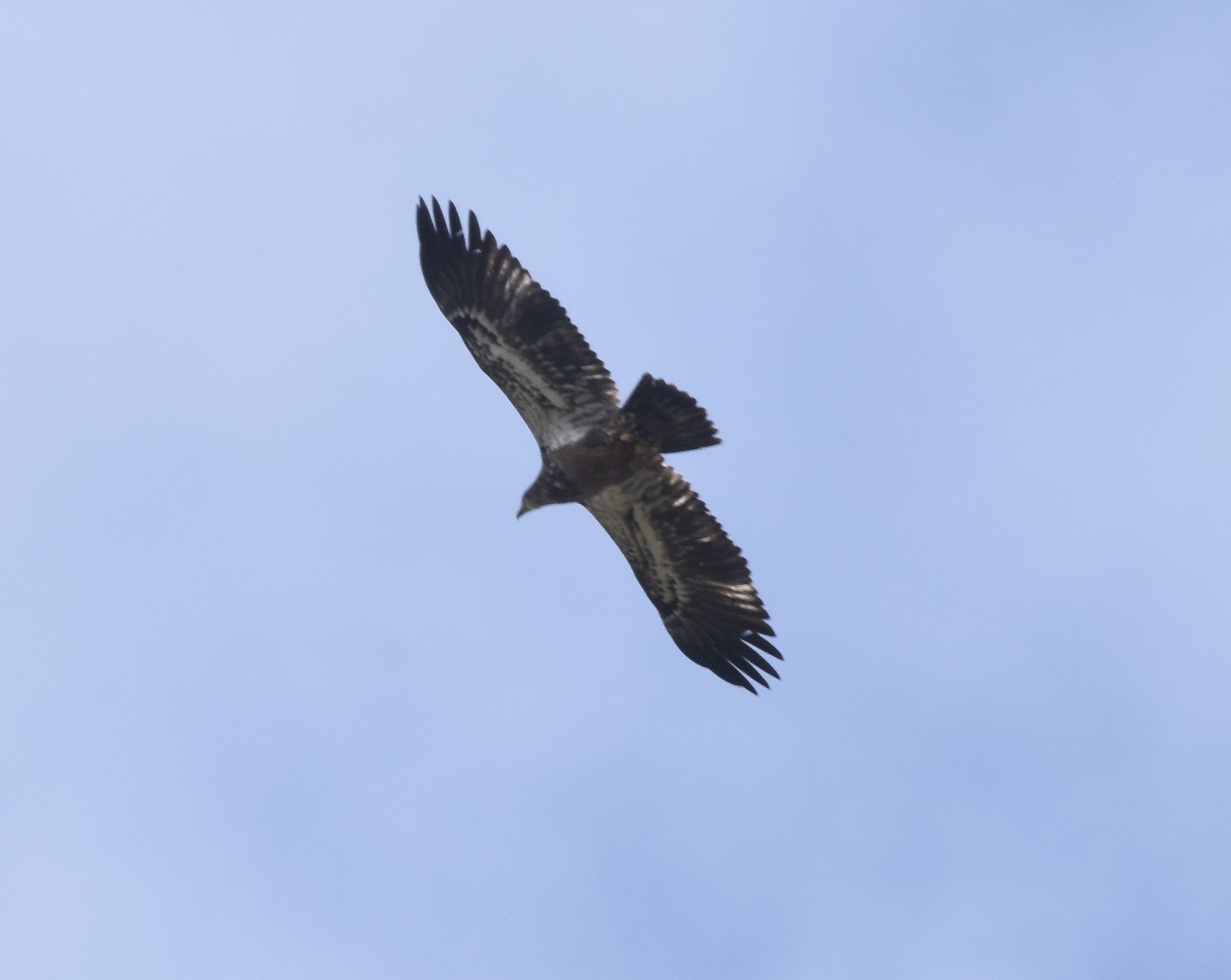 An immature Bald Eagle Haliaeetus leucocephalus.
We then went back where we started the day, at Washtucna. We managed to find and identify a county first for most, Cassin's Vireo high in a tree in the park, along with seeing at least 4 Barn Owls, along with both species of kinglets, Ruby-crowned and Golden-crowned Kinglets. On the way to Moses Lake where we stayed at the Ramada we stopped at the Hatton Coulee Rest Area ponds and managed Red-naped Phalarope, Spotted, Solitary, and Baird's Sandpipers and called it a day.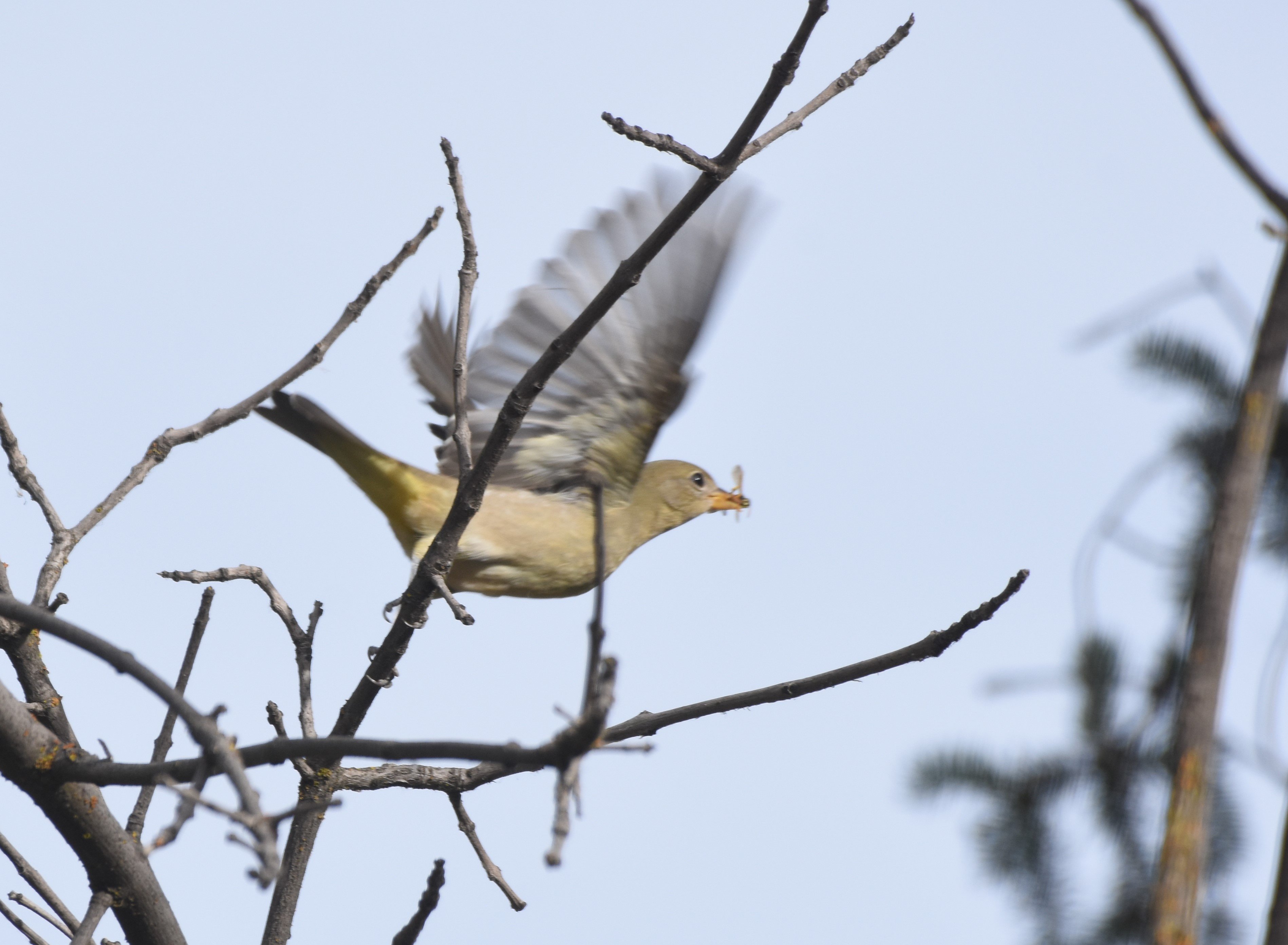 A Western Tanager Piranga ludoviciana female in flight.
On Day 3 we were again up early and started with a quick stop at the Lind Coulee (a coulee is an eroded canyon-like area between basalt cliffs made by the great ice-age glacial floods) where we managed our only looks at Stilt Sandpiper on the distant mud in the early morning light. We spent most of the morning at Potholes State Park beside Moses Lake. We started at the shore in hopes of finding the Parasitic Jaeger that had been seen there in recent days. No luck on that, but we got nice looks and a good study of side-by-side juvenile Long-billed and Short-billed Sandpipers, Sanderling, Baird's, Western, and Least Sandpipers as well as Greater Yellowlegs as shorebirds. In addition a large falcon I identified, probably incorrectly, as Peregrine Falcon but consensus made to be a Prairie Falcon gave a fly by, and we looked most of the morning for vagrant passerines. No luck on these though, so we worked our way around the lake for the rest of the day. Highlights were a very distant look at the Parasitic Jaeger on the lake from a stop on the dam road, good looks at a Clark's Grebe at a side-road overlook, and then we finished strong at Perch Point.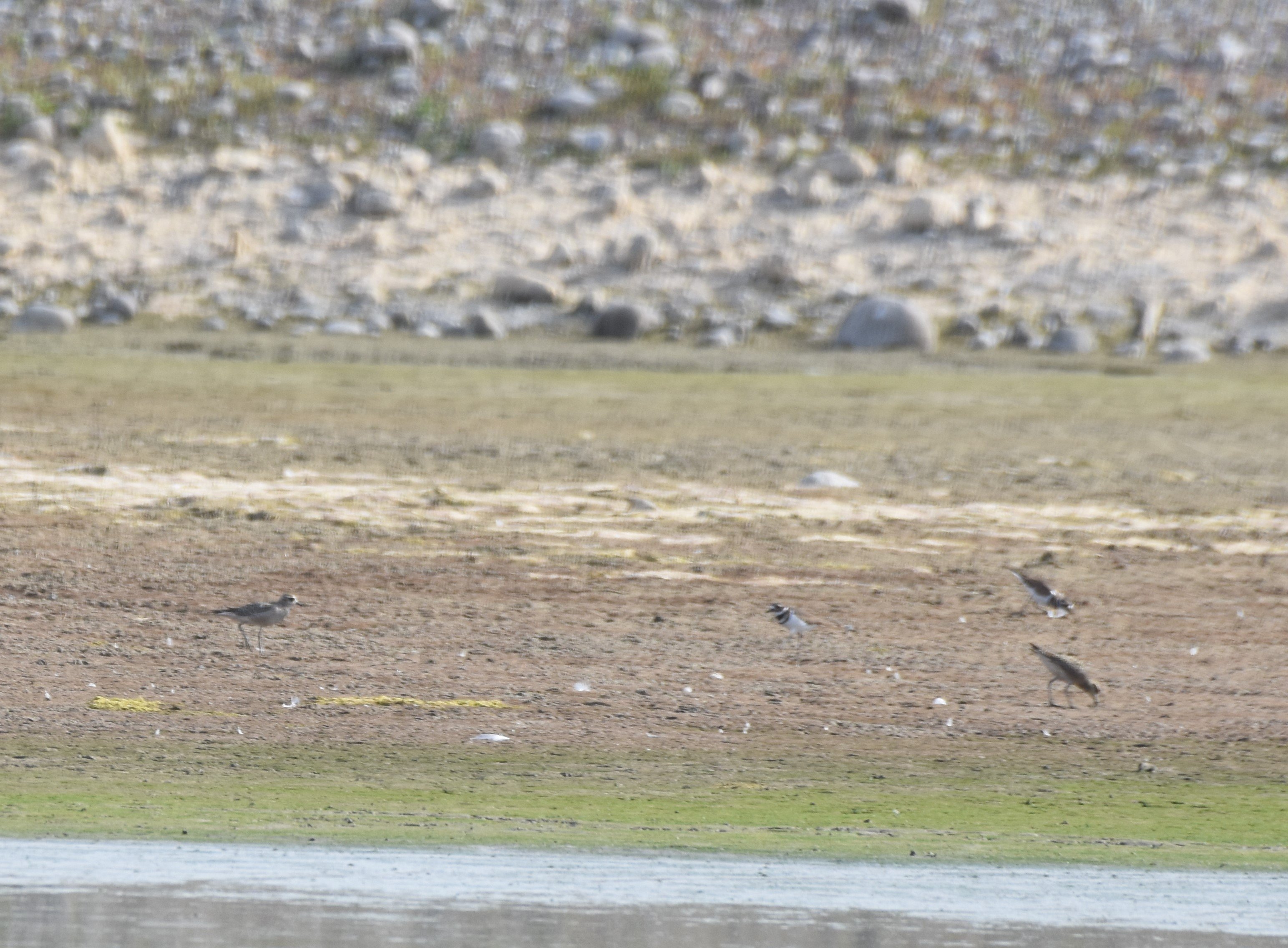 The two American Golden-plovers Pluvialis dominica.
At Perch Point almost immediately Ken got us all onto two American Golden-plovers. We were shocked to find 13 Semipalmated Sandpipers, a species usually seen infrequently in WA, as well as Baird's, Western and Least Sandpipers, Cinnamon and Blue-winged Teal with the expected Green-winged Teal, and just before leaving I saw a Bank Swallow swoop very nearby.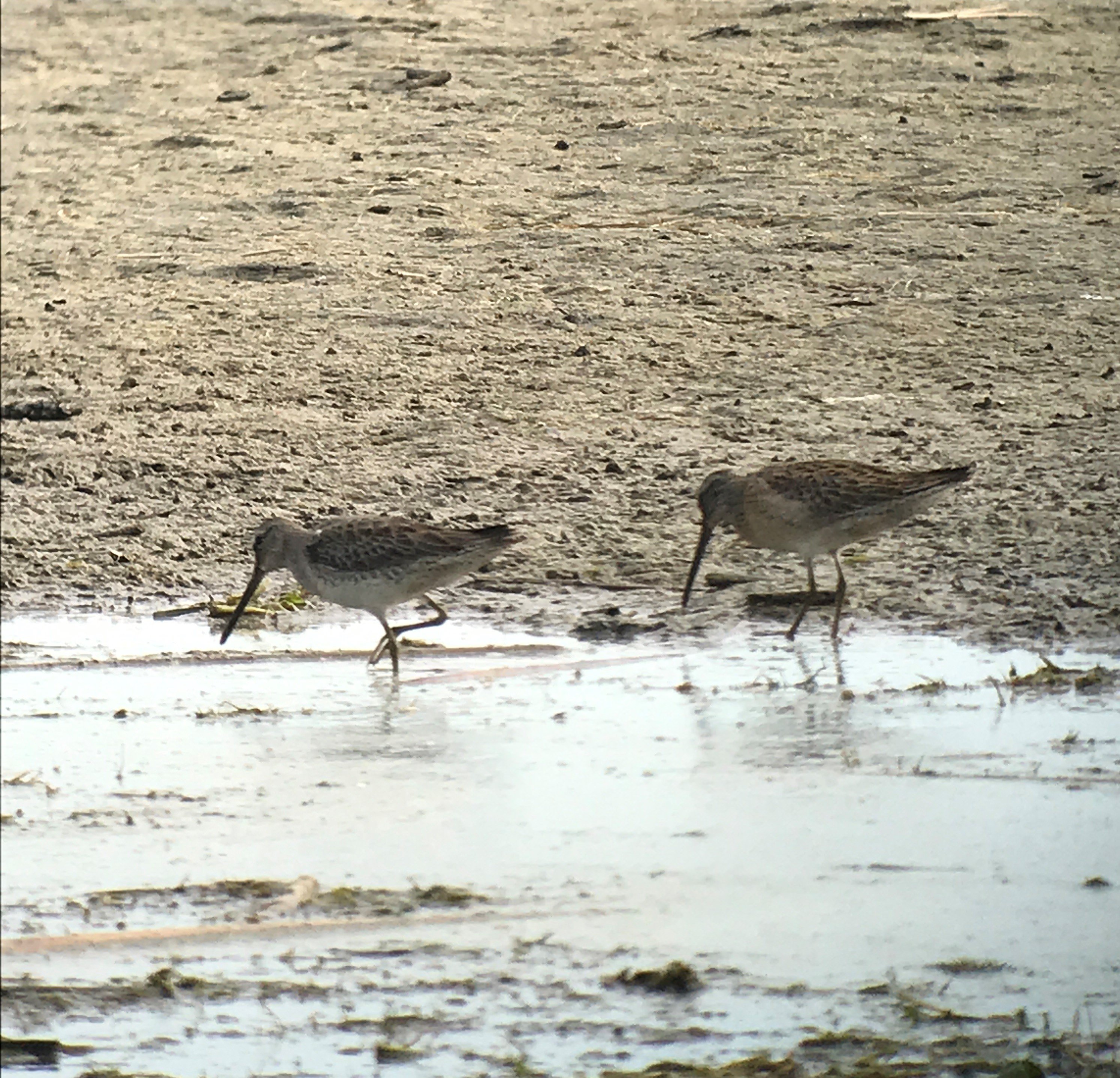 Comparison of Short-billed and Long-billed Dowichers in juvenile plumage. (note that the bill length overlaps in the two species, and is not a reliable ID point. Look closely at the orange markings on the distal wing feathers. The orange coloration is noted on the internal feathers in the SBDO but only on the fringes of the LBDO juveniles) Subtleties like this make birding fun.
We finished a bit early but tired after a third long day of birding. Same hotel that night, so a relaxed night. On day 4 we headed back west gradually. Our stops were at the rookery at North Potholes Reserve, the Dodson Road area, Winchester Sewer Ponds off the frontage road in Winchester, and then we finished at Ginkgo State Park overlooking the Columbia River. It was very windy at Ginkgo, but we managed good looks at both Rock and Canyon Wren and a Townsend's Solitaire. On the way home we stopped for a quick look at the Great-horned Owl in its usual rocky crevasse overlooking the river off the Old Vantage Highway.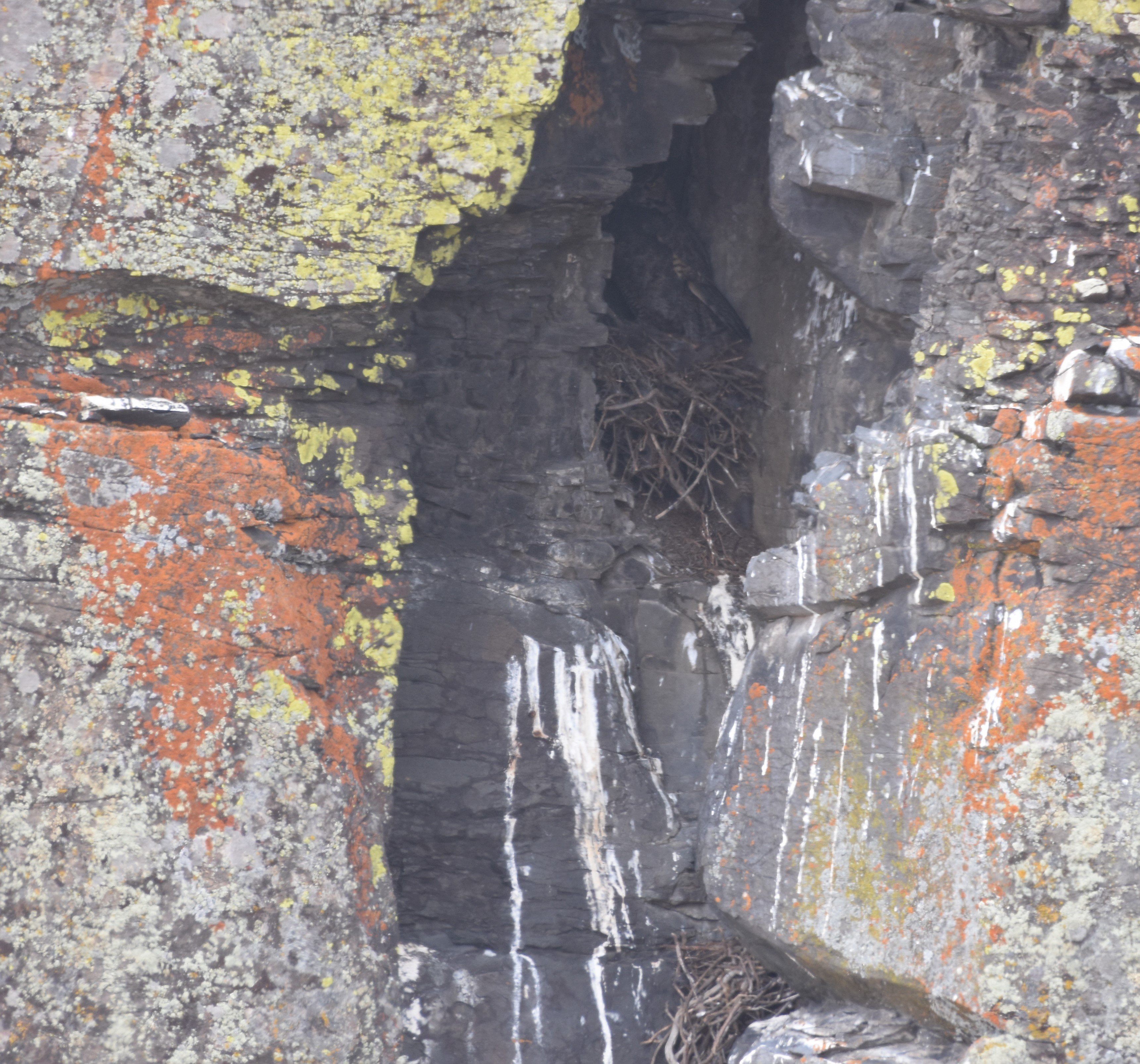 Great-horned Owl Bubo virginianus roosting in the shadows of its nest cavity on the cliffside. We find it by looking for the excrement on the rocks below the nest.
I got home about 5:20 PM and caught the Seahawks game on the DVR to chill out for the evening.
Good birding. Steem on! Be sure to follow @birdersofsteem where birders support birders with upvotes and community.