If your hair is wild, dry or damaged, there is a natural cosmetic that we have in our kitchen. It is the miraculous olive oil. Olive oil is rich in vitamins, polyphenols, trace elements and iron. It has strong antioxidant and anti-inflammatory action, acts effectively against skin aging and it has the capacity to deeply hydrate your skin and hair. Another property of virgin olive oil is that it enhances hair growth and has the potential to help hair regain its lost luster, gain strength and vitality. In addition, is fighting dry skin on your sculp.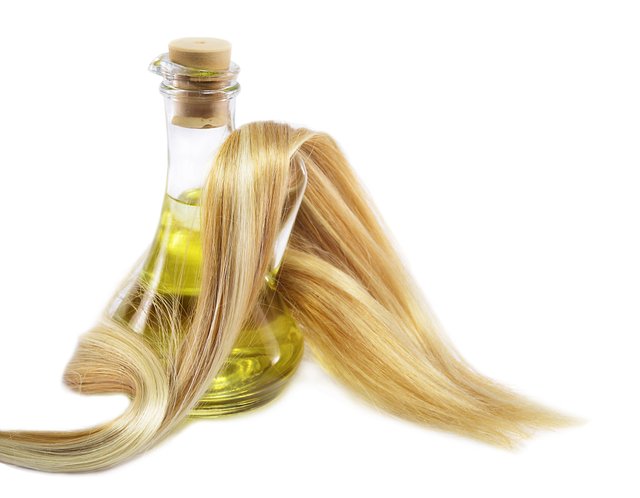 In the winter months, the hair is drier and it breaks or freeze more easily. Olive oil for hair act as a great moisturizer. Do not spend money on special oils. Take a few drops of olive oil on your fingers and pass the hair ends (when dry).
More shine: the oil moisturizes the hair and regains its shine thanks to vitamin E that helps in their rejuvenation. Olive oil shakes hair: dry hair is difficult to comb. An olive oil treatment can make hair smoother!   
Do not spend money on special oils. Take a few drops of olive oil on your fingers and apply it on the hair ends when they are dry. If you want your hair to have an even shiner look, olive oil is ideal because it moisturizes them and regain its shine thanks to vitamin E that also assist in their rejuvenation.   
Olive oil makes your hair soft
The cold, some shampoo, the permanent styling, leaves the hair dry. The oil will help your hair soften without showing any hoarseness. Once a week, apply a deep-fat mask with olive oil to your hair.   
Olive oil rejuvenates hair
Dry hair is difficult to comb for and often does not let your haircut look. An olive oil treatment can make your hair smoother!   
Treatments with olive oil for softness, hydration and shine in the hair
Some tips before you begin:
Firstly, make sure the olive oil you use is extra virgin, with low acidity to help and not to make your hair look worse.   
 Have a brush with you to spread the oil and a bag or towel to wrap your hair. Be sure to rinse hair after 3-handed shampoo treatments with lukewarm water.   
1) Treatment No. 1 with olive oil
Apply olive oil from the root to the edges, wrap with a towel and let the oil work all night. Have a towel on your pillow so you do not get dirty. The treatment is good to be applied once a week.   
2) Treatment No. 2 with olive oil
Take half a cup of hot oil and pass the hair from the waist (at least 4 inches from the root) to the edges. Wrap with a towel or bag and leave for 30 minutes. Rinse and you are ready.   
3) Treatment No.3 with olive oil
Put 50 ml of olive oil and an equal amount of lauryl oil in a bowl. Apply to your hair and wait for an hour. Rinse and enjoy the softness and hydration. If you do not find bay oil, replace with essential oil: bergamot (3 drops), sandalwood (2 drops).   
4) Treatment No. 4 with Mixed Herbs and olive oil:  
Have this oil in a bottle and spray it on damaged edges or edges with a split.  
Ingredients needed:
1. 7 peaks of fresh rosemary
2. 7 laurel leaves
3. 1 teaspoon spores of flax (linseed)
4. 50 ml of wheat germ
5. 50 ml olive oil
6. 50 ml of sesame oil
Implementation:
In a large glass jar drop the mixture of oils and all the herbs. Leave them in the sun for a week. Drain the herbs from the oil and store the clean oil mix in easy-to-use packaging so you can take it with you.    
5) Treatment No.5 - Hair treatment with olive oil:  
Heat slightly a cup of virgin olive oil (it should not be hot but lukewarm). Try the temperature with your finger so you do not burn.  
- To help split your hair into 4 large tufts, grab them with chirping and head overturn.
- Apply olive oil to one tuft each time and after completing all four then start to massage with the fingertips for 10-15 minutes.  
Massage on the scalp will increase blood circulation to pass many nutrients into the hair follicles, thereby boosting hair growth.   
6) Treatment No.6 - Hair treatment with olive oil and cayenne pepper.
Mix and stir well 2 teaspoons of cayenne pepper powder with 2 tablespoons of olive oil. Apply the mixture only to the scalp, gently massage with the fingertips and leave for 20-30 minutes or for as long as you take the caustic action, then you can swim or shower    
You can apply the mixture only locally where there is intense hair loss. If the skin on the scalp is irritated or sensitive, first try at one point because the pepper has a severe caustic effect.    
Surely, peanut pepper cayenne looks like a hair mask, but it contains several vitamins and minerals and capsaicin that makes it hot. This spice has the ability to increase blood circulation, resulting in the transfer of many nutrients into the hair follicles that strengthen the hair.   
The benefits of olive oil are a well-known fact that help us maintain good health in a balanced diet. In addition, using this magical oil can dramatically change your hair's image in the following ways.   
Olive oil is an excellent hair conditioner.  As a hair care ingredient, it will help keep your hair hydrated, making it more manageable. It is a rich source of antioxidants that helps in the health of the scalp.  
Controlling Frizz. Its moisturizing properties help your skin form a protective barrier, which helps control frizz.  
Improve Elasticity. The oil strengthens your hair and improves its elasticity. This helps prevent issues such as broken hair and weak edges.   
Hair loss. It also acts as an inhibitor of DHT (dihydrotestosterone), resulting in hair loss and healthy hair growth.