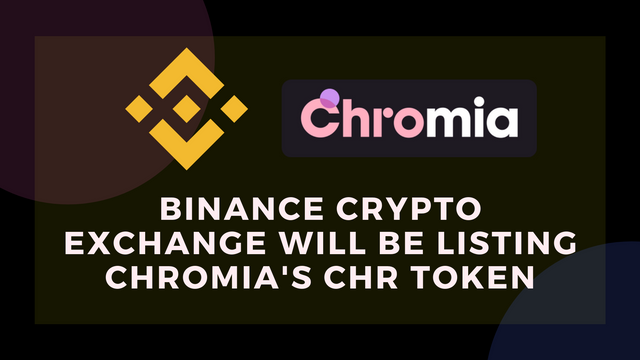 Binance Exchange is recognized as one of the most exceptional cryptocurrency exchanges that offer to trade in more than 45 coins that include Bitcoin (BTC), Ethereum (ETH), and Litecoin (LTC). As of June 2019, Binance got the first place of CoinMarketCap's crypto exchanges overall ranking.
It provides services around trading, listing, fundraising and de-listing/withdrawal of cryptocurrencies. Cryptocurrency enthusiasts that want to launch their own tokens can utilize Binance for raising funds by initial coin offerings (ICO). It is also used by a large number of traders and participants for trading numerous cryptocurrencies, and for investments in the same.
The said exchange is claimed to have high standards of safety and security with multi-tier and multi-clustered architecture that delivers high processing throughput with the capability to process around 1.4 million orders per second.
And today, Binance is reported to list Chromia (CHR) very soon according to several discussions on Telegram's crypto communities. Chromia, which has conducted its first Initial Exchange Offering (IEO) at KuCoin , already has accumulated excellent feedback from the crypto community.

Chromia a brainchild of ChromaWay, and a new blockchain platform for decentralized applications, formulated in response to the concerns and issues of the existing platforms and intended to facilitate a new generation of dapps to scale beyond what is currently attainable. Chromia is considered as both blockchain and relational database.
Crypto followers dearly anticipate Chromia's CHR token listing at Binance that this is just the start of a promising and a bright future. This will make CHR as a sought-after token to invest.
To be updated with Chromia's announcements, check out their official social media pages:
Twitter
Linkedin
Telegram
Facebook
Facebook
Youtube
Telegram