Everything was going great. A girlfriend, and then got a new job within 2 weeks of job searching to start on Monday. Yesterday (Tuesday) I was on my way to a restaurant on my bicycle, all was good. But I messed up by trying to fiddle with the inside of my backpack while moving on a bike... BIG mistake!
I let go of the left handlebar, maybe to try to grab the bag, the wheel turn into the sidewalk and I flew into the sidewalk with the full impact on my left shoulder.
I knew something was wrong, felt my left shoulder, and the bone was sticking up.
After spending a long time at the hospital, thinking it was just a dislocated shoulder, it turned out to be a fractured clavicle...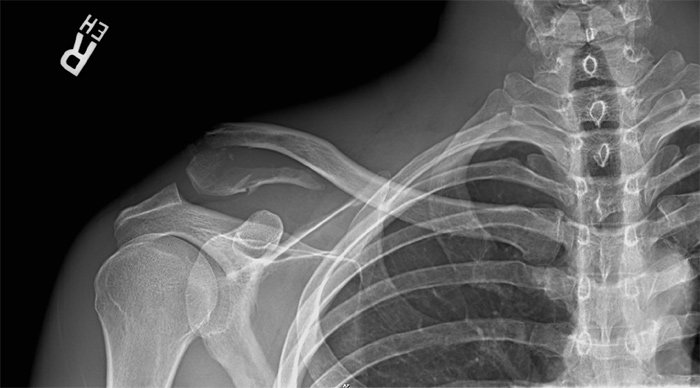 And the kicker? I might need surgery to repair it because it was at the end near the shoulder, a problematic area. They set me up with an appointment with a bone specialist for today (Wednesday) morning.
I was prescribed Naproxen (anti-inflammatory) and Dilaudid (hydromorphine), which I declined to get both of.
Indeed, I was told I needed surgery to make sure it heals properly for this specific type of injury. That is scheduled for Friday 7:00am. I was told not to take any more ibuprofen, or any other anti-inflammatory, since it will thin the blood and that's not good for upcoming surgery.
Lesson learned. Don't be foolish on a bike, trying to fiddle with things in a backpack. Stop the bike first. Keep your hands focused on the handle bars for control. One single simple little fuck up and your whole life can get messed up... I have never broken anything, or had any surgery before... This sucks!
I will still be going to the new job on Monday, as it has 3 weeks of training which I should be able to do. Maybe I'll see if I can get 1 week off before starting...
Take care everyone, and be careful on a bicycle :) Learn from my lesson hehe.
Peace.