---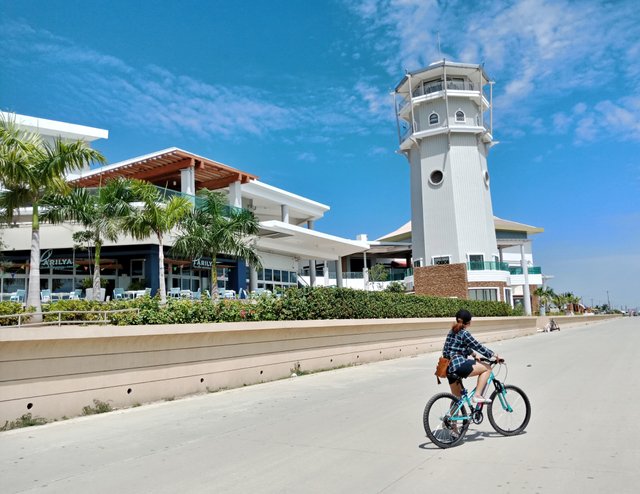 ---
  "Nothing compares to the simple 
   pleasure of riding a bicycle"
        - John F. Kennedy -

When I found out that there's a Museum of Bicycling (MoB) last week when I joined the "Gabii sa Kabilin" or "Night of Heritage", I could not contain my excitement. That's the first place I wanted to go to that night. I can't wait to see what types of bicycles are being displayed and what more I can learn about bicycles. It made me remember the first time I rode a bicycle.
I was 13 years old back then. My friend brought her bicycle to the city and I immediately became interested. I asked her if I can borrow her bike even just for a little while. After a few days, I slowly learned how to keep my balance but it's still not enough to keep the bicycle moving for more than a minute. I still always fall off. It took several days and practice before I managed to stay riding on the bike longer but my grip on the handle would sway if I hold on to it tightly. It was until this one event wherein I pedalled and rode on the bicycle longer and farther and into the steep road going down that I've had my first and only major bike accident. I was not able to pull the break immediately and the bicycle hit into a very big rock which led me toppling over and hitting my head hard on the ground. I even got bruises on my knees, hands and arms. But after that event, what's amazing is that I finally learned how to ride the bike steadily and properly and with full carefulness. It was like that's all that needs to be done to put the lesson to the test. I felt the adrenaline. It was until then that I fell in love with riding the bicycle even more.
---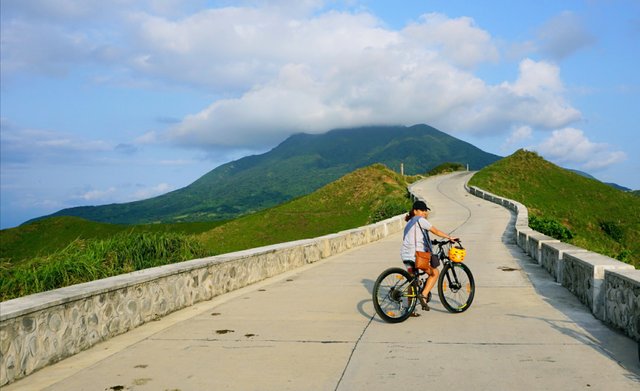 ---
After that event, something changed within me. It was like a switch was being turned on inside me. That event gave me an idea as to how dangerous biking can be if you're not careful but it also gave me a lot of lessons, not only about riding bicycles but also about life in particular. I associated that event in life wherein we always have challenges and difficulties always along our way but if we are passionate enough about what we're doing then giving up is not the best option.
I realized how much I love the feeling of riding a bicycle. It was like your bike is also your life. You're given the freedom on how you pedal and where you want to go. You call the shots. Every pedal means you're determined to reach your destination. Every pedal is a step closer to what you're trying to achieve and where you want to go. And even though there are times when you don't know exactly where you are going yet, the journey itself of finding your destination is already a reward. There's also not much to remember in biking. As long as you keep on pedalling then you move forward. Pedalling keeps your balance. It's like the more you move forward, then the more you become steady. The steadier you are, then the more confident and comfortable you will be. By then you will be able to enjoy the view of where you're passing through, earn the sweat and breathe the fresh air thay greets you.
---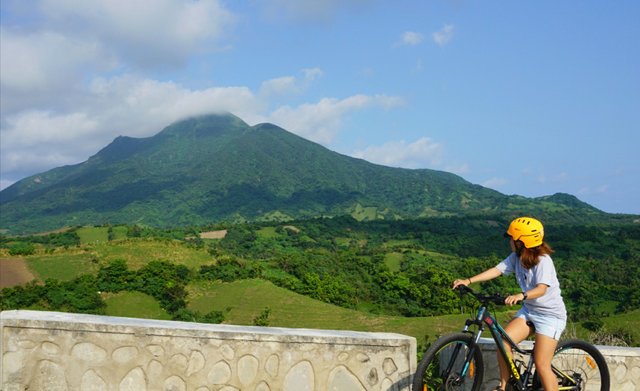 ---
When I was first hired in my job, the two things I was trying to earn and achieve were a guitar and a bicycle. Thankfully, with a little help from my boyfriend, I am able to buy the two (I'm so blessed). My boyfriend @zanytourists is also a bicycle junkie and is even more adventurous than I am in so many ways. When I got my bicycle, he immediately taught me all I needed to know about safety and bicycle ethics. He taught me how to bike properly when out in the streets and highways. This actually adds more adrenaline to my bike hunger since I used to bike only around our neighborhood where there are lesser cars. He became my original bike buddy. We used to bike all around Lapu-Lapu City (where he resides) and I believe the farthest we got together was from Brgy. Pajo in Lapu-Lapu to 10,000 Roses in Brgy. Day-As, Cordova. That was a grueling 5 hours and I'm proud of myself for having the endurance to keep pace with my boyfriend and for pedalling that far. All these new knowledge and adrenaline in biking in the streets made me crave so much more for farther routes and destinations.
---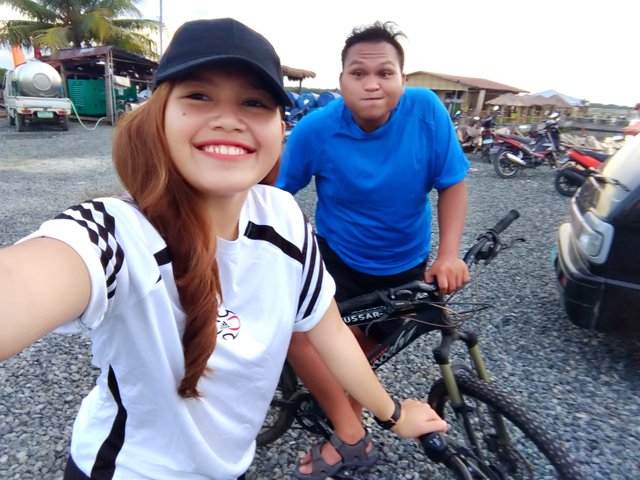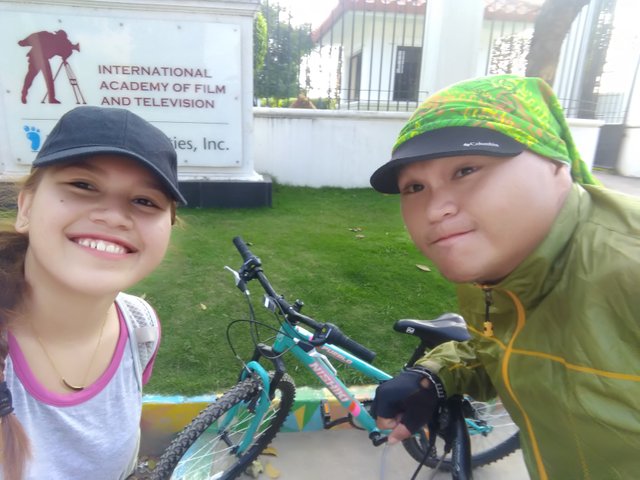 ---
And then I finally got to bring my bicycle home from Lapu-Lapu to Cebu City. From that moment on, due to my constant excitement, I learned to bike alone. It's actually amazing how biking is never a boring activity even when you only got yourself. Even when I'm alone, I enjoyed it so much. When I got it at home, I ride it all around and visit the places I want to go and I even sometimes visit my friends' houses. Biking is really convenient since you won't have to be stressed out so much with heavy traffic congestion or anything. You decide your own time.
The farthest I got with biking on my own was from Cebu City to Minglanilla since I decided on visiting my cousins who reside there. That was a heart-thumping 7 hours. I don't know what went in my head that time but I just really pedalled and pedalled and don't like to stop. I'm very proud of myself that time. I felt so fearless and independent. I'm biking on a very wide highway with cars and trucks speeding up behind me and I was still okay. I made sure to be careful though. I loved the freedom I felt. I loved how my heart and lungs worked so hard just to deliver and provide oxygen to the rest of my body. I loved how sore and stretched and beaten ny muscles were. It was really such a good feeling. I'm able to go everywhere I want to through my bicycle and that made me really happy.
---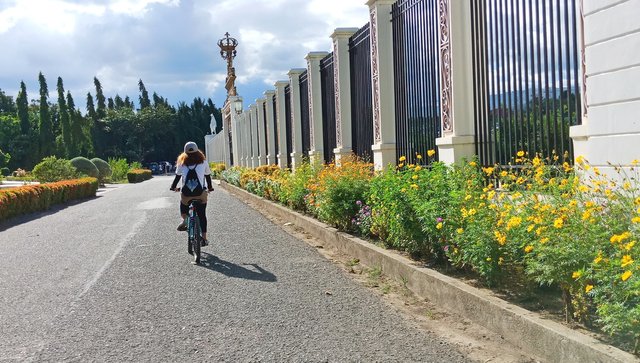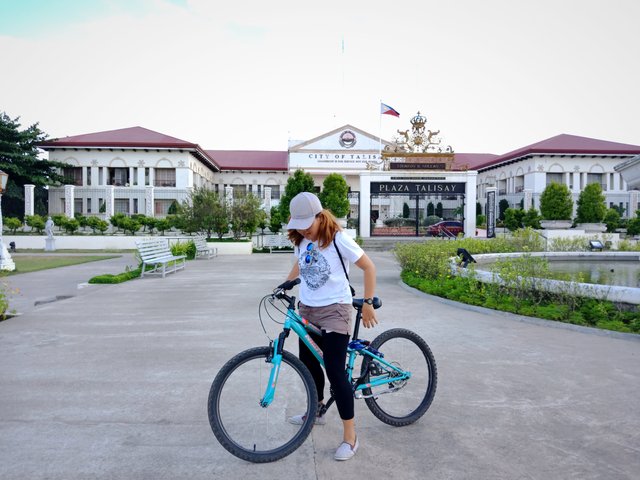 ---
Just like what the tour guide on the MoB said, it is very simple to join the Bicycle Revolution. You just got to have a bike, learn how to ride the bike, and lastly, have the time, energy, and passion to bike. There's no denying the many good benefits that biking brings to our body and physical health and also to the environment and community. As for me, based on the stories that I shared with you earlier, what's important for me is the feeling of being happy, satisfied, and fulfilled I get eveytime I get on my bike and go somewhere. It is such a simple instrument yet it brings joy and pleasure to my heart. As for you, Co-Steemians, I'm encouraging all of you to try and hop in on a bicycle. Whatever age you are right now, you're never too old to enjoy the pleasures of riding a bike. Take that chance and pedal towards your happiness. 🌻✨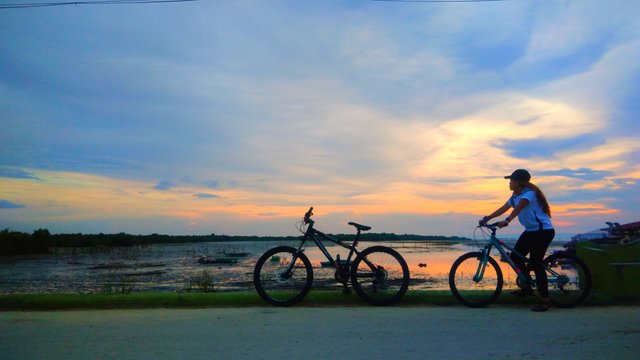 P. S. All photos are mine and is taken during my bike escapades.
Also, if you're a Cebuano Steemian who also have a passion for biking, maybe we can bike together? It'll be more fun. Thank you. I hoped you also learned something.