【Tokyo,Daily Life】ARK OF TASTE Story of Edo vegetable "Naito Togarashi" ,Peppers 「内藤とうがらし」の話
新宿の語源は、新しい宿場町(しゅくばまち)という意味です。
The etymology of Shinjuku (Tokyo, Japan) means a new area with inns.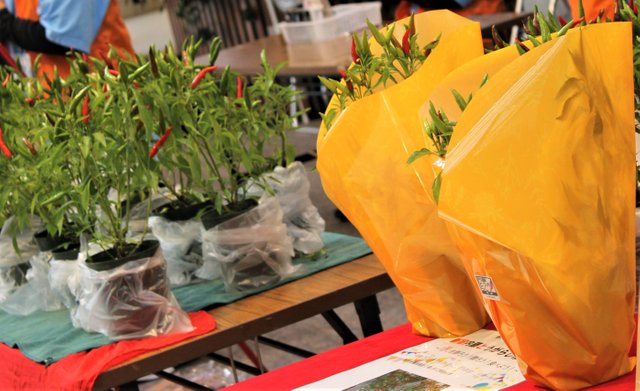 新宿駅前で、市民グループの方々がマルシェを開いていました。彼らは地元の野菜「内藤とうがらし」を復活させようとしています。
In front of Shinjuku station, a group of citizens working to convey the food culture of Edo to the present day was holding a Marche. They are trying to revive the local vegetable "Naito Togarashi".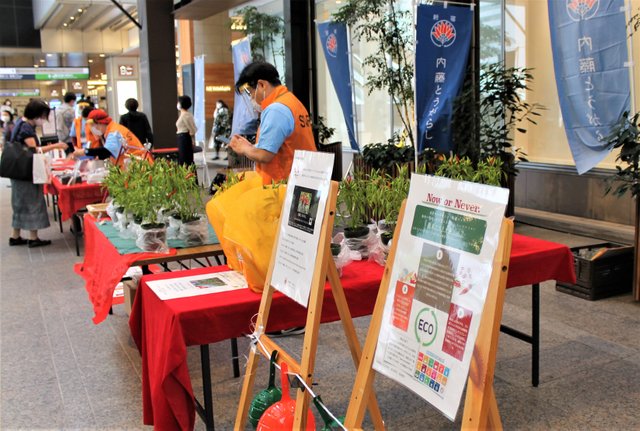 ■
■■
江戸時代(1603-1868)、人は徒歩で移動していました。江戸(東京)の中心だった日本橋を出発して、最初の宿場町が「内藤新宿」。今は日本橋から内藤新宿のある四ツ谷あたりまでは、地下鉄を使えば15分程度で移動できる距離です。
During the Edo period (1603-1868), people were moving on foot. Departing from Nihonbashi, which was the center of Edo (Tokyo), the first inns are located at Naito Shinjuku. From Nihonbashi to Yotsuya, where Naito Shinjuku is located, it takes about 15 minutes by subway.
内藤新宿近郊の農家が育てた野菜のひとつが「唐辛子」です。当時、江戸には3700軒もの日本蕎麦の店があったといわれ、日本蕎麦の薬味として唐辛子が重宝されていました。
Naito One of the vegetables grown by farmers in the suburbs of Shinjuku is "Peppers." The trigger was Japanese soba. At that time, it is said that there were 3,700 Japanese soba (Japanese noodles) shops in Edo, and peppers were useful as a condiment for Japanese soba.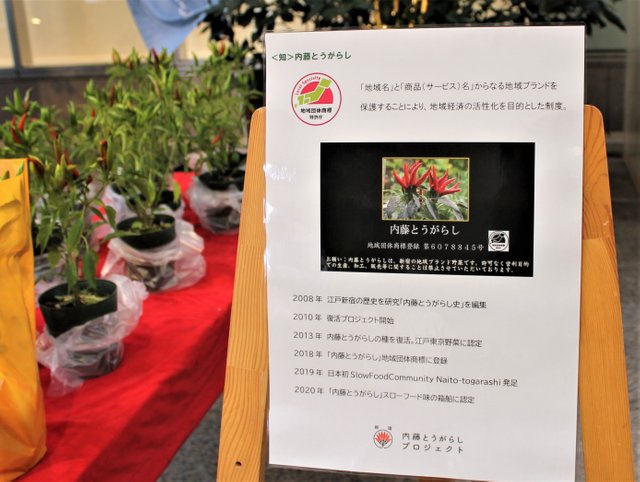 換金しやすいということもあり、唐辛子栽培は人気を博します。内藤新宿近郊の農家が育てていたのは、「内藤とうがらし」と呼ばれる種類の唐辛子でした。
Pepper cultivation is popular because it is easy to cash in. Naito Farmers in the suburbs of Shinjuku grew a kind of pepper called "Naito Togarashi".
江戸の町が繁栄し、人口増加が増えると、内藤新宿は宅地化が進んでいきます。「内藤とうがらし」は衰退していきました。
As the town of Edo prospers and the population grows, Naito Shinjuku will become more residential. "Naito Togarashi" has been declining.
■
■■
1996年に設立された、地域における食の多様性を守る「味の箱船=ARK OF TASTE」という世界的な取り組みがあり、世界中で5000を越える動物、果物、野菜の品種と加工食品などがに登録されています。
「内藤とうがらし」も、ARK OF TASTEに登録されています。
Established in 1996, there is a global initiative called "Ark of Taste" that protects the diversity of food in the region, and there are more than 5,000 animal, fruit, vegetable varieties and processed foods around the world. It is registered in.
"Naito Togarashi" is also registered in ARK OF TASTE.