🍻 tj5553's Beer Reviews - That's One Salty Lady! 🍻
Hello All!
---
Today has been somewhat of a rough one. My wife is out of town for her uncle's surprise 75th birthday party, leaving me with both of the kids and cat-sitting for my mother-in-law's 4 cats... Fair disclosure, I am not much of a cat person, so that element of it is rather burdensome. In addition, as per usual, whenever my wife goes out of town is when all the bad stuff happens, kids getting sick, having accidents, vomiting, etc. And this time, apparently even the cats forgot how to use their litter boxes (that was a fun one). Anyway, I'll move on from the tiresome and gross stuff.
I have recently started dabbling with liquor infusions with a fair bit of success, at least as far as I'm concerned. I was able to get a couple new ones started up this weekend. The Sweet Tea Vodka is already finished, and I have a Ginger Vodka currently doing its thing.
---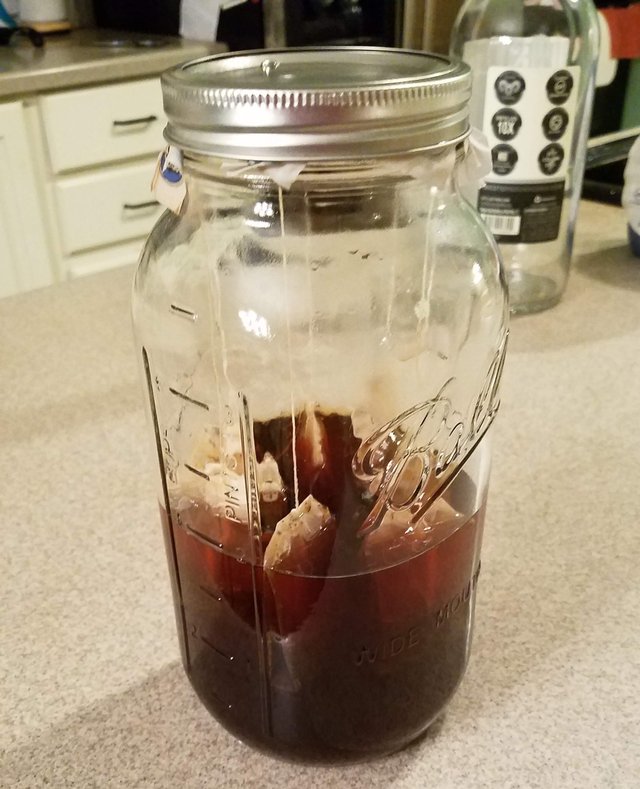 ---
I am planning on eventually adding lemon peel to that one to make a lemon/ginger vodka. We shall see how that turns out. Next on the list is a coconut/lime tequila. We shall see if I get around to starting that one up today though. Feel free to post a comment if you have your own recipes you think I should try or if you just want to talk about the hobby in general.
Now on to the beer!
---
Today I'll be sharing one of my favorite beers with you. This one is another local brew out of Fort Worth, TX, from the same brewery as my last review, Martin House Brewing. It is called Blood Orange Imperial Salty Lady. I actually had this a while back, but just never got around to posting about it. This is a rather unique brew, all the way around. My last review was fairly unique, but it would still probably classify as a flavored beer, which isn't too uncommon. THIS brew on the other hand... it is just a whole 'nother animal.
---
I picked this one up from a local growler bar that my wife and I frequent. They conveniently provide "crowlers," which is a can growler that comes in a 1 pint size. This is very handy for when you forget to bring your growler or simply feel like picking something up on the way home. It also seems to hold carbonation for longer, though it does still go flat if you do not drink it quickly enough.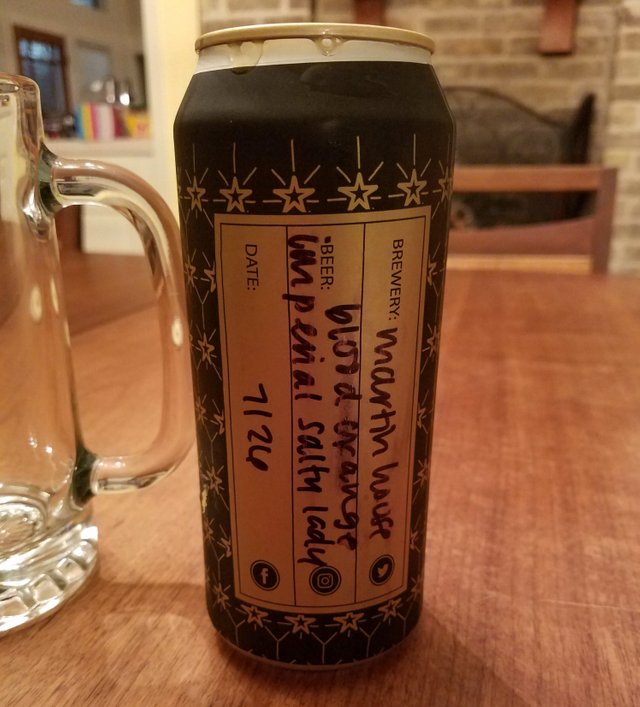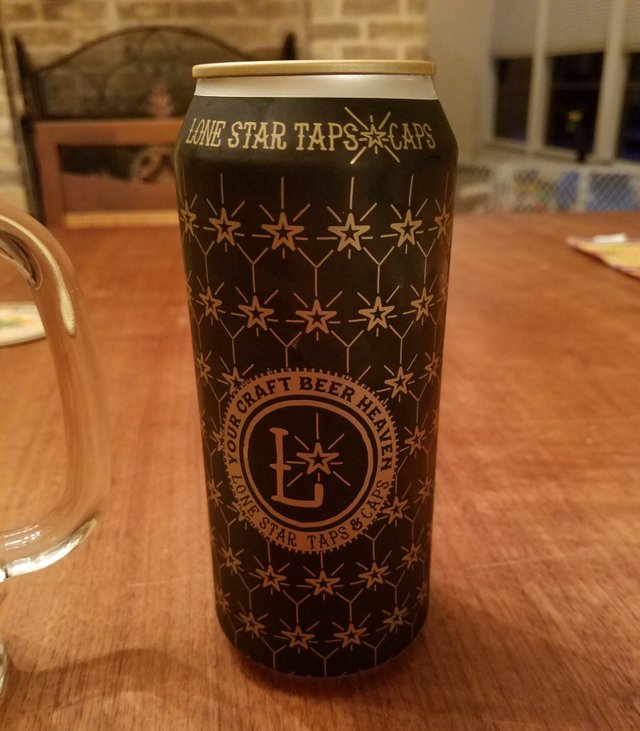 ---
Time to pop this one open and take in all it has to offer!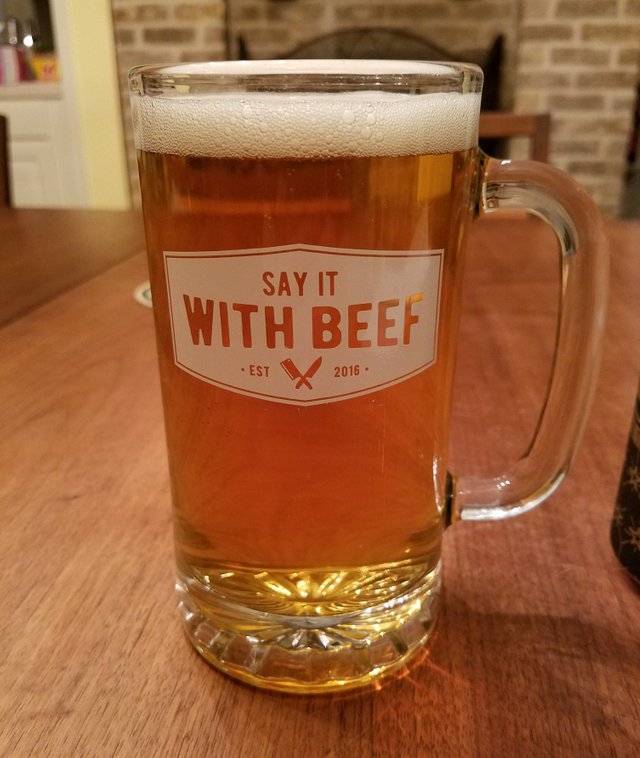 ---
It has a nice, creamy, white head.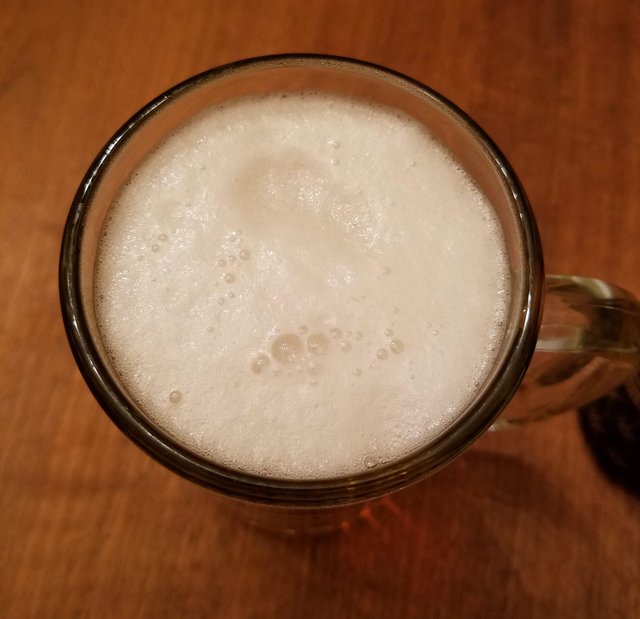 ---
Unfortunately, it fades quickly. Though that may be due in part to the fact that it was in a crowler and I did not get around to drinking it for about a week after getting it.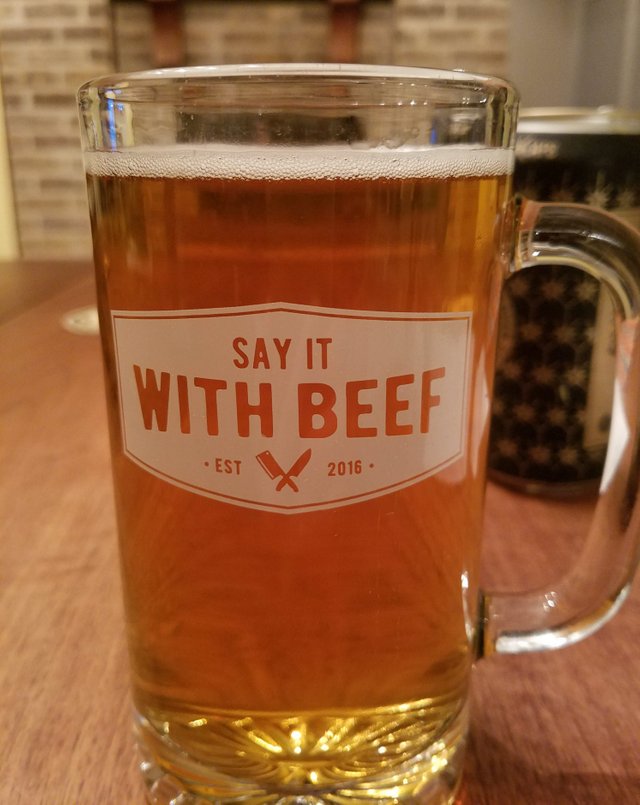 ---
Note that I am once again plugging my friend's business, Say It With Beef. They are definitely worth checking out if you are looking for an interesting gift idea or want to get a get well present for someone who doesn't like flowers (or if you just like beef jerky!).
Apart from that, I forgot once again to drink this out of a Martin House glass... Oh well... Now moving on to the actual beer review!
---
Blood Orange Imperial Salty Lady
| Blood Orange Imperial Salty Lady | Brewed by Martin House Brewing Company - Fort Worth, Texas, USA |
| --- | --- |
| Style | Fruited Imperial Gose |
| Alcohol | 9.2% ABV |
| IBUs | N/A |
| Format | Draft (growler) |
| ---------- | ---------- |
| Appearance | Clear, golden, fine white head. Head fades rapidly. |
| Aroma | Hint of citrus, acidic tartness, salt. Very distinct. |
| Taste | Sweetness, balanced with saltiness. Flavors of blood orange and acidic tartness round this out and assist in balancing the sweetness. Lots going on with this beer. Big, bold flavors, from the beginning of the first sip, all the way through the finish. Finish is long-lasting and tastes sweet and salty with some blood orange and a hint of malt. |
| Mouthfeel | Medium-light carbonation with fine bubbles and a creamy texture. The beer itself is moderately full-bodied. Very nice mouthfeel. |
| Tasting Notes | FANTASTIC BEER! I prefer this beer by itself, but it could probably also go well with a meal, particularly pork. I really have no complaints here. I will say that the beer is extremely unique and can take some acclimation (think of a Gose on steroids with extra salt). However, once this is done, this is pure enjoyment. The flavors are each bold and powerful, yet they meld surprisingly well. For a beer with this much alcohol and such strong flavors, it is also remarkably refreshing. Admittedly, the carbonation seemed a touch lacking (which, as I mentioned before, may very well be due to the fact this was a crowler from over a week before I drank it), but this did not detract too much from the experience in my opinion. I thoroughly enjoyed this beer and think Martin House Brewing knocked it out of the park again. It is a unique brew, and can take some getting used to. However, if you can nab some of this, it is definitely worth trying. |
| Score | 9/10 Outstanding! (This is my subjective score) |
---
Thank you for reading my review!
If you have any advice/criticisms/suggestions by all means please share them with me below. I will do my best to review and use them to improve my reviews in the future.
Please don't forget to support my post and the Steemit beer community as a whole by checking out @detlev's #beersaturday competition Here!
Also, if you are looking for an alternative to flowers, or just trying to come up with an interesting gift idea for that beef jerky lover in your life, check out Say It With Beef! They make delicious "broquets" made of 100% high quality beef jerky! Ok, my shameless plug is over.
Cheers!