Bale Breaker Field 41 Pale Ale: An Amateurish Beer Review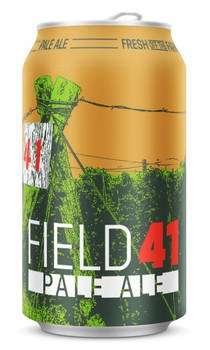 Image credit: Bale Breaker Brewing Company
Have I mentioned that hops are kind of a big deal for microbreweries in the northwest?
Bale Breaker Brewing Company is located near Yakima, Washington. This particular brew, Field 41 Pale Ale, is apparently named for the hops field where the company is located. I am drinking from a can like the one shown in the image to the right, and like their page says, this is a hoppy ale.
Immediately on popping the tab, I caught a grass and citrus scent. The taste is bitter-sour up front, but there's a touch of sweetness in the aftertaste. Apparently it's won a lot of awards and rave reviews, but it just doesn't seem to be to my taste. As is often the case with microbreweries, they seem to have decided to add extra hops to be "unique," just like everyone else around here. It's not bad, but I don't think it's really good, either. I think I need a few more points of reference before I can make a conclusive judgement, but for now, I would choose something else for a pale ale fix.
As always, your mileage may vary. If you like IPA, but want a lower ABV, this 4.5% offering may work for you. It's also definitely a step up from any canned macrobrew, but it will be a shock if your beer palate has thus far been limited to just Bud, Miller, or Coors.
---
If you like this post, please comment, follow, and resteem!