A Romantic Evening and Life by the Resort - Beautiful Sunday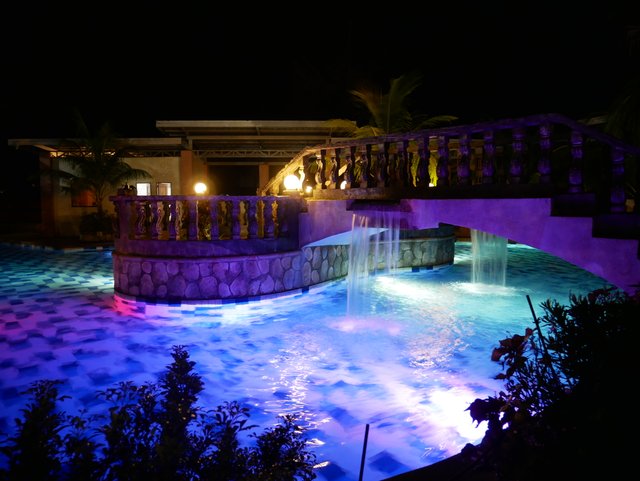 Hello again and welcome to the second part of our stay in "Villa Excellance". Last week we went around on a tour around the resort when the sun was still up. It was very hot during the afternoon and figured that it was best to take a dip at night instead. Come and join me and experience this evening swim. Also have you ever wondered how people who live near the resort co exist together? I'll be sharing with you the life of people who lives just beyond the walls of the resort.
If you missed the first part feel free to check
A Romantic Evening and Life by the Resort

The air was a bit colder and most of the visitors has already gone home. It was a quiet evening and you could almost only hear the hum of the ocean breeze. I love taking photos in the evening as it is very challenging especially if your camera is not really that good when it comes to low light photography.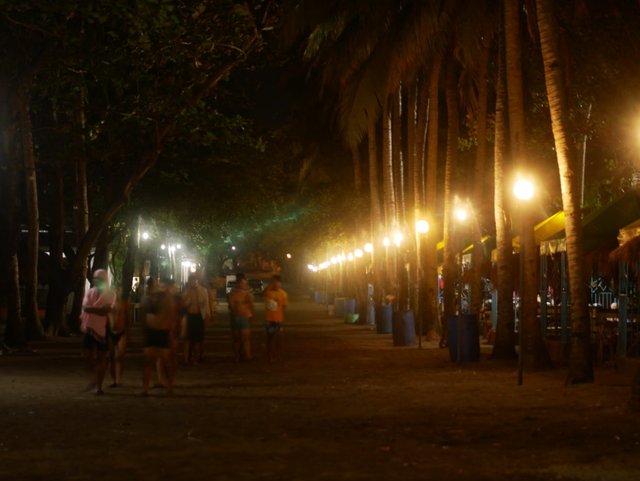 As I was about to walk around, my brother in law and his girlfriend wanted to come with me. They have been together for more than 5 years now. They were joking around that I do prenup shoot for them. I asked them, "When is the wedding?" My bother in law answered jokingly, "Well let's just say it is a prenup practice".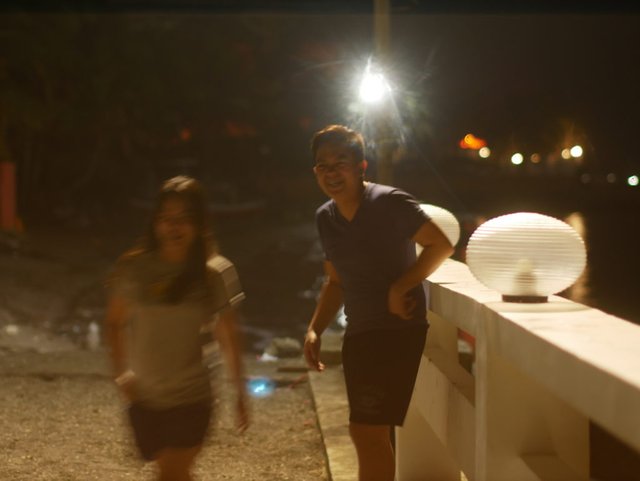 At first they were a bit embarrassed doing poses and were laughing all throughout. Well, I had to take over and give them a little direction. A little bit of sweetness is what we need in a cold evening like this.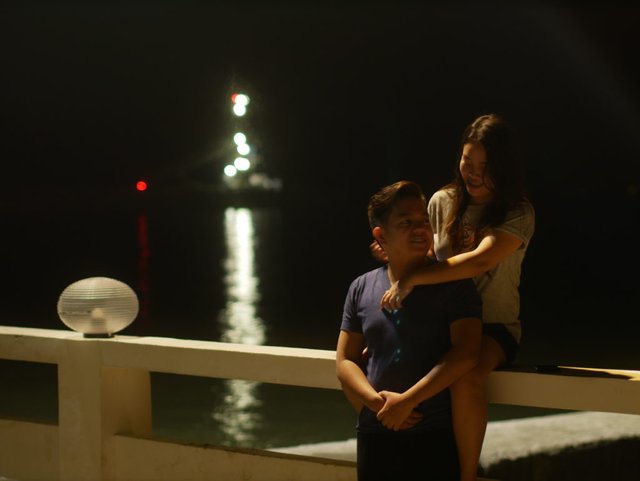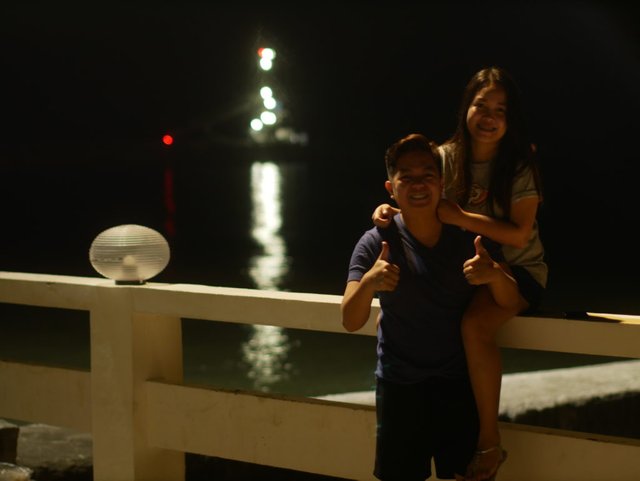 The kids has already gone ahead of me to the pool area and it is time for me to see what the place looks like at night.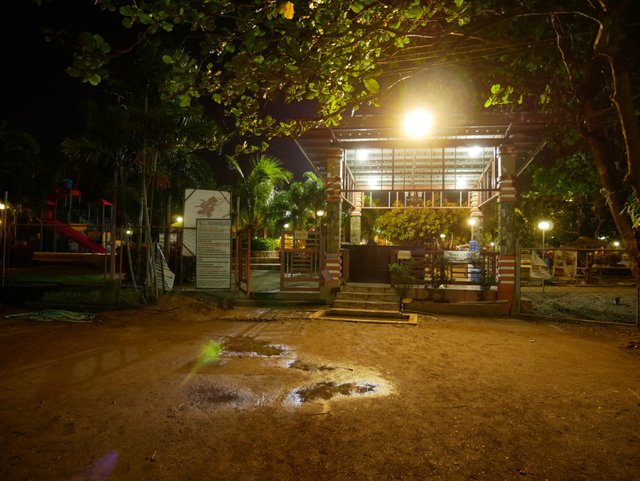 I wanted to see what my favorite spot in the area looks like in this gorgeous evening. We went there immediately and from afar I noticed the colorful glowing lights that changes color.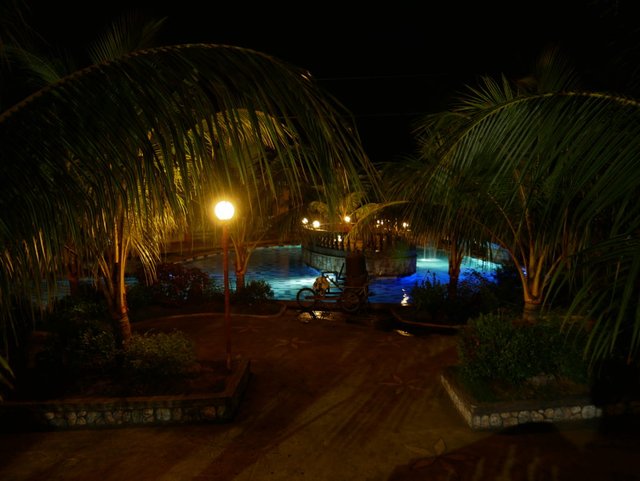 The lighting setup that they have here changes from blue, purple and red.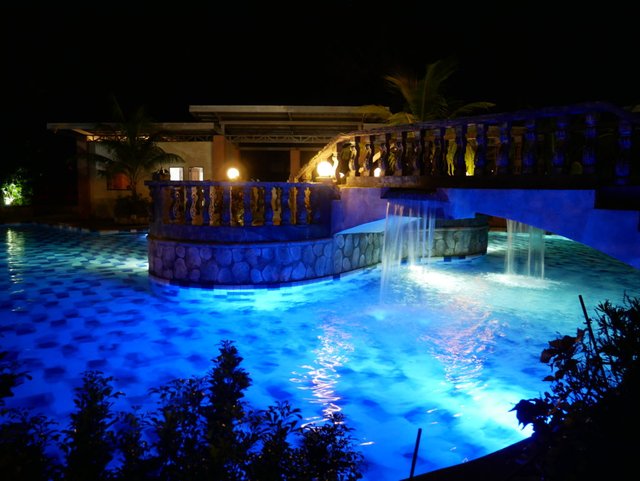 The lights were gorgeous and the romantic air was also enhanced by the warm yellow lights from the balcony like barrier.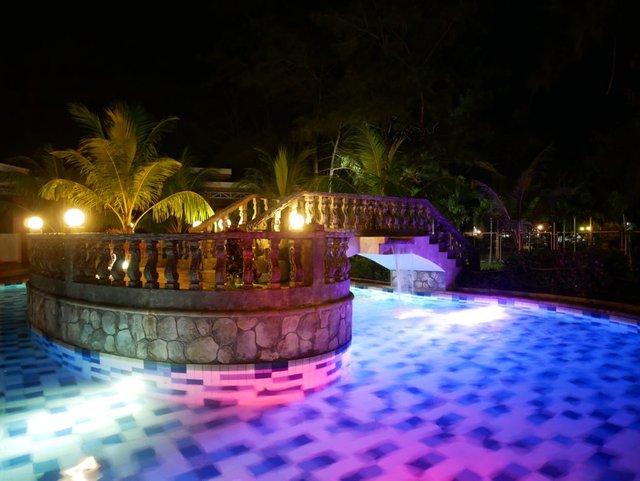 The design of the small bridge almost feels like old Spanish architecture. I never imagine that my favorite spot would be so gorgeous at night.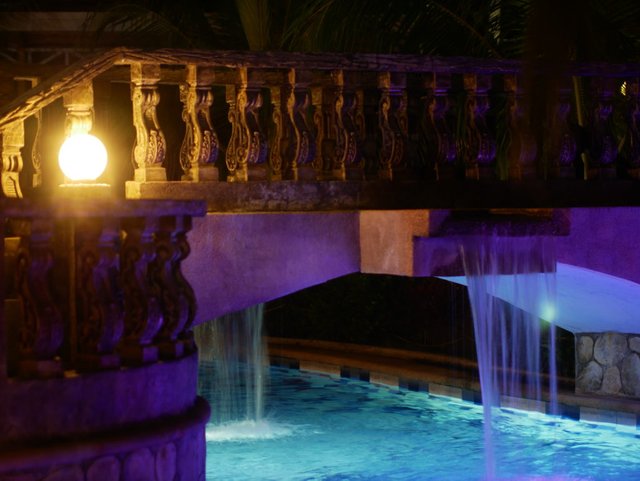 I dipped my feet on the water and it was very cold. Still it would be really impossible not to take a dip.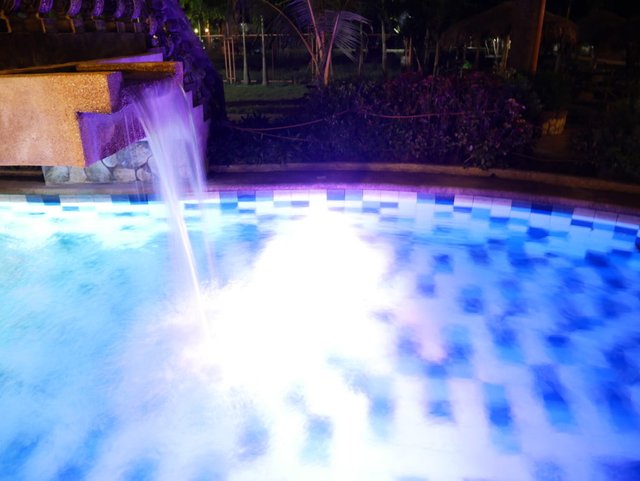 I was mesmerized by the changing colors of the water. I stood there to capture the color transition of the lights and the flowing water from the bridge gave it a soft glow.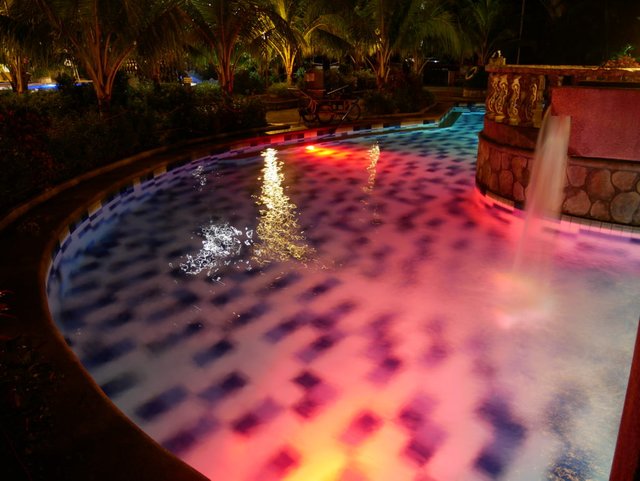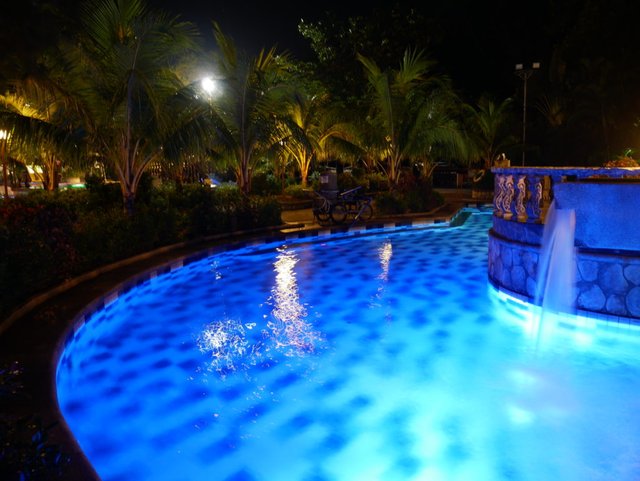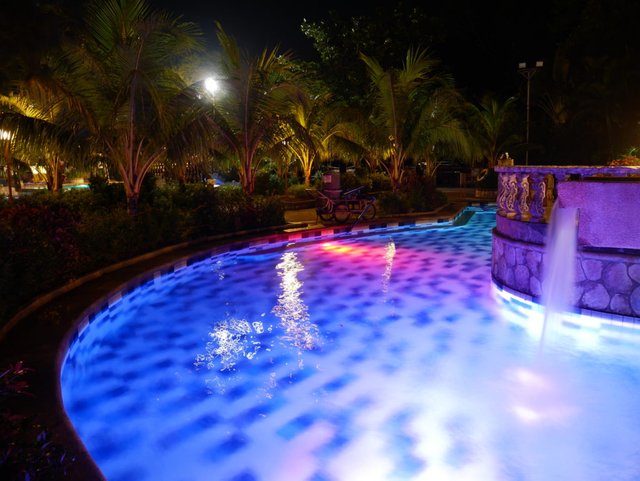 I almost forgot that my brother in law wanted me to take their photos. I called them and asked them to cross the bridge and see what we could come up with.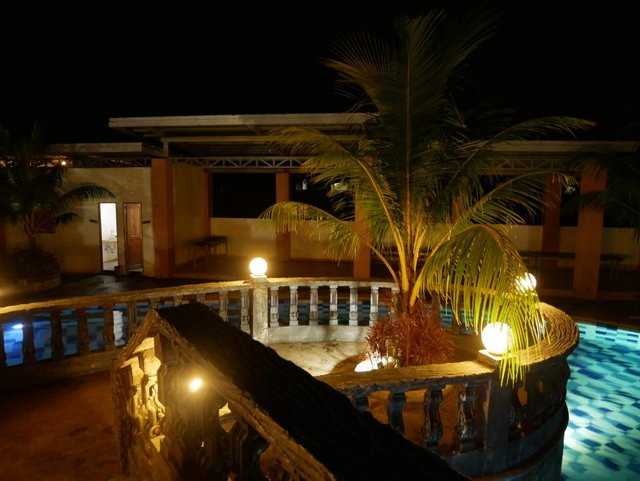 They immediately posed on the corner. So cheesy I think and I told them let's make it more natural and not scripted.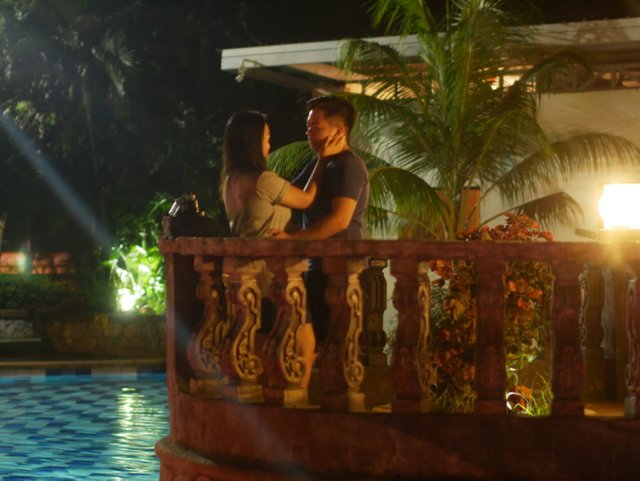 Just sit there and talk, joke around and imagine I am not here.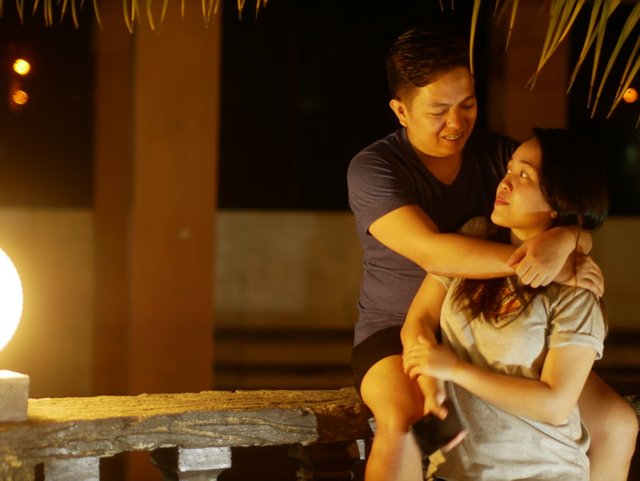 I am just an amateur photographer and still have a very long way to go. One of the problems that I still could not find a solution is lens flare. As you could see on the right part of the photo is that greenish flare that I could not get rid off. A friend told me that I would need filters to get rid of those. Something that I have not tried yet.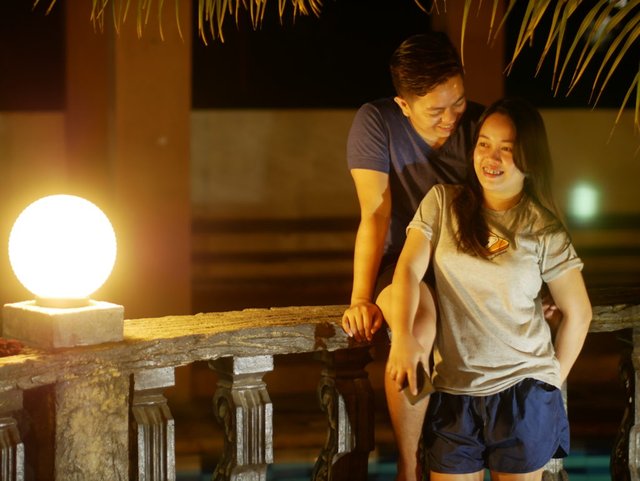 The other section of the pool is also lit up with color changing lights. Very peaceful, calm, relaxing and with just a few people in the pool. How I wish my wife was able to cuddle with me in one corner of this pool. Unfortunately, she had a small mishap during late afternoon. She missed her step while exiting our room and had a sprain. The nurse applied first aid said that she could not get her feet wet. Well, hopefully we could come back here again for a night swim.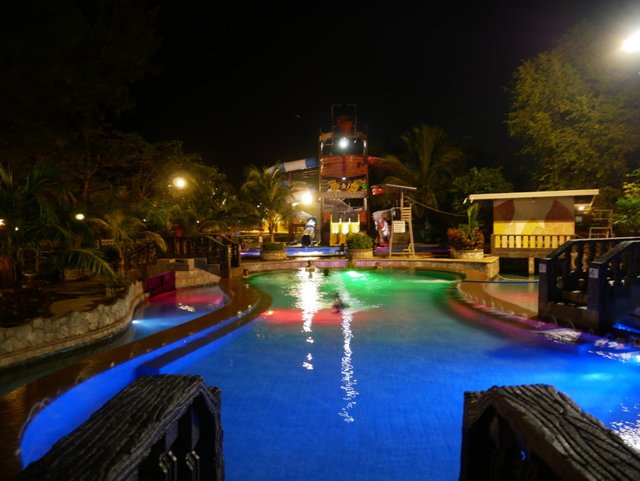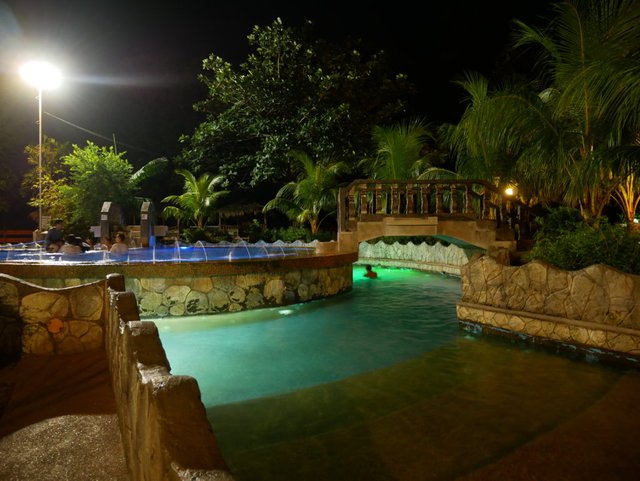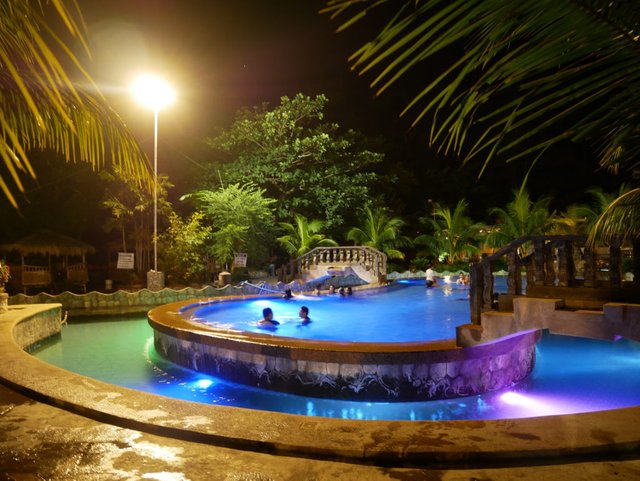 There were also a few people hanging around the pirate ship slide area. There were no lines on the slide so you could take a slide as much as you can.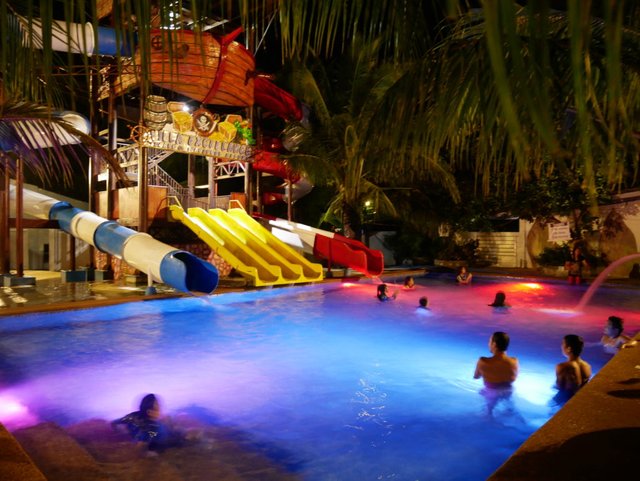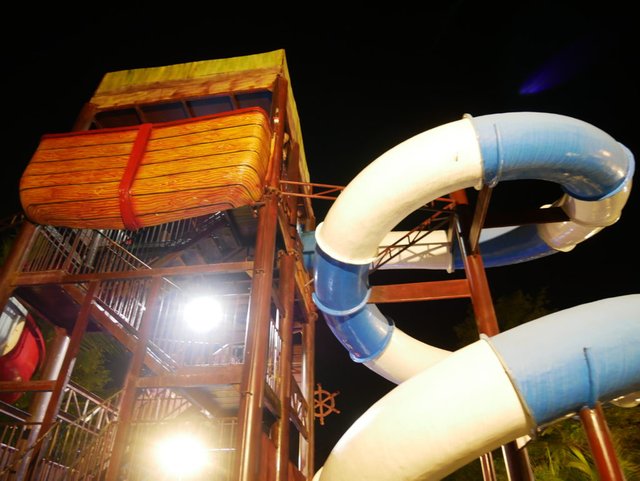 This evening the wave pool area was quiet. Still you could hear that siren after every hour which is an indication that the wave pool is activated for a few minutes.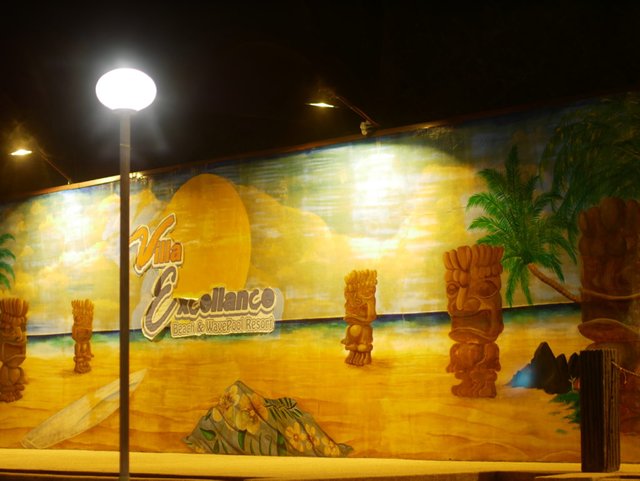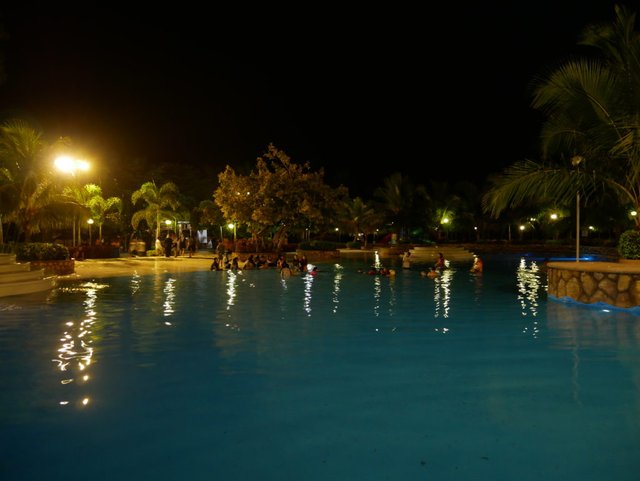 As I expected, it was really the best time to take a swim at night and you could tell why. The pools are not deep and there are still life guards in all areas making sure that everyone is safe at all times.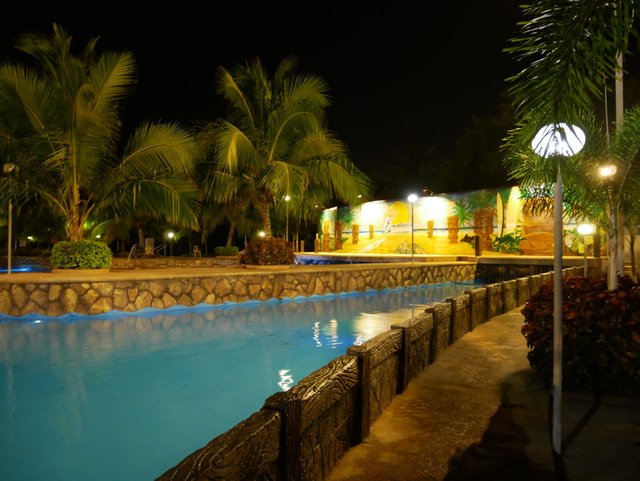 As the siren went off, the artificial waves came crashing down again on the shores. As I mentioned in my previous post, the waters on the beach here is not clear. I could say you could still experience the beach in this resort and I really love what they did to this place.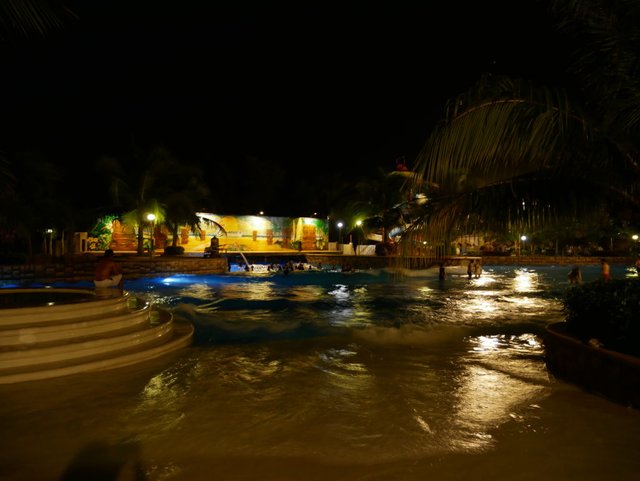 Spend some time in this bubbly pool and see if you could cover all the spurting water from the sides. Actually, we were able to cover all the squirting water with the help of my brother in law and the kids. Little things seems to get you entertained when you are in a pool. After we had our fun, it was getting late and I decided that we should all get some rest now. But not before I asked the kids if they also had enough fun already.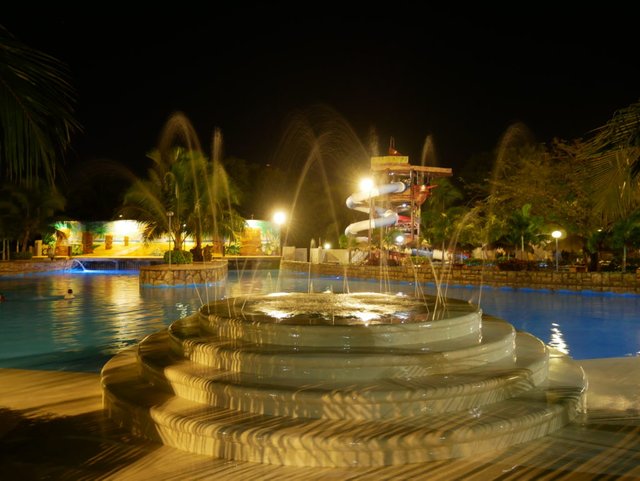 The next day we woke up around 7 am and I wanted to take some more photos around the area.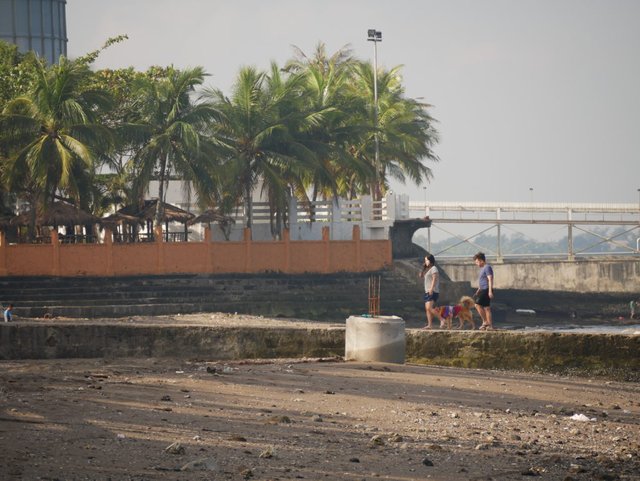 The beach area had dark sand and a lot of shells and corals are washed on the shore.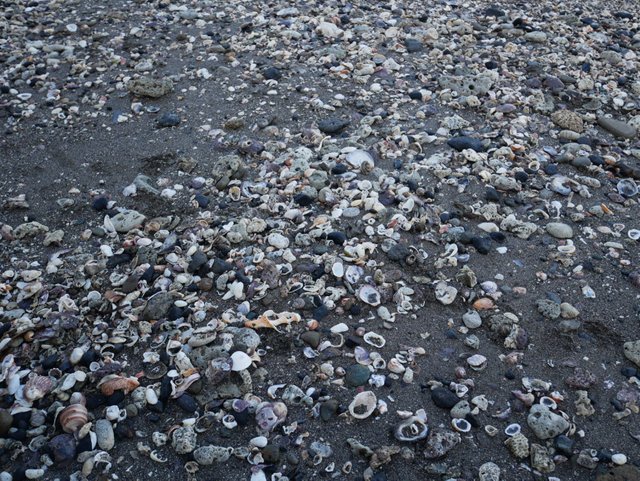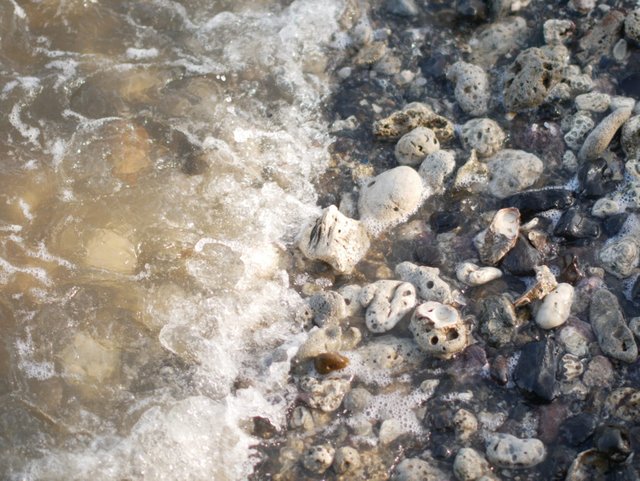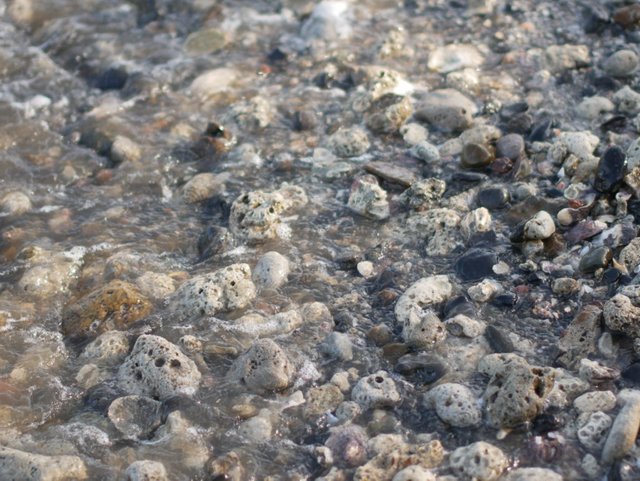 An interesting sight which are quite common in some of our local resorts. Fisher men go to the shore to sell fish to the visitors on the resort. I love this as you would enjoy fresh bounty straight from the ocean.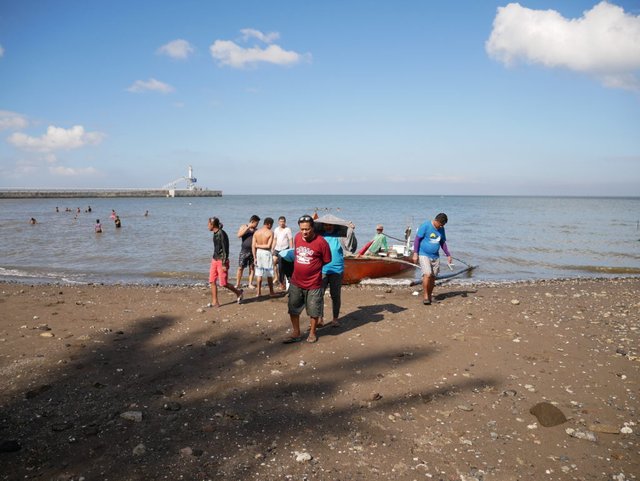 Someone already bought this pile of fish for I think 150 pesos or around $3.00 USD. How would you like to buy fish from boats everyday. Quite exciting as you would not know what type of fish they would be catching everyday.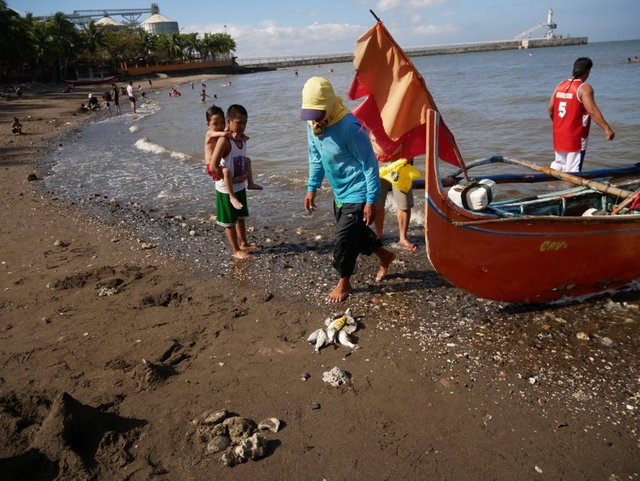 This bucket of fish is being sold for 500 pesos or around almost $10.00 USD. It's a mix of different types of fresh fish. What do you think? How would you like to buy this bucket of fish? So many ways to cook and enjoy fish.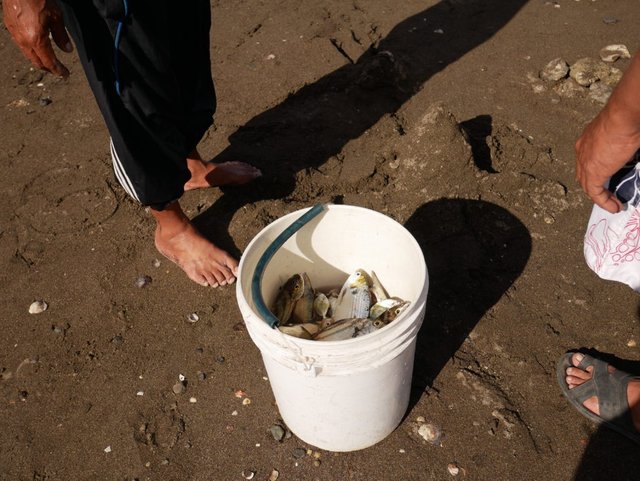 A lot of fishing boats are parked near the resort and I noticed something interesting. There were people using the rubber interiors from tires as a floater and were catching something.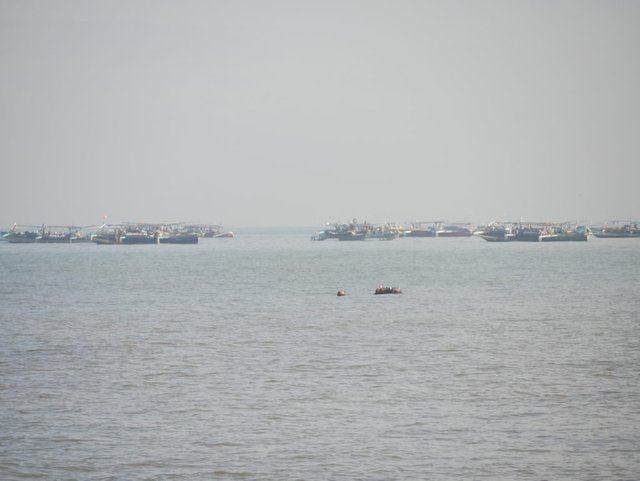 Later I found out that these men were using nets to also catch fish near the area. They were after small fry which they sell and grow in fish pens. Sometimes they are lucky if they catch a red grouper which is expensive.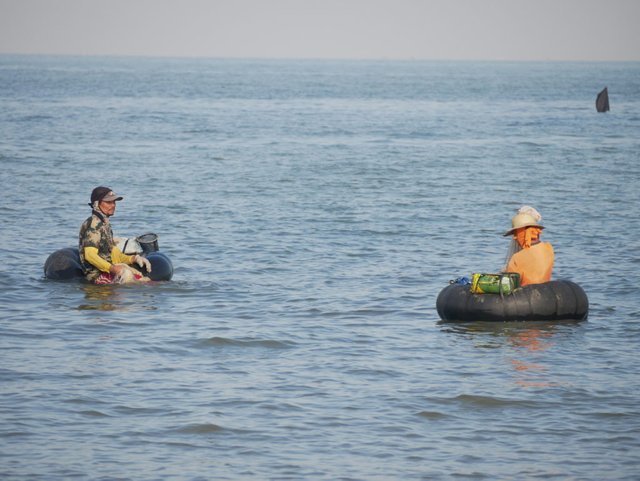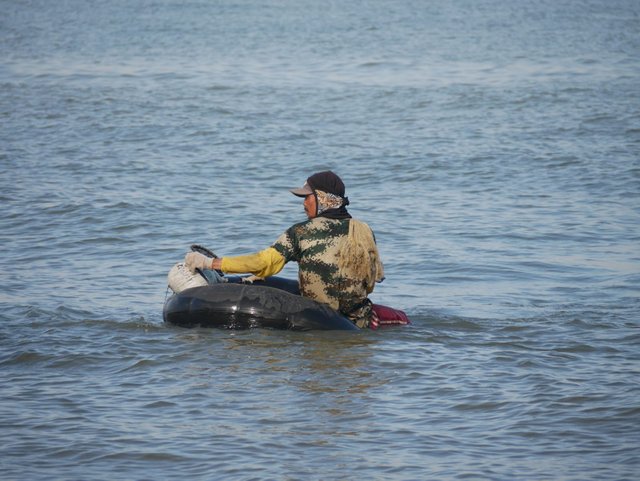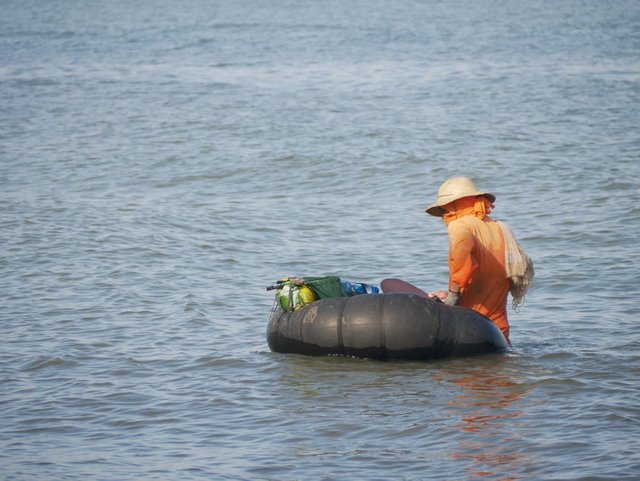 Some also use nets along the shore and if they catch larger fish they sell it. Also this is a food source to feed their families. Life here is hard, but people get by each day and survive.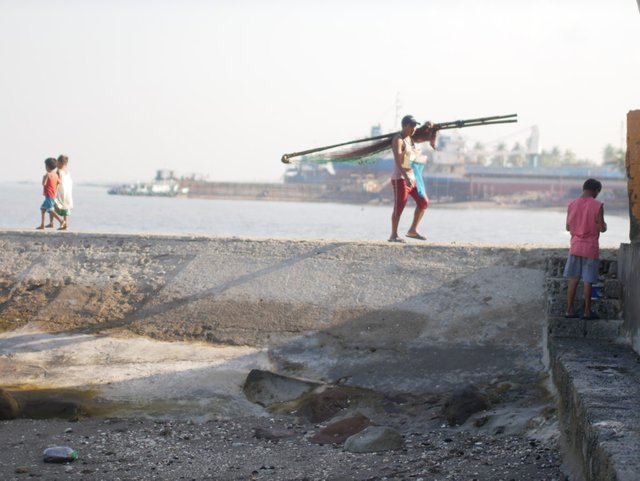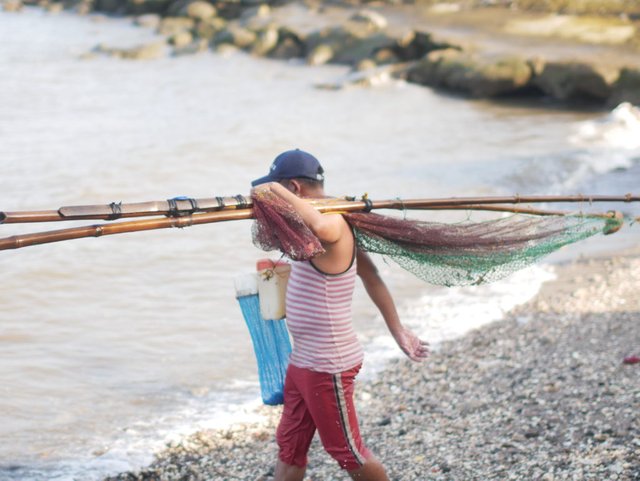 The guy in white on the the photo below is security from the resort. They seem to not mind having residents near the area passing thru and fishing around the resort.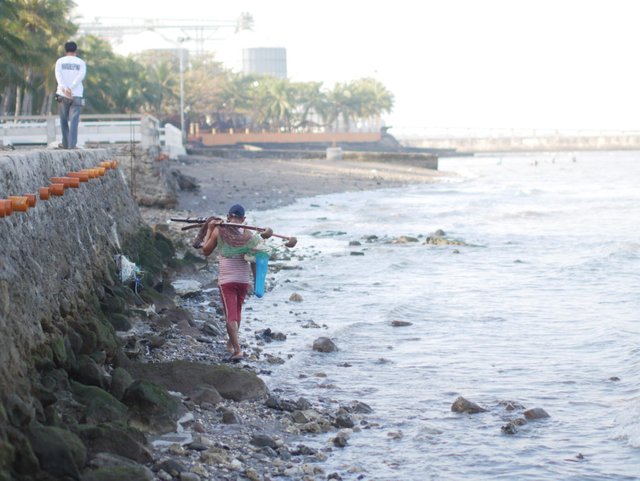 This area is where the resort property ends and is the boundary that leads to the local residents.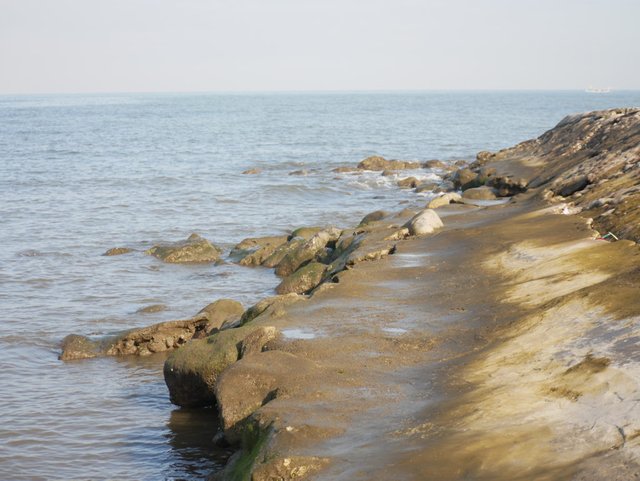 From here I saw a big ship and a couple of fishing boats.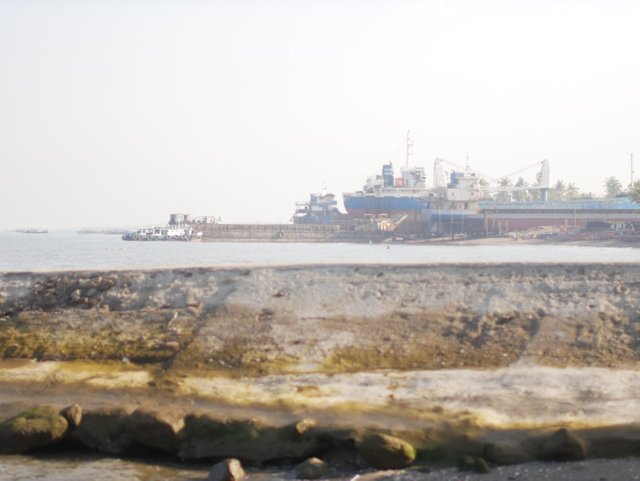 The area where the river meets the ocean.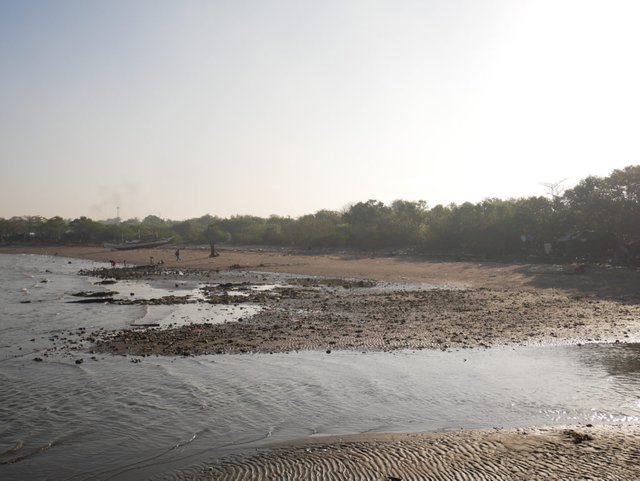 A rusted out ship and I am not sure if it is still operational. Here I used my Olympus zoom lens which is a great way to check the area without leaving the boundaries of the resort.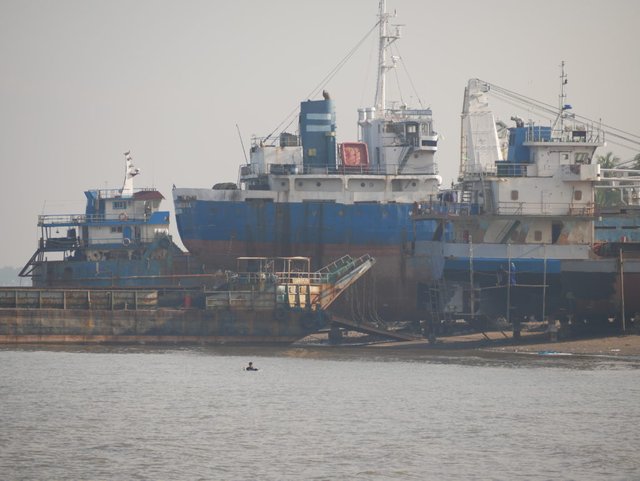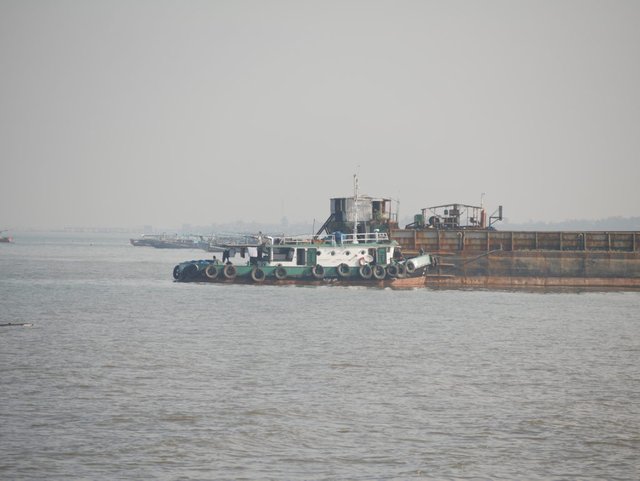 This is where some of the locals live. A lot of them rely on the ocean to get thru the day. There are a lot of poor people in our country, but despite of it they smile and enjoy living a simple life.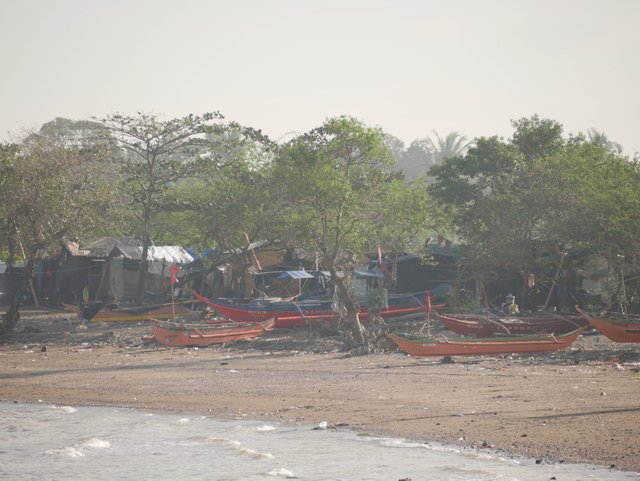 A father and son taking a morning walk on the beach. With the stick they are carrying they might be looking for something. Shell fish perhaps that hide underneath the rocks and sand.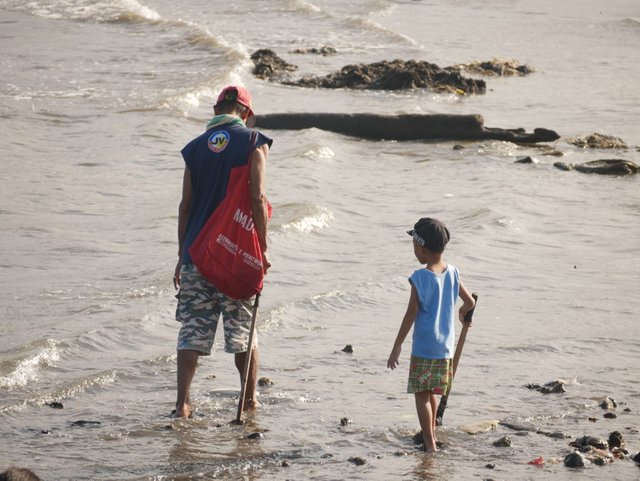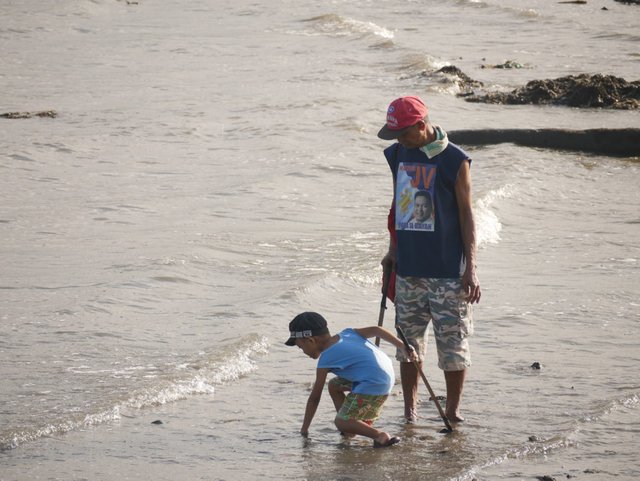 As I was about to go back, I noticed some kids on the rocks.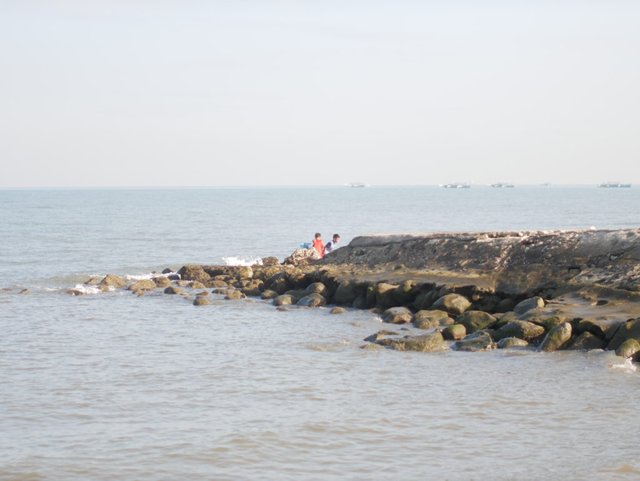 I came closer and noticed that they were getting something from the sides of the rocks. I didn't know what they were so I hanged around for a little bit longer to find out.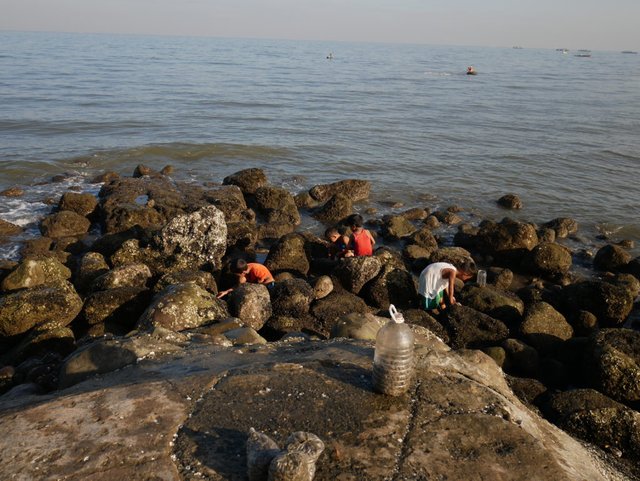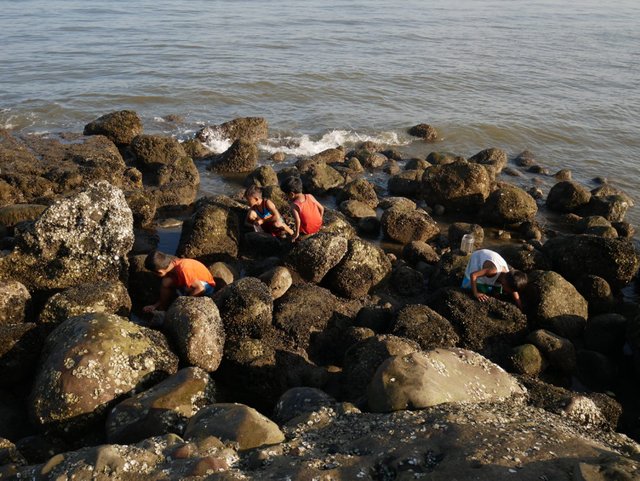 The rocks are slippery and I would say dangerous, but these children were very occupied with what they are doing. As I investigated further, I found out they they were removing barnacles from the rocks.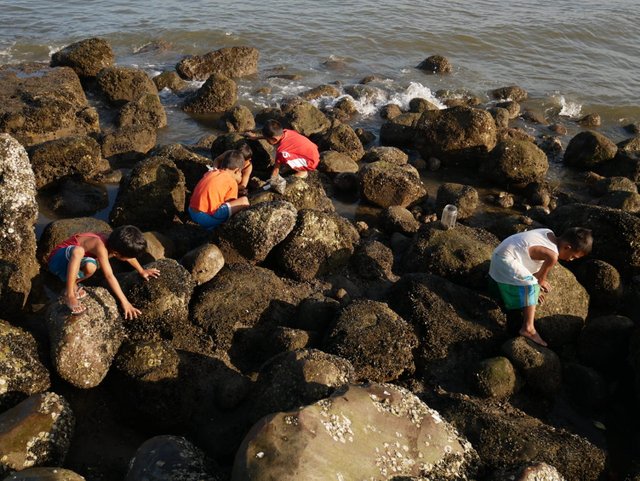 They put them in plastic bottles and later on transfer them to plastic bags.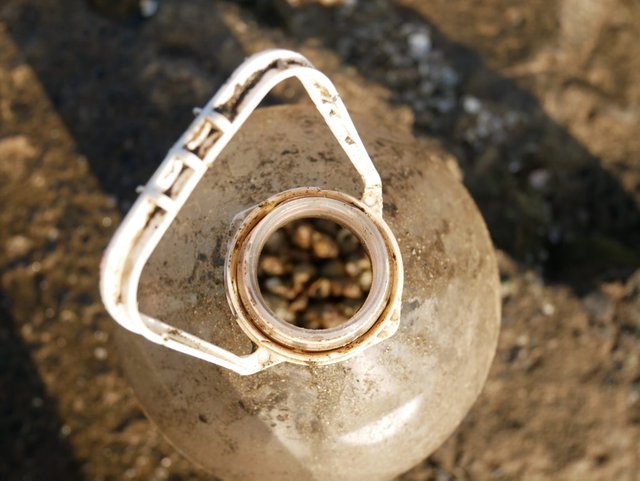 As I asked one of the children what they were doing. They said that they sell barnacles and I was a bit confused as I didn't know that you could eat them. They said that you could just boil them or add them to soup.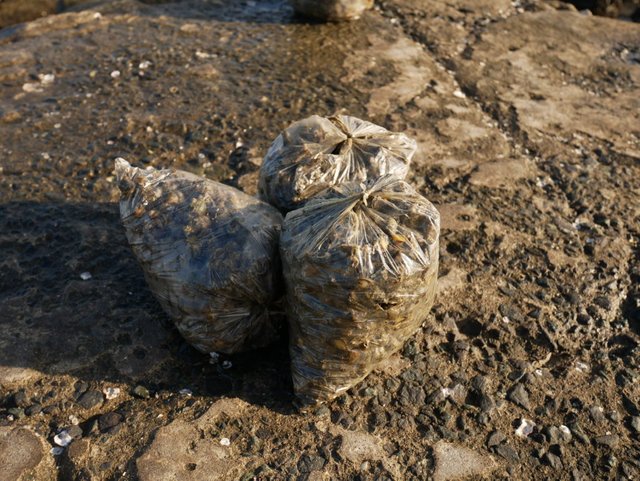 The kids sold them for 20 pesos or around $.38 cents a bag. Maybe it is one way for these children to help out their parents. It struck me and made me sad for these children seeing them climbing on slippery rocks to gather some barnacles. A lot of people in the world takes food for granted and tend to waste a lot of food. Here in our country there are people who struggle just to get thru each passing day. Surviving which what they could scavenge around the area.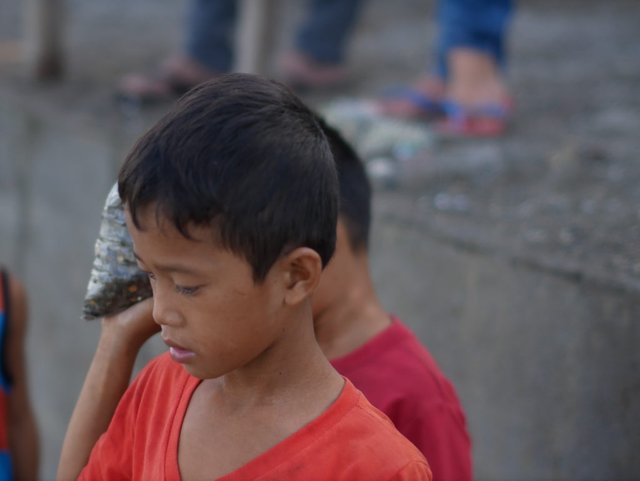 Here in our country there is a fish bidding practice called bulungan (whisper), a silent bidding where you whisper your bid to the fish seller. On the lower right side of the photo, you would notice people with buckets gathering near the fishing boat. I assume there is a fish bid going on.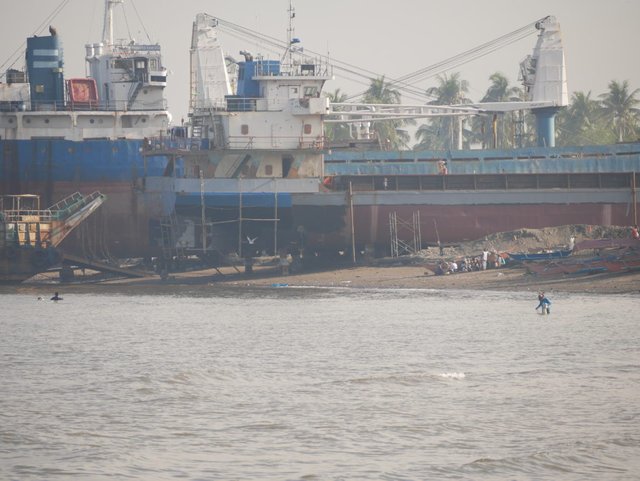 I noticed this woman carrying a big bucket which looks very heavy. She came closer and closer near the boundary. It was hard to climb up the boundary and you had to hold on to a rope to be able to get across. As she was climbing up, I offer to bring up the bucket for her as she climbed. She was very thankful and I noticed the bucket full of fish. I asked her if she was selling the fish. She said that she buys them from the boats and sells to the customer in the resort. Now I am beginning to understand them, the resort and the locals have some sort of arrangement. Maybe they allow them to sell inside the property as one way of helping out the residents. If that is the case the owners of the resort are very kind in doing so.
I asked her to wait as I wanted to call my wife to buy some fish from her. When I came back with my wife she already had the fish sorted in plastic bags.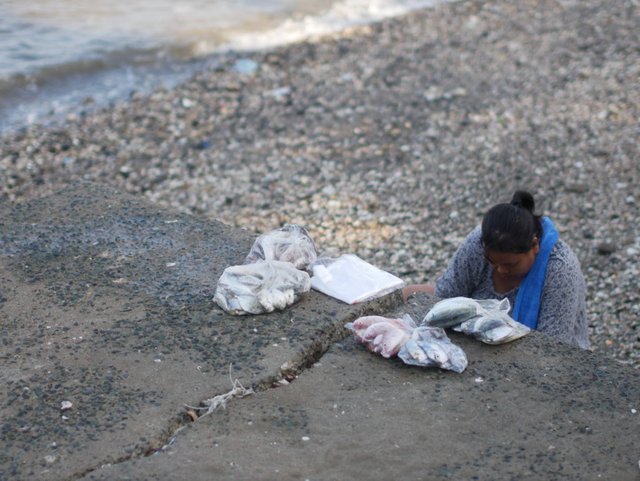 As my wife selected the fish that she wanted, the lady also offered to clean the fish for her.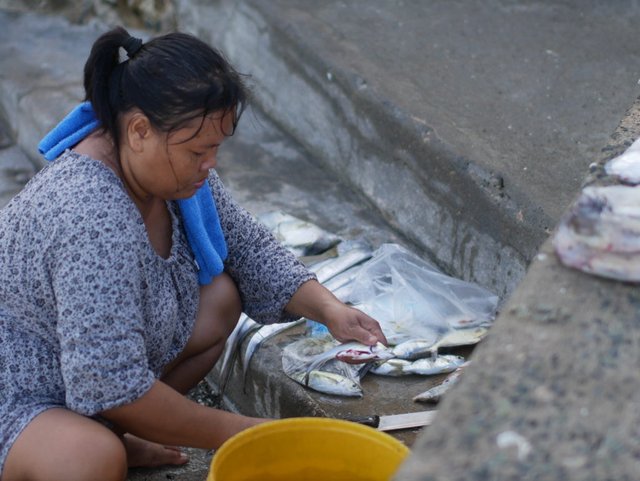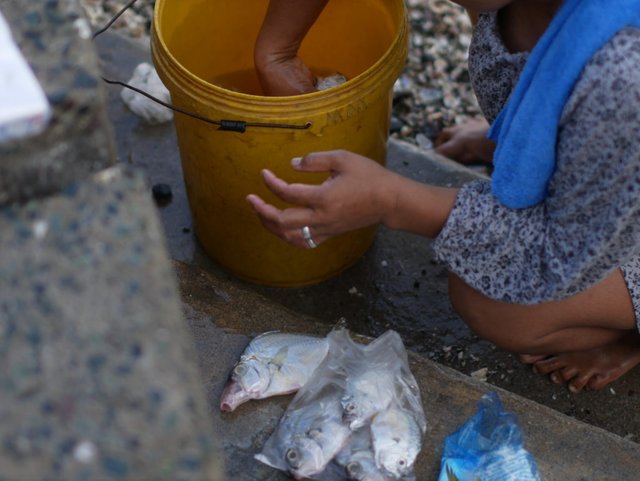 The fish that my wife bought are called Talakitok, Asohos and Espada. All of these are very tasty and are favorite of my kids. My wife bought around 200 pesos worth of fish which is around $3.80 USD for one plastic bag.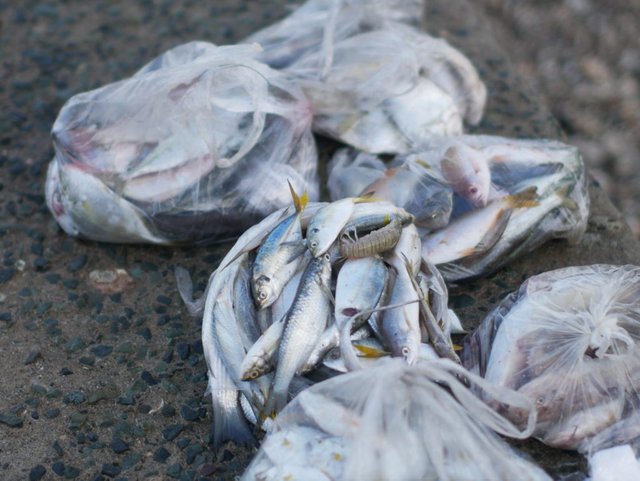 This is one of the reasons why I wish I could live near the ocean. Go out fishing or buy fresh fish everyday from fishermen instead. Better yet have your own vegetable garden at your back yard to have everything that you need. Maybe someday I will be living the life I always dreamed of.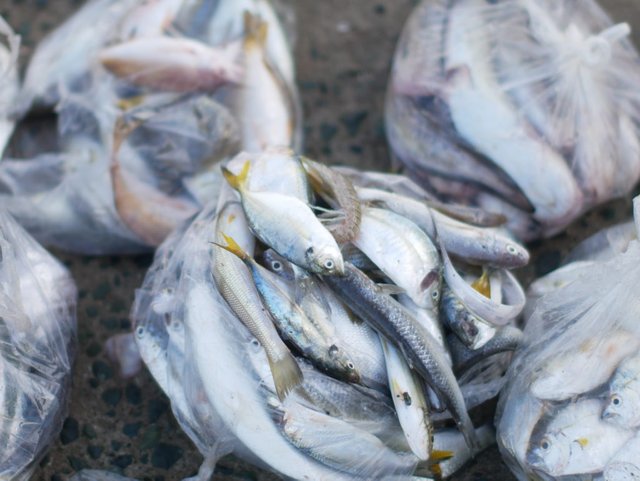 This fish is called Espada also known as Belt fish. This is a very tasty fish and best fried.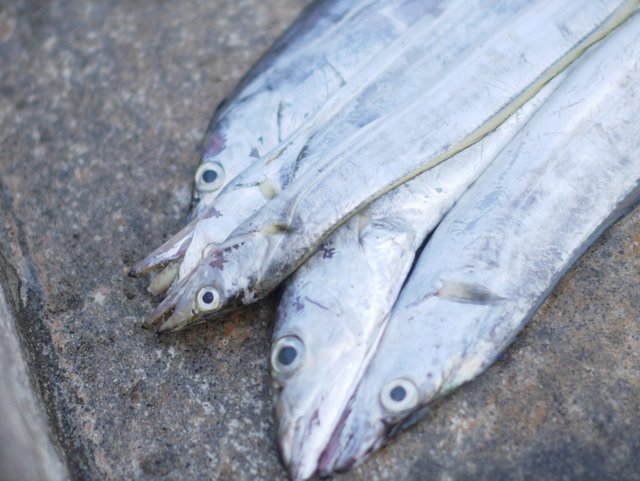 I guess this concludes our visit to one of the most popular resort near our area. An affordable place to spend some time with the family. With beautiful pool amenities which are well maintained, clean picnic area and fresh fish sold daily. There is nothing much we could do with the water on the beach though, but still you could experience the waves and the beach ambiance in the resort.
Life is so much better when people coexist harmoniously and do what they can to help people even in a small little way. Thank you again for joining me today and have a blessed Sunday everyone.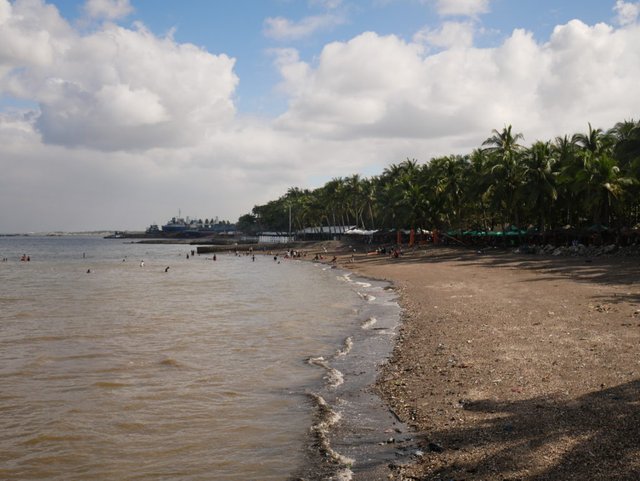 Official Page

Visit and follow @steemitbloggers AKA #powerhousecreatives. A community that is exceptional, talented and engaging.
Discovering exceptional content in the community follow @curie and vote as witness
To have a glimpse of awesome content from the Philippines check out @bayanihan
Follow @surpassinggoogle to witness an extraordinary person in this platform and vote for @steemgigs as witness
All photos are original and taken with
Lumix GX85 12-32 mm kit lens, Olympus 40-150 mm
and Sigma 50 mm




---
Posted from my blog with SteemPress : http://watersnake101.vornix.blog/2019/03/24/a-romantic-evening-and-life-by-the-resort-beautiful-sunday/
---