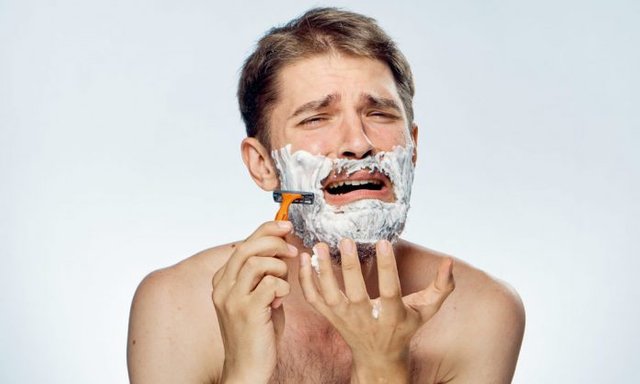 When you think about beard growth, you may instantly think about the common knowledge you've been told about facial hair. You know, the people who adamantly claim that shaving would stimulate the growth, or that investing into their beard pills and growth oils, you could grow a massive beard in mere weeks.
Well, to set the record straight, today I'm delivering you a list of seven beard facts and myths, so that you can really understand what it takes to grow a beard, and what to stop doing right now.
Let's begin.
1. Shaving Does Not Make your Beard Grow Faster
This is possibly the biggest beard growth myth ever.
Everyone and their dog tells young boys that in order for them to grow facial hair faster, they should shave more often.
Well, that's completely unnecessary, as there's ample amounts of proof that shaving does not stimulate beard growth. It will only cut the pointy ends of the beard hairs a bit more coarser, but that happens only once, and then there will be no difference in the texture of your beard afterward, with shaving, ever.
So bottom line is that yes, the very first time you shave your beard will appear marginally thicker, but that happens only once, and there's no "beard growth stimulation" that would magically happen underneath the skin. In fact, shaving only promotes beard dryness and rashes, which may hurt your natural beard growth abilities.
2. There are some Supplements and Vitamins that do Help Grow a Beard
There are huge amounts of snake oil salesmen running loose selling their scammy beard supplements and vitamins. 
Most often they are under-dosed multivitamins with a massive price tag and a word "beard" labeled on top, and sometimes the manufacturers even buy cheap womens hair vitamins and sell them with double the price after gluing their own "beard booster" labels on top of the old ones.
And in the worst case scenario, some of the ingredients are DHT blockers, and in the mistake of thinking that the facial hair can be grown with same compounds as the scalp hair, the manufacturers have put DHT blockers into their beard supplements. This is a gigantic mistake, as facial hair growth is actually stimulated by DHT.
Anyhow, the above might make you think that all beard pills are inherently bad, but that isn't the case.
Research suggest that the following beard supplements and vitamins may slightly improve your natural beard growth rate at least:
a high quality multivitamin supplement (not beardilizers, etc. just normal vitamins).
Carnitine may stimulate androgen receptors, which help hormones get into the hair follicle.
3. Rogaine can Grow a Beard
In one of my earlier beard steemit's I mentioned minoxidil (Rogaine) as a possible beard booster.
This is the popular scalp hair-loss drug, which has extremely impressive track record in helping the hair grow faster and thicker on the top of the head.
Not many know that it works exactly the same on the face, and can help you grow a beard (yes, that's right, Rogaine can grow you a beard).
There's impressive amounts of anecdotal evidence on its effectiveness, and perhaps the best minoxidil beard journey comes from one of the first pioneers himself, Basik Ali Coe, who's YouTube series followed his progress from a patchy small beard, into thick and full mane with the help of just using minoxidil.
Here's an example video:
And here's a great "ultimate guide to minoxidil for beards".
4. Beards Get Dandruff Too!
It may sound like an evil joke, but your head is not the only place that can harbor dandruff.
You can also get dandruff on your facial hair.
"Beardruff" can happen from variety of causes, but the most common include:
General dry skin under the facial hair and lack of moisturizer.
Dermatitis (Eczema).
Sebhorrea (Seborrheic Dermatitis)
Plaque psoriasis (Psoriasis Vulgaris)
Yeast infection (Pityrosporum Ovale and Malassezia Globose).
5. Hipsters Started the Modern Beard Trend
Everyone hates hipsters, but us beardsmen need to thank them.
As it was the "hipster beard" that actually started the whole craze around facial hair in around 2008, and according to Google Trends, the craze never really slowed down.
Despite the fact that the Independent and many other popular news outlets will try to adamantly tell you that facial hair would be going out of style or that beard would be "full of poop bacteria", the fact is that beards are still very much in fashion and the story about beard bacteria was not really that accurate after all (Gee, who would of known that it was a click-bait article...)
6. There are Over One Thousand Different Beard Oils Sold in Amazon
Some years ago no one was selling beard oil (except maybe the hipsters), and today, if you type beard oil into Amazon, you will be greeted with around 1,000 different bottles to choose from.
As it's getting close to Christmas, there's no better time to find beard related gifts to the hirsute man in your family, and there has never been a better surplus of beard related tools available.
7. You can Dye your Beard, and it's Easy
Adding color to your beard has never been easier, in fact, it's much simpler process than dyeing your hair.
With products like Just for Men (the most popular beard dye brand on the market), it will take you about 5 minutes to change the color of your beard, and the results will last for weeks, fading away naturally.
Below is a video which shows this perfectly: