Getting to end a day by sea is always an excellent decision. Make sure you start your trip by 5 in the evening, getting there in time for the sunset. Grab some snacks for the late night cravings because you might want to eat more than you actually do in the evening courtesy the swim you would love having.
Jumeirah beach is right at the corner of the Emirate giving best view in town to watch Sunset right next to the famous Burj Al Arab. Its a public beach about 10 km from downtown Dubai. This is how it looks right before sunset :)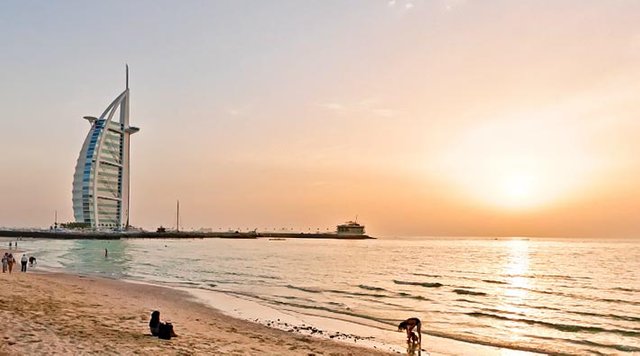 This just adds millions of colors to your sunset and becomes one beautiful place to end your day at.
I personally was having one tough time of my life, career was seemingly heading no where and life was becoming tougher with each passing day, Expectations were like fine pottery. The harder you held them, the more likely they were to crack. Friends made a plan of going out and have an infinite swim right on the edge of the city and I thought this was the time and perfect place to take a break and think again about where life is heading and how can life be changed into something exciting.
Reached there in time for the sunset and enjoyed one of the best sunsets of our life, Stayed up an hour having drinks after the sunset before the kid in us could come out and finally start being itself,
They say if u are at a beach Try digging to China!
Here am I trying to swim all the way to China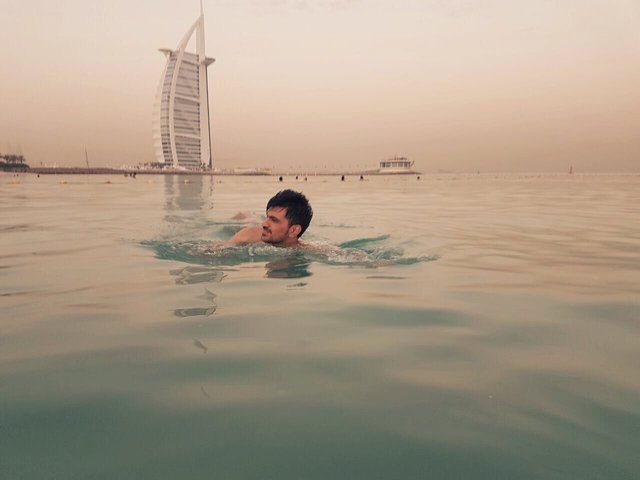 LOl kidding, it was almost sunrise and we didn't realize how quick it was from sunset to sunrise. Swimming is surely a good sport to kill time.
Lets talk about Beach Etiquette
Don't Litter: Don't make a beach look like a garbage bin, use the already placed garbage bins instead.
2.Carry a Towel:
If you're enjoying common areas, make sure to carry a towel with you.
3.Don't Blast Music:
Sure, you'd like to enjoy your music but keep it low enough so your neighbors don't have to listen to your favorite rock band. Better yet, use earphones.
4.Don't Hog Beach Chairs:
You may want the best spot on the beach, but don't put your belongings on a chair just to go back to your hotel or condo to snooze for a couple more hours.
5.Don't Take Photos:
You shouldn't take anyone's picture without permission on any beach.
6.Don't Remove Sand Close to Others:
When removing sand from towels and other belongings, make sure you aren't getting it on your fellow beach goers.
7.Keep Your Distance:
Even if you're on a crowded beach, do your best to keep distance from other beach goers.
8.No Staring:
If it's your first time on a beach, you may find it hard for your eyes not to wander. Take a book or an activity to keep your eyes focused.
Final words on a night out at beach: One should take some time out of their busy schedule and arrange a friends get together to a nice nearby beach. My experience has always been wonderful and refreshing. In a 2011 study, researchers at Washington University asked over 1,000 beach goers about their mental state before and after trips to the ocean. They found that beach trips reduce stress, increase creativity, and can reduce feelings of depression and anxiety and were overall restorative for our psychological well-being. Those who experienced more stress and fatigue in their daily life found the beach the most reinvigorating. As for conditions, they found that mild temperatures, low tides, and sparse crowds were the best conditions for restoration, which sounds like a great reason to visit the beach off-season. While the researchers focused on California beaches, there's no reason the same theory wouldn't apply to the Gulf Coast or any other beach line in the world.
Try visiting your nearby beach more often than you usually do. And if you happen to be in Dubai Jumeirah could be the best place to visit any time of the day, sunsets and sunrises at Jumeirah are just a bit more magical .
hope you will like reading and support it. Much Peace & Love