Dear readers,
I know that most of you, I'm sure 98%+ are completely fine with what I do..but there are always those few crazy people out there..
Most notably, @nutritree, who has been flagging me, a flag war he started by the way, and his buddy @fulltimegeek, religious nuts, the both of them.
@fulltimegeek is the flat earther that thinks I'm evil for charging interest on my loans, because my time is worth nothing apparently. I just spent an hour doing loans this morning, fuck me right. I should be working for free, according to fulltimegeek. It's enraging.
Why are you so angry Neoxian?
Let me paint a picture for you...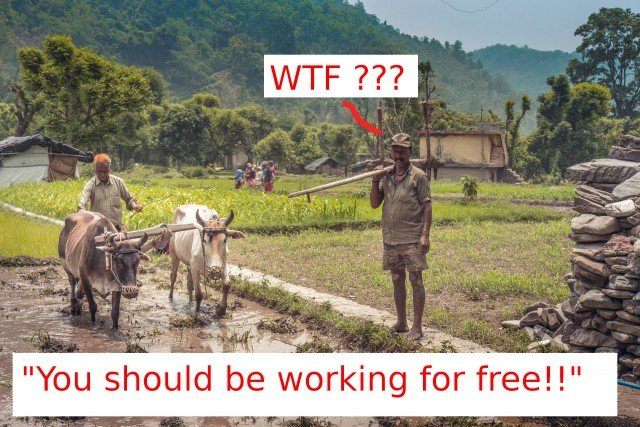 (badly photoshopped picture of farmers I found on the web)
Can you imagine, walking up to these farmers, sweaty, muddy, tired from the back breaking labor, and saying something like "Waahh, you evil farmers, why are you charging money for your food? Think of all the starving children out there, everyone needs food! My religious text says you are immoral for doing do."
The only sane response would be anger, or at least scorn and derision.
Ok fine, obviously the work I do is no where near as difficult as what those farmers above do, but it's still work, I spend hours each day, going over books, dealing with customers. And there is a real risk in what I do. I get defaults, plenty of defaults, where I'm left holding the bag on an account that worth much less when what I loaned out. Sometimes I wonder if I make a profit at all.
I have depositors, people that have entrusted me with their hard earned money and I have to respect them by getting off my ass and making money for them, you know, like how Banks are supposed to work?
You charge too much for your loans Neoxian!!
Maybe I do..maybe I don't. If you really feel this way, nothing is stopping you from charging less or even no interest on loans to the general public. Show me how it's done, bigshot. Undercut me, put me in my place. So far, no has done so.
To be honest, I'd love some competition, someone who could put me out of business by loaning faster, cheaper and more efficiently I do. Then maybe I could finally take a break, rest assured that good banking is alive on the blockchain.
I just helped a guy out with a loan this morning. He was in a jam and had no one else to turn to, but I was there for him. Where were you @fulltimegeek? Too busy smelling your own Holier-then-thou farts.
@fulltimegeek tells me "I assure you all my loans have been interest free."
Whoopdie-fucking-doo, congrats, you made a handfull of loans out to friends and family that you have known for years (correct me if I'm wrong), and you didn't charge them any interest (but I'm sure you got other favors back.)
I can promise everyone, that the average needy person on this blockchain hasn't a chance of hell of getting a loan from @fulltimegeek (interest or no). But at least, you might get one from me (much much higher chance anyways).
You Cannot Reason People Out of Something They Were Not Reasoned Into
I know there is no reasoning with people like @nutritree and @fulltimegeek, I just needed to get this post off my chest. If they respond at all, I'm sure it will be with bible quotes (yep I'm an atheist, I don't give a fuck), and they will say how I'm preying on the weak or other such bullshit. Whatever you bible thumping fucktards, neither of you are going to stop my banking or drive me off the blockchain.