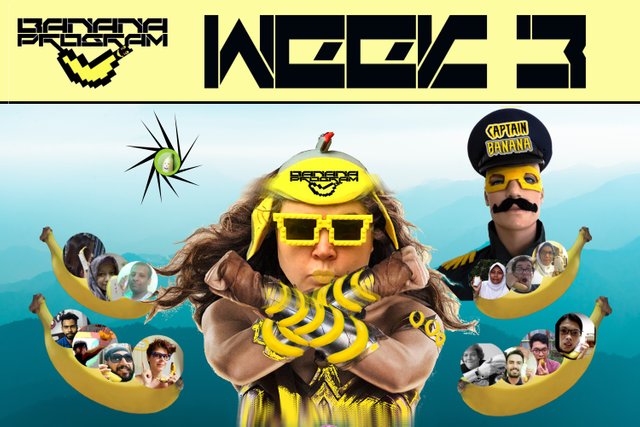 The winner of Week 2 Banana Program will be announced tomorrow, but for those who want to get started on Week 3 Tasks, here you go!
What is Banana Program? Banana Program rewards people who do social and creative tasks. Banana Program was inspired by the Partiko app and is unofficially sponsored by the @stupid account. But BANANA PROGRAM is completely independent and not supported in any way by Partiko. BP is the brainchild of Stellabelle, and its mission can change according to whim, upon no notice.

BANANA PROGRAM WEEK 3 TASKS:
Step 1: Download the Partiko app.
Step 2: Welcome 9 new people on Steem, and post their names in your entry.
Step 3: Make some art with a banana.
Step 4: take a selfie photo like this: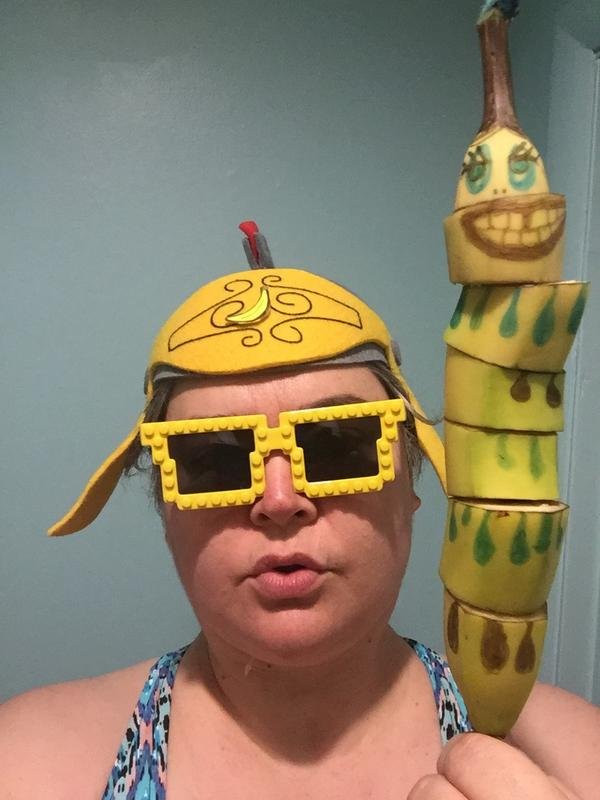 MORE INFORMATION AND INSPIRATION FOR WEEK 3:
Note: To be considered for an upvote, your Banana Program post must be posted with the Partiko app. You must complete all these steps. I will be checking them. ONE POST PER PERSON PER WEEK.
Download the Partiko app. Android iOS
Go to the #introduceyourself tag and welcome 9 new people. Write a comment in their introduceyourself post. List all the names of the people you welcomed in your post.
See example below: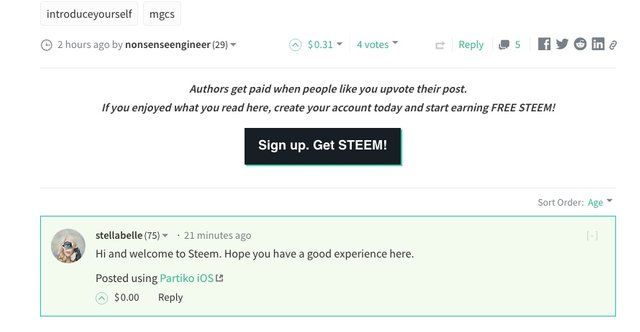 @nonsenseengineer, @madninija, @niteshpoudel, @sendingmylove, @dlachman, @damianswagz, @rohitarena, @anttn, @adamdonmez
Make some art from a banana and take a selfie with it. For people who want to be anonymous, masks are allowed. The selfie photo is done to prevent people from scamming this program.
There are many art things you could. Here are some ideas but you can literally do anything you come up with:
Idea #A: Cut up a banana into sections and color each section with food dye. Put the banana back together with toothpicks. This would make a rainbow banana!
Idea #B: Paint a banana:
Idea #C: Draw or paint with a banana, using the banana as a paintbrush:
Idea #D: Tattoo a banana with a thumbtack:
Idea #E: Make a dog or a dolphin out of a banana:
Idea #Z: Do something weird with a banana…..like freeze something inside it….see video for inspiration:
Whatever you decide to do with your banana, use your imagination!
Most creative entry wins!
PLEASE TAG YOUR POST WITH 'bananaprogram' and 'partiko'. Also, post a link to your Banana Program tasks post in the comments below, so I can find it.
As you can see the tasks are getting harder and each week a new task is added. The most creative entry will win prizes. Deadline is next Monday 1:00 AM CST USA time.
If you're new to the Banana Program, go here to learn how to participate: https://steemit.com/partiko/@stellabelle/banana-program-new-steem-project-designed-for-bored-humans
Banana Program is inspired by the fast and beautiful app for the Steem platform, Partiko app The Partiko app uses SteemConnect, so it's safe to use. The developer of Partiko is an experienced programmer, and his name is @crypto.talk on Steem. Partiko has a discord channel, so drop in for any issues or questions: https://discordapp.com/invite/N7Et97G
Just an FYI, I am not a member of Partiko, nor am I receiving any monetary compensation. I am interested in the retention of users on Steem, and this app has a high retention rate. I feel that it's the best app in terms of happiness because you receive points for doing things like upvoting, commenting and resteeming. I heard that these points can be converted into upvotes. Also, Partiko doesn't take any cut of the rewards.
Ps: Don't listen to @stupid, he/she is not an official judge. Also be suspicious of @mikepm74 as he might be a double agent.
Cheers and Good Luck,
Stellabelle
Posted using Partiko iOS