Assassin's Creed Origins trailer and introductions: Worth it???
Assassin's Creed Origins is the upcoming action-adventure video game developed by Ubisoft Montreal and published by Ubisoft.This maybe the tenth major installment in the Assassin's Creed series and the successor after the 2015's Assassin's Creed Syndicate.
However different from it's predecessor the game is set in Ancient Egypt during the Ptolemaic period and recounts the fictional history of real-world events.The player plays as character named Bayek as he works to protect the people from threats.The story also recounts the origins of the struggle between the Assassins, who fight for peace by promoting liberty, and a secret cabal—forerunners to the Templars—who desire peace through the imposition of order.
The Development of Assassin's Creed Origins started in early 2014, after the completion of Assassin's Creed IV: Black Flag.But following a yearly release cycle,they launched Assassin's Creed Syndicate in 2015.After the launch, Ubisoft chose to delay Origins until 2017.
Ubisoft CEO Yves Guillemot cited a desire to focus on the quality of the individual titles,for the opportunity to develop better games with new engines,because of the disappointing sales of Syndicate for the main reason.
The information on Origins are not yet to be comfirmed,then titled Assassin's Creed Empire, first leaked in January 2017.Then showing several screenshots of a character on a boat and in front of a cave.
The Director's Ashraf Ismail and Jean Guesdon promised a fantastic gameplay using the latest iteration of the AnvilNext engine and music composed by Sarah Schachner, who previously worked on Assassin's Creed IV: Black Flag and Assassin's Creed Unity.The game features an action-adventure stealth game,played in a third-person perspective. Players complete quests in linear scenarios with set objectives.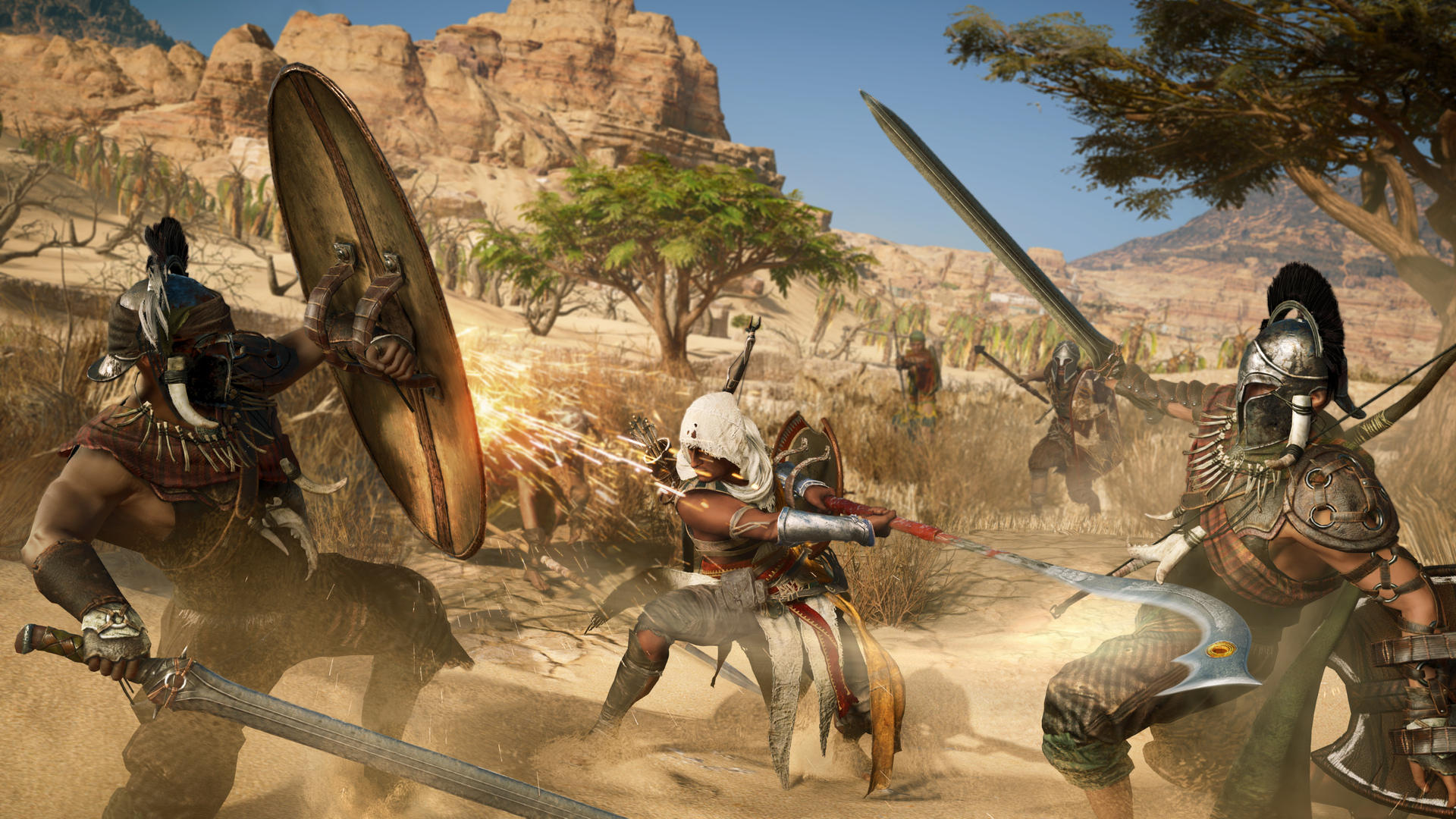 To progress in game ,player goes through boss fights to earn experience points and acquire new skills. Beside of quests players can freely roam the open world environment on foot, horseback, camel-back or even on boat to explore new places.
Players are also incouraged to do optional side-quests to unlock special weapons and equipment.Unlike previous games which based on the main story line which players have to climb tall structuresto unlock areas of the map.
The improvement of the "eagle vision" mode, which allows players to scout an area by highlighting enemies and objects is also removed and replaced by an eagle as a companion.Players can also tame various predators which can replace the original tame stronger abilities assist the player in combat.
Marketing
In August 2017, Square Enix announced a promotional crossover between the Assassin's Creed franchise and Final Fantasy XV. Taking the form of an in-game event, it introduced Assassin's Creed-themed content to the game.
Hope you enjoy,please vote TQ
Is this game worth it??
Yes/No leave in comment :) :)