There is a lovely tree in my neighbor's yard that is very close to the property-line between them and me. I have been fascinated by it for years because of the leaves that are rather kite-shaped, but I didn't know what it was. (Online searches were not fruitful in identifying the tree.) Two or three years ago, though, I had to hire a tree-service company to remove a couple trees that were in danger of falling on another neighbor's property, and they removed some of the "deadwood" from other trees as well. While the foreman was here surveying the work, I asked him about that particular tree in which I was interested, and he told me it was a Chestnut Oak.
Armed with that information, I was able to look it up online and learn more about it and confirm what he told me. It is, indeed, a Chestnut Oak (Quercus montana) which is a tree that is common in the eastern part of the US, from where @bluefinstudios lives, through the area where @sgt-dan resides, down through where @enginewitty lives, and then over to where I am!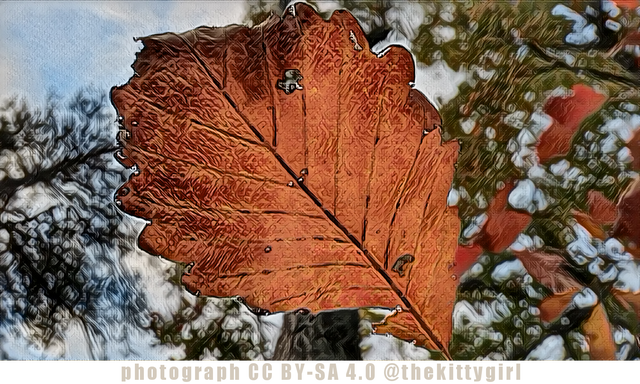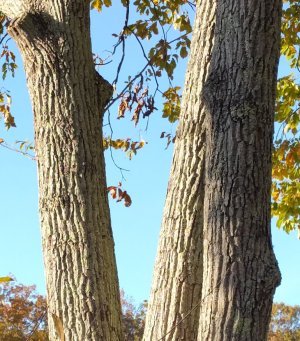 In autumn, the leaves turn a lovely orange color. I fancy the leaves are shaped rather like a kite, with scalloped lobes around the edges. Biologists would describe the leaf shape as
obovate
:
"Teardrop-shaped, stem attaches to the tapering end; reversed ovate."
[1]
The shape of the leaf is similar to that of two other oaks: the Swamp Chestnut Oak and the Chinkapin Oak, but the bark is different than on those other two species, which makes this tree easy to differentiate from them.
The bark of the Chestnut Oak trees is heavily ridged and thick; in fact, it has the thickest bark of any other oak tree species in eastern North America. This thick bark also contains a large amount of tannic acid, making it a highly sought tree for the tanning process. [source]
The leaves are quite pretty when backlit by the sun as one is looking up into the tree.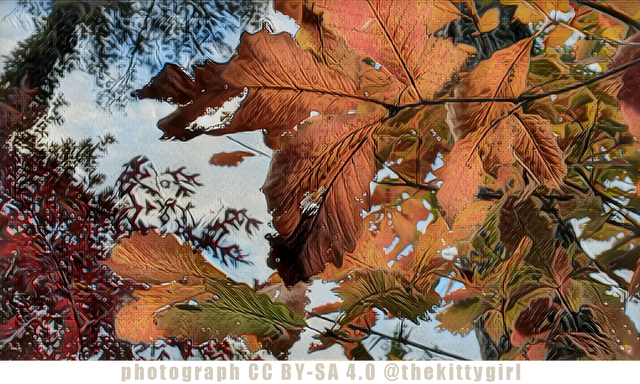 Other color is prevalent in other patches of my yard, which is delightful! I have been sick the past couple of weeks, though, so have not felt like getting out and driving around, so I might be missing some of the best color this season. But, I will enjoy what comes this way while it is here!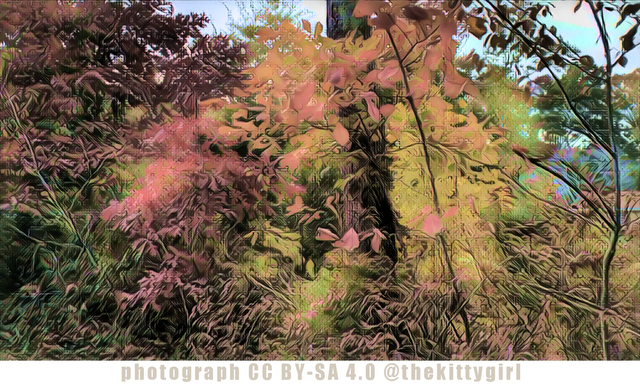 Besides a few photos that I snapped around the yard in the last day or so, like the ones in this post, I do have many other photos from autumns-past. Some have never been shared, some have, but I have the new photo processing technique which I devised earlier this year, so even previously-shared photos will have a new look!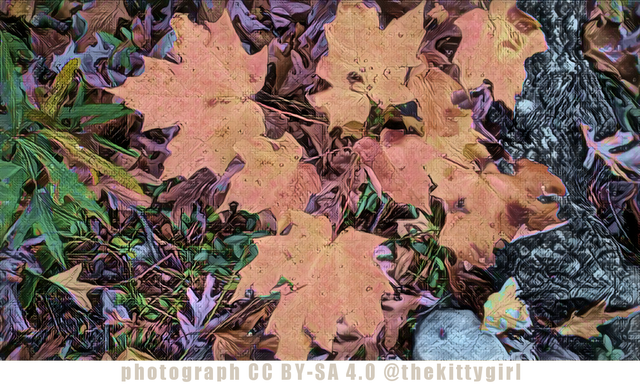 😊
SOURCES
   1 Wikipedia: Glossary of Leaf Morphology
   2 Wikipedia: Quercus montana




19-Nov-2019