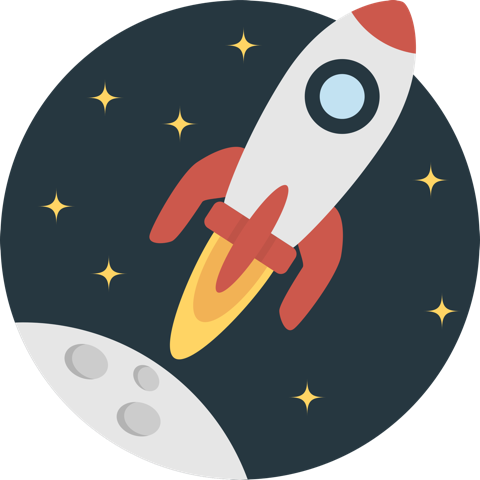 I just discovered Coinspot - an Australian exchange that allows you to buy and sell Steem using Aussie Dollars!
I actually contacted them to ask them to add Steem - only to discover they already supported it .
You have to select a buy or sell option from the main menu, then "view all coins" before getting these options :

Or

The buy and sell pages look like this, just select an amount of Steem or Aussie dollars and tap buy .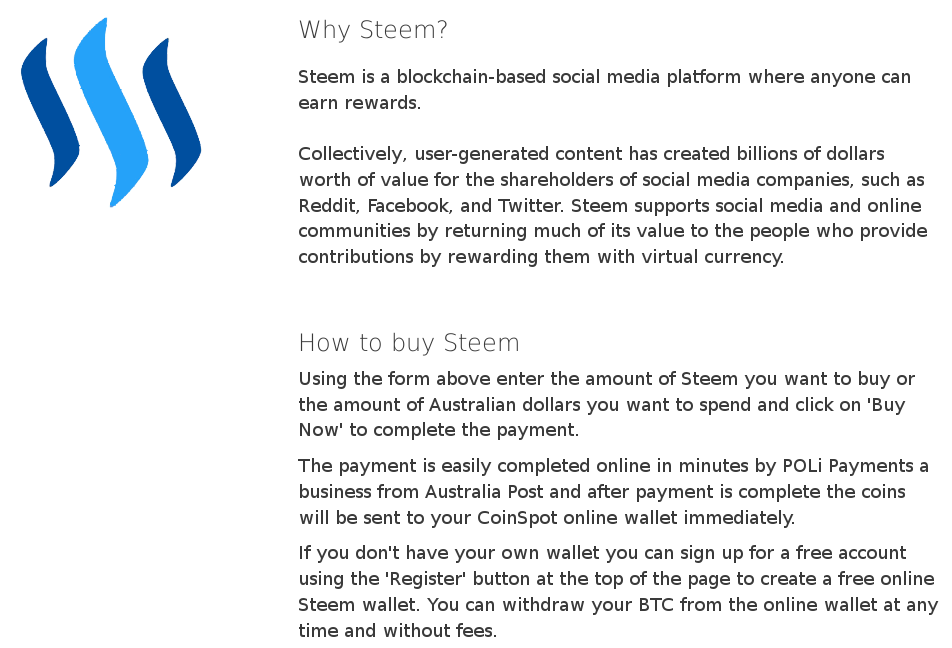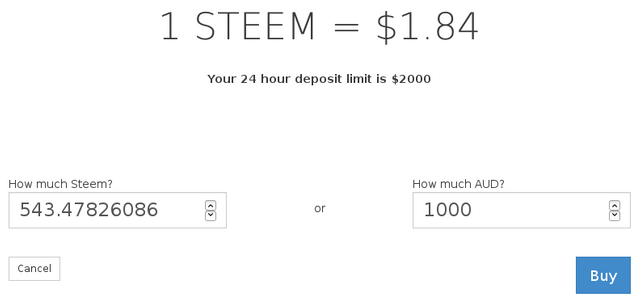 Unfortunately since I haven't verified my account, I wasn't able to screenshot the last stage of the buy/sell process :(
These are the verification requirements before you can trade on coinspot :

That's a bit much for me personally, but not everyone is bothered by having to give this much information.
Fees
With the instant buy and sell services for Steem there are no per trade fees, all fees are included in the listed (competitive) price . There are no additional deposit or withdrawal fees.
https://www.coinspot.com.au/fees
Payment Methods
Incoming Australian Dollar deposits are processed quickly using POLIpayments - available by most major Australian and NZ banks as well as Australia Post.
Outgoing Australian Dollar withdrawals are regular direct bank deposits to your account.
Give it a try
If you'd like to try out coinspot because you saw this post , please consider using my referall code WNMM8 to register.
I'll get a small commission on trades you make (it costs you the same either way) - More info
All previous links to coinspot have no referral code - only this one.
Have you used coinspot for Steem trades ? How was it ?
---
Like what I'm up to ? Vote for my witness!
If you think I'm acting as a positive force for the platform, please consider voting for my witness on this page :
Every vote counts! For more information on how and why to vote for my witness see this post .


Lets connect !
steemit / twitter / gab.ai / keybase / steemit.chat / patreon
I also made :
steemviz / steemvids / steemcap / steemleak / more tools / post index