This is what my mum suggested, ´´We all need to get together to send Assange a Christmas card. Millions of us. Send them to Belmarsh. They might not be given to him to lift his spirits. but if not it will be a deluge of messages that we do not agree with his enforcement when he should have been released 22nd September. The pile of mail should be a mile high really in protest.´´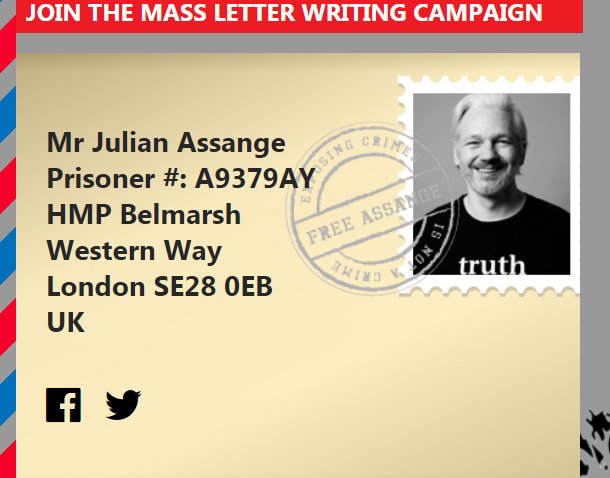 I agree with what someone said earlier, millions of us need to be breaking the doors of parliament and Belmarsh down and demanding the release of Assange as this is a gross injustice to Assange, Human Rights, and to Publishing Freedom, Journalism Freedom, Free Press and Free Speech, nonetheless, they will continue to heavily oppress the dissidents since we are dealing with Imperialistic Fascism here. He is being used by Empire to instil acceptance and compliance with the next step to control humanity, even more to the point we have no power to stand up to corruption at the highest level, so what are we doing about it folks?
I´d like to add to that, lets send another Christmas message to all our MPs asking for #Assange to be released as he should have been on the 22nd of September and to the major newspapers ignoring the Elephant in the room, If we need to spell it out and tell them to stop ignoring the opportunity to stand up to Fascism and start printing the truth about what is really going on here, remind the press that what ever threats are given to shut them down, they are the people´s press, not the governments press, silence is in compliance to fascism reigning to stamp out truth #FreeAssange
Mr Julian Assange
Prisoner #: A9379AY
HMP Belmarsh
Western Way
London SE28 0EB
UK
MPS
Write to your MP: Protect Julian Assange
If you're in the UK, writing to your MP is an important way you can help Julian Assange in his fight against extradition to the United States.
An email written in your own words will be noticed. Your opinion matters. Regardless of what your MP thinks about this issue, they should pass on your concerns to the Home Office if you request it. For everyone who takes the time to write a letter, the UK government knows there are dozens more who think similarly – so even a couple of hundred letters can make a huge difference.
We've laid out a sample letter below, endorsing a path forward for the UK Home Secretary that respects British sovereignty and protects Julian Assange from extradition to the United States. Feel free to put these points into your own words, and express why you think Julian Assange deserves protection from a country that is threatening to imprison him for life.
Need your MP's contact details? You can find them at theyworkforyou.com
Share any response you get with us via e-mail: [email protected]
https://defend.wikileaks.org/write-your-mp/
Write to the Newspapers
Independent News
News Editors: Richard Williams, Jon Di Paolo- [email protected]
news team at [email protected] or phone 020 7005 2000 and ask to be put through to the Independent Newsdesk.
The Times
Letters*: [email protected]
for publication only; please include postal address and daytime telephone number
Corrections or complaints: [email protected]
Editorial inquiries: [email protected]
The Sunday Times
Letters to the Editor*: [email protected]
for publication only; please include postal address and contact telephone numbers
Sunday Times News: [email protected]
General queries:
If you're in the UK please dial:
From your mobile: 0207 711 1527
Free from your landline and mobile phone: 0800 018 5177
If you're in the Republic of Ireland please dial:
From your mobile: 015360818
Free from your landline: 1800949687
Daily Telegraph: [email protected]
Sunday Telegraph: [email protected]
Complaints
To make a complaint about an editorial article, please complete the online complaints form or write to Editorial Complaints, Telegraph Media Group, 111 Buckingham Palace Road, London, SW1W 0DT
Editorial Complaints Form
https://www.telegraph.co.uk/contact-us/editorial-complaints/
The Guardian
UK main office
Please address written correspondence to: The Guardian, Kings Place, 90 York Way, London, N1 9GU, United Kingdom.
The switchboard number for the London office of the Guardian, the Observer and the Guardian website is: 020 3353 2000 (or if dialling from overseas: +44 20 3353 2000), 0330 333 6767
Phone: 0330 333 6767. Lines are open Monday-Friday 8.00am-8.00pm, Saturday & Sunday 8.00am-6.00pm.
Letters to the editor
Letters for publication should be sent to these addresses. The sender's full postal address and phone number are required, for verification only:
Guardian: [email protected]
Observer: [email protected]
Political staff: [email protected]
Legal complaints
Legal complaints should be addressed to our Editorial Legal Services department at: Kings Place, 90 York Way, London, N1 9GU