Famous Thailand James Bond landmark in danger of collapsing
If you don't live in Asia, or are not a James Bond fan, you may not even know that this tourist attraction even exists but it is truly a wonder of the world and up until now it has remained untouched by human intervention. It is just a natural anomaly and is really a sight to see (ps. I've seen it)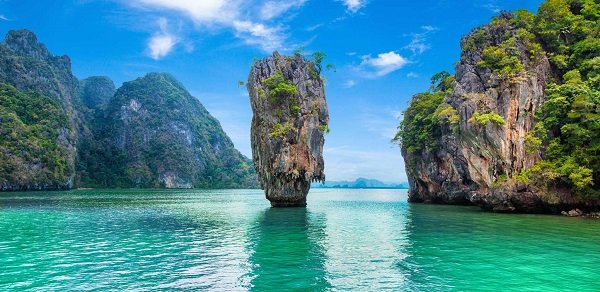 src
It was featured in the James Bond film The Man with the Golden Gun and I watched the film... once... a long time ago. I was relatively unimpressed with most of the film, especially the slapstick American tourist that they threw into the mix (was this attempt at comic relief in other Bond films? I don't recall it being so.) This particular film was released way back in 1974 and starred Roger Moore. I will admit that I am not a Bond guy, so the only other Roger Moore Bond film I have ever seen was A View to a Kill even though Moore was in a total of 7 films.
The real name of the island is Koh Ta Pu (เกาะตาปู) and according to my friends who live down in the Krabi and Phuket area, this site is visited by a bunch of tourists every year but many have said the numbers of people interested in going to a James Bond filming location from over 40 years ago has diminished over the years - and I think rightfully so. It was a long time ago and honestly, the movie wasn't that good anyway.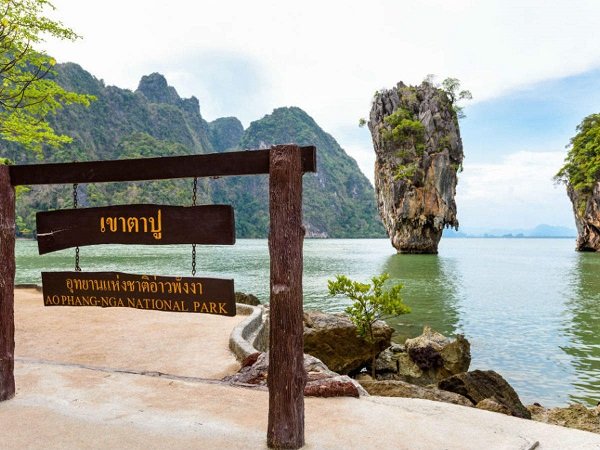 src
While the entire island area is very stunning due to the karst formations in every direction and the normally crystal clear waters, there is no denying that the highlight of the entire trip is this one rock formation and of course everyone now lines up to take a selfie where they pose as if they were holding a gun, James Bond style.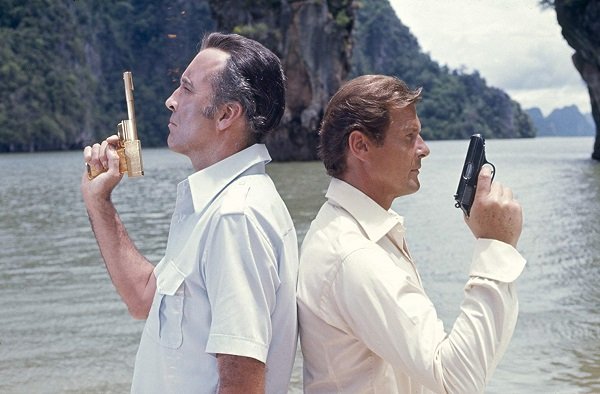 src
In the past year there have been almost no tourists coming to this island since most of the tourists that went to it in the first place were foreigners. When I went, a few years back, our group was at least 90% non-Thai so it is pretty easy to understand the massive drop in visitors since no tourists have been allowed into Thailand for over a year.
According to the experts, nothing has been done yet but they are investigating methods of propping it up somehow or at least building some sort of method of reducing the amount of sea erosion that is a naturally occurring phenomenon. From what I have read, they want to accomplish this while affecting the scenery as little as possible.
While I believe this island could still manage to pull in tourists if the karst were to collapse due to the incredible beauty of the island, it would be a shame if the "star of the show" were lying on its side in the water.
Now here comes my cynicism: I don't think they will be able to pull it off. This thing must weigh a tremendous amount and I think they are going to have to choose between having visible supports, or just allow it to fall and have some memorial photos at the location. But then again, I know almost nothing about geology except that giant rocks tend to be very heavy. :)