How to schedule a Wordpress post?
Have you written a Wordpress post that you would like to publish another time and another date? Is there a way to publish a Wordpress post at a special time?
Thomas likes to do a lot of work before he is going on holiday and before the weekends. Now he would like to write some blog posts that are to be published during the Christmas holiday, but he doesn't want to actually work during the Christmas holiday. So, how can he schedule blog posts using Wordpress to that it will publish the articles during the holiday?

Schedule posts with Wordpress
Thomas was very happy to notice that publishing Wordpress posts at a given time and a date was very easy, at least as he found out how and where to do so.
How is it done?
When Thomas has finished writing the actual article, he goes to the "Publish" box on the right side of the blog post itself. You can see it on the picture beneath.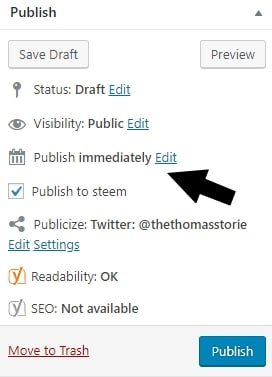 If you see the picture above, you can see the arrow pointing at the "publish" text. It is set to immediately at the moment, but if you press edit, you can easily set the time and date for the article to be published.
If you want to have the article published on December 24th at 18.00, it will look like this.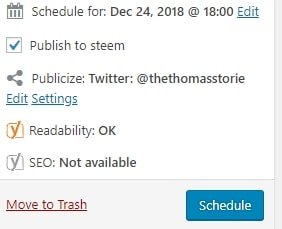 The post is set to be published on December 24th at 18.00
Now all Thomas has to do is to press the Schedule button (earlier Publish was written, but since the article is set to be published in the future, the text has now changed to schedule).
That is how easy it is to schedule an article for a future release in Wordpress! And, since Thomas uses SteemPress to publish his article to Steemit, this will also help him out schedule articles for future release on Steemit!
---
Posted from my blog with SteemPress : https://www.thethomasstories.com/how-to-schedule-a-wordpress-post/
---