FACE YOUR FEARS HEAD-ON!!!!
This artwork I found
HERE
by Cyril Rolando caught my attention and I thought, why not share with my steemit family.
Three things I learnt are,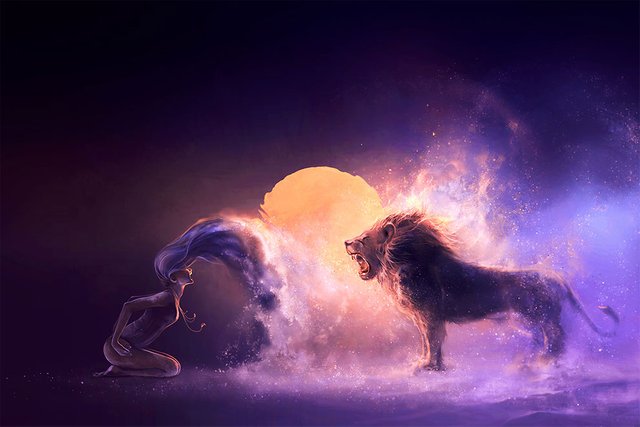 DON'T BOW TO YOUR FEARS: What you think is holding you back is only in your head, don't let those fears prevent you from making that dream a reality, DON'T let that fear hold you back, face it like a man, don't be a coward!!!.
Secondly, THE ONLY DIFFERENCE BETWEEN YOU AND YOUR FEARS IS YOUR ATTITUDE Looking at this art, the lady didn't let the lion overpower her or make her bow her head in defeat, she portrayed COURAGEOUSNESS , her courageous attitude made any fear(in this case, the lion) she may have had, fade away, when that fear comes your way, make sure your attitude KICKS IT'S BUTT!!!
Finally, VICTORY TASTES BETTER WHEN SERVED CHILLED, ever had a chilled drink after a period of thirst?, so refreshing right? lol, when you are able to conquer your fears, that intrinsic feeling of victory makes you feel better, it makes you feel like a hero or heroine, it makes you the strongest person on earth, wanna know why? , cos' YOU FACED THAT FEAR HEAD-ON!!!!!