How to make special geprek chicken:
Steam the pieces of chicken meat with the spices that have been prepared on medium heat, about 10 minutes. Remove and drain Enter eggs, salt, pepper and 1 tablespoon of flour into a bowl. Beat evenly Enter 3 tablespoons of flour, pepper, salt and baking powder into a flat plate, stirring until evenly coated. Coil the steamed pieces of chicken with egg and dried flour. Fried chicken into the oil until yellow and crispy. Lift the sauteed all chilli sauce on medium heat, wait for the scent to appear. Squeeze the spices and then sprinkle salt and sugar. Pour the chilli sauce over crispy chicken, then geprek the chicken. Simple geprek is ready to servehe first one I will share is a special geprek chicken recipe. So what really makes it special?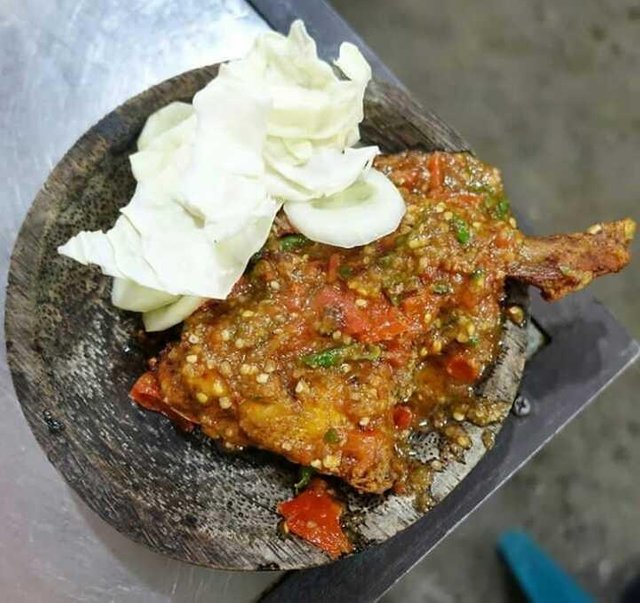 Wow, in addition to the selection of special spices, we can also choose chicken parts that are delicious to geprek, for example the chest, thighs or wings.
These parts are a favorite part which can be processed because the marinade will be far from being able to penetrate deep. Maybe you don't be curious to see the recipe below.
Ingredients:
Chickens: 1 turtle Simple geprek chicken spice Garlic: 2 cloves Chicken powder: 1 tablespoon Salt: 2 teaspoonsMerica: 1 teaspoonIngredientsFlour flour: 4 tablespoonsBaking powder: 1/2 teaspoonEggs: 1 grainSimple tasteSalt to tasteMilica to taste
Chicken geprek seasoning:
Cayenne pepper: 10 pieces (according to taste) Shallots: 4 pieces Garlic: 3 clovesTomatoes: 1 fruitMarine to tasteGula to taste
How to make a chicken geprek
How to make special geprek chicken:
***Steam the pieces of chicken meat with the spices that have been prepared on medium heat, about 10 minutes. Remove and drain Enter eggs, salt, pepper and 1 tablespoon of flour into a bowl. Beat evenly Enter 3 tablespoons of flour, pepper, salt and baking powder into a flat plate, stirring until evenly coated. Coil the steamed pieces of chicken with egg and dried flour. Fried chicken into the oil until yellow and crispy. Lift the sauteed all chilli sauce on medium heat, wait for the scent to appear. Squeeze the spices and then sprinkle salt and sugar. Pour the chilli sauce over crispy chicken, then geprek the chicken. Simple geprek is ready to serve****