✨🍀✨✨🍀✨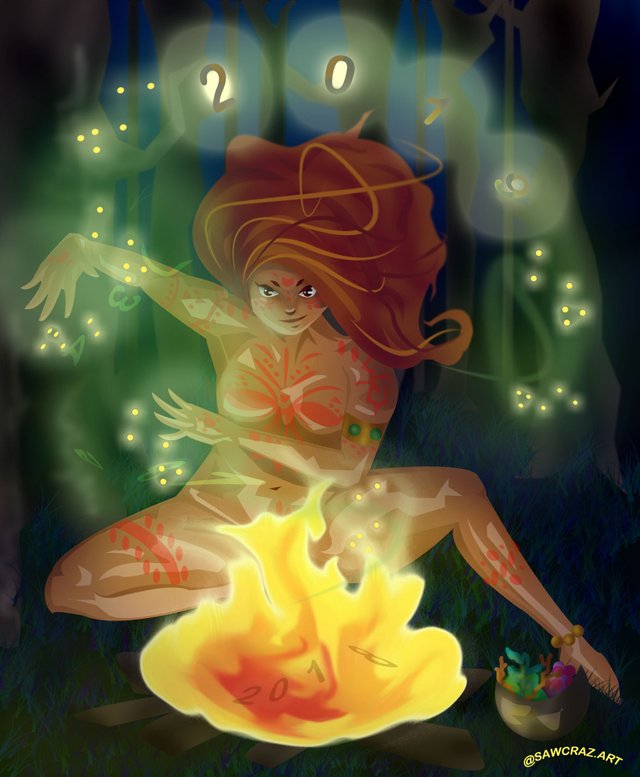 Happy new year to everyone, I hope life fills you with magic, love and a lot of health. Today I bring a digital illustration, it wasn't the principal idea, but, when I started to repass the fisical my rapidograph ink went over and that was the second time I did it, so, in the end, the third was the winner. The possitive side is that I can practice with photoshop, as well, apparently this is going to be the media I will use more often since It's incredible difficult for me to buy new materials (Oleo, chalk, charcoal, blocks, canvas) because the inflation here in Venezuela doesn't stop, leaving the little bit I left exclusive to my deliveries for the University, the fact is that I will not be able to post with such constancy since the digital illustration take me more time to make, especially because I don't have a tablet, making all I can with the laptop mouse, so, have me some patience I do everything that I can with what I possess.
The idea came to me with the corporal posture of the girl, I didn't knew very much what to do, but, as Picasso said "When the inspiration arrives, it will finds me working" so it was, the rest of the composition just flowed. You can notice how the 2018 burns in the flames, leaving a trace of magic the girl controlling til 2019 appears, curiosly this one is inclining where the fire is, repeating the cycle.
This year I propose to myself, draw, write and feel more, in that way I will be able to succeed with patience in the artistic ambit and especially something very important, leaving behind all my fears and go out from my confort zone, thats why I'm going to try working as a freelancer, so I could make a little more income that will help me to live in my country, and well, always with a possitive mind, that foward is where we're going.
Feliz año nuevo para todos!✨, espero que la vida los llene de magia, amor y mucha salud. Hoy les traigo una ilustración digital, no era la idea principal, solo que mientras comenzaba a repasar el físico se me acabó el rapidografo y esta era la segunda vez que lo hacía, así que al final la tercera fue la vencida. El lado positivo es que puedo practicar con el photoshop y, pues, aparentemente este sera el medio que utilizaré más a menudo ya que comprar los materiales se me hace increíblemente difícil con la inflación que no se detiene aquí en Venezuela, dejando lo poquito que me queda exclusivamente para las entregas de la universidad, el hecho es que no podré subir con tanta constancia ya que las ilustraciones digitales me toman mucho tiempo hacerlas, sobretodo porque no tengo una tablet, haciendo todo lo posible con el mouse de la laptop, así que me tienen que tener paciencia que hago todo lo que puedo con lo que tengo 😓
La idea llegó de la postura corporal de la chica, no sabía muy bien que hacer, pero, como decía Picasso "cuando llegue la inspiración, que me encuentre trabajando" y así fué, solo fluyó el resto de la composición. Se puede notar en el fuego como se quema el 2018, dejando un rastro de magia que la chica va controlando hasta llegar al 2019, curiosamente éste se va inclinando un poco hacia donde está el fuego, repitiendo así el ciclo.
Este año me propuse a dibujar, escribir y sentir más, de esa manera podré triunfar con paciencia en el ámbito artístico y sobretodo algo muy importante, dejar atrás todos mis miedos y salir de mi zona de confort, por eso voy a intentar trabajar como freelancer, así podré tener un poquito mas de ingresos que me ayuden a existir en mi país y bueno, siempre con una mente positiva que hacia adelante es que vamos 😃

✨ SKETCH / BOCETO ✨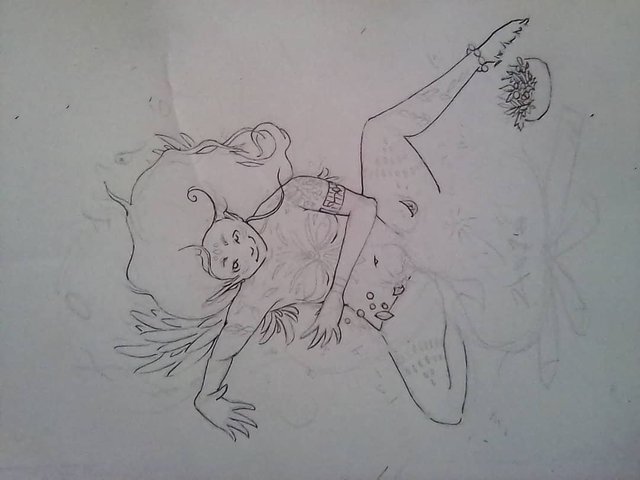 Let's talk about the elements that I get off from the final composition, as the wings and the natural things that she burns in the fire, that's why she got a little bowl with branches and fruits next to her. You know that during the process we watch what works and what not, the fact is, I felt that if I put more stuffs on her, she will look too overload, getting lost with the magic ilumination and the little dots that are fireflies, besides, I wanted to represent a nymph from the woods, but she looks more like a warrior/guardian of the nature (still worked for me)
In this second version the fund had not been completed, I made it in the first attempt of the draw, that, I'm not going to show you beacuse it was too ugly, in this way I avoid the shame, the bottom was pretty simple, being in the last plane because all the protagonism falls on her and all the brightness that surrounds her.
Hablemos de los elementos que saqué de la composición final, como son las alas y elementos naturales que va tirando al fuego, que por eso es que tiene un pequeño cuenco con ramas a su lado. Saben que durante el proceso uno va viendo que le funciona y que no, el hecho es que, sentía que si le colocaba mas cosas a ella se iba a ver demasiado recargado, a su vez que, también, se perdería con la iluminación de la magia y los pequeños puntitos que son luciernagas, además, quería representar a una ninfa del bosque, pero quedó más como una guerrera/guardiana de la naturaleza (funciona para mí 😄).
En esta segunda versión no le había concluido el fondo, lo había hecho en el primer intento del dibujo, que, no se los mostraré porque quedó muy feito, así me evito la pena 😆, el fondo fue bastante simple, quedando en un último plano porque el protagonismo realmente lo tiene ella y todo el brillante que la rodea.

✨ STEPS / PASOS ✨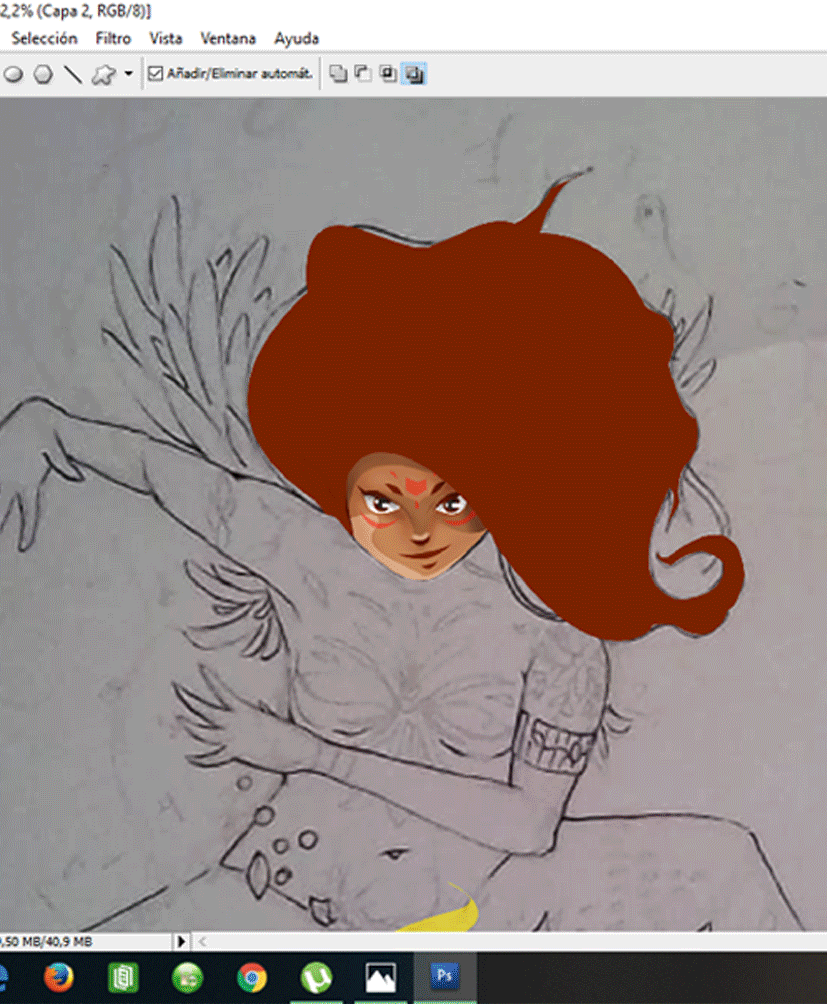 ✨🍀✨
Time: 12h aprox
Format: 1654x2008PPI
Media: Photoshop CS3
Tiempo: 12h aprox
Formato: 1654x2008PP
Medio: Photoshop CS3
✨🍀✨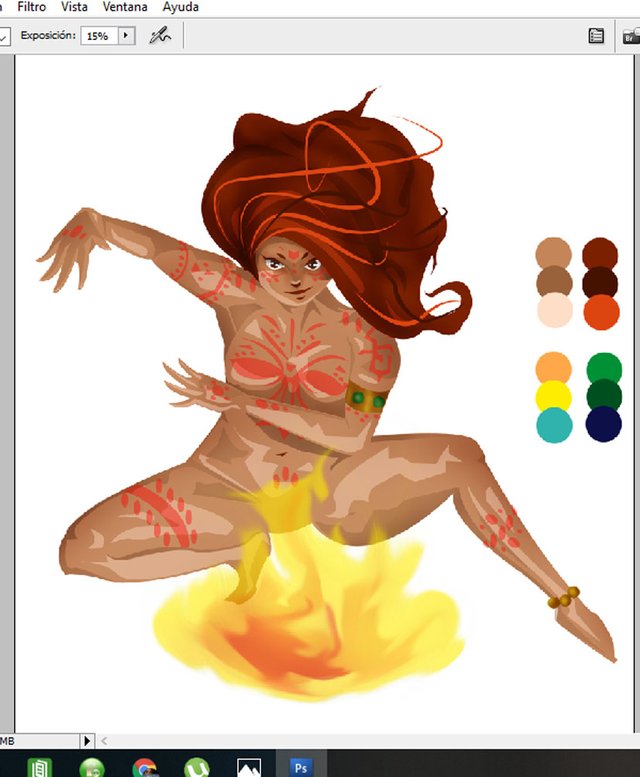 I loved how i put the light and shadows, to be honest i didn't know what would it look like
Me encantó como coloqué las luces y sombras, sinceramente no creía que iba a quedar así 😆
✨🍀✨✨🍀✨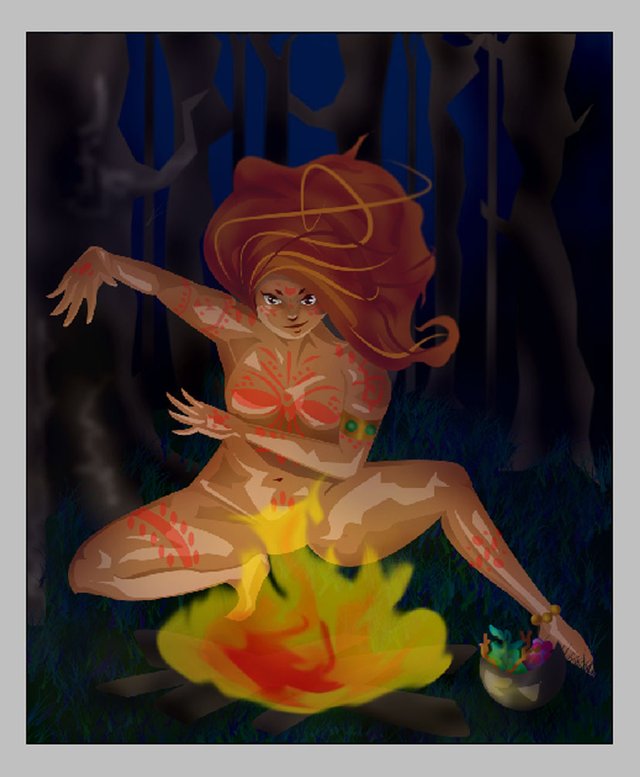 After this, I just played with the photoshop tools, of course, being very careful to not damage any important layer hahaha
Despúes de aquí solo me puse a jugar con las herramientas de photoshop, por supuesto, teniendo cuidado de no hacerlo encima de una capa importante jajaja

✨ CLOSE UP / ACERCAMIENTO✨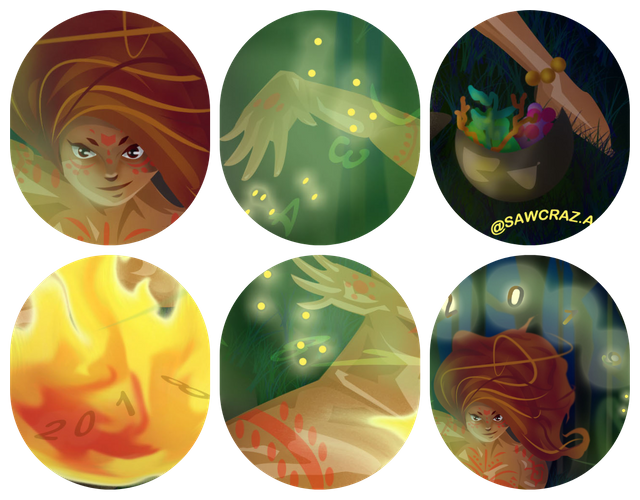 ✨🍀✨
---
Repollo is a Project that Works based on MEMBERSHIPS from the users that delegate SP and/or join the Curation TRAIL. Repollo is supported by 2 steemit witnesses, @cervantes y @upheaver, if you upvote them as Steemit Witness you support better rewards for the members of the community.
---
Repollo es un proyecto que funciona con MEMBRESÍAS de usuarios que delegan y se unen a nuestro TRAIL. Repollo es apoyado por dos Witnesses, @cervantes y @upheaver, si tú votas por ellos como Testigos en Steemit Witness apoyas para seguir entregando mejores recompensas.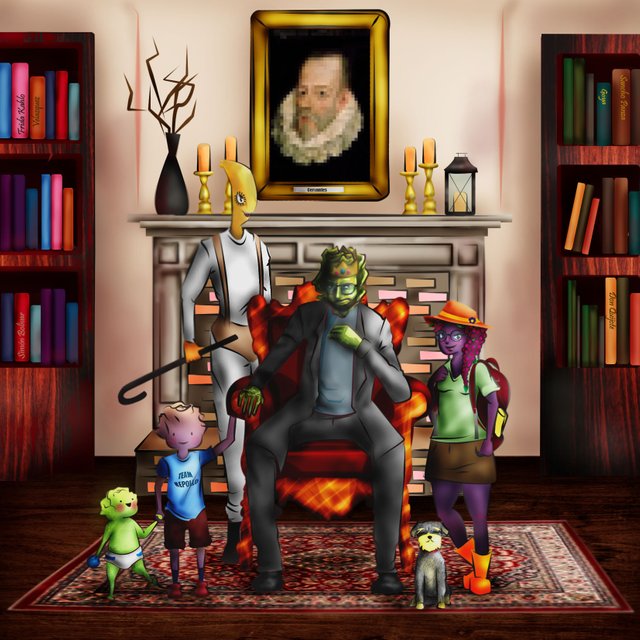 🍀🍇🍀🍀🍇🍀🍀🍇🍀
I hope you like it. A hug for everyone and good vibes 💖
Espero les guste. Un abrazo para todos y buena vibra 💖
🍀🍇🍀🍀🍇🍀🍀🍇🍀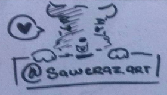 To all of you artists out here at Steemit! Hello~ If you ever are lost and lonesome, please join Steem Artists at our discord chat

We network with fellow artists here on Steemit and we help each other succeed :)
Come and say hi~ ^ __ ^ BNDW community discord channel