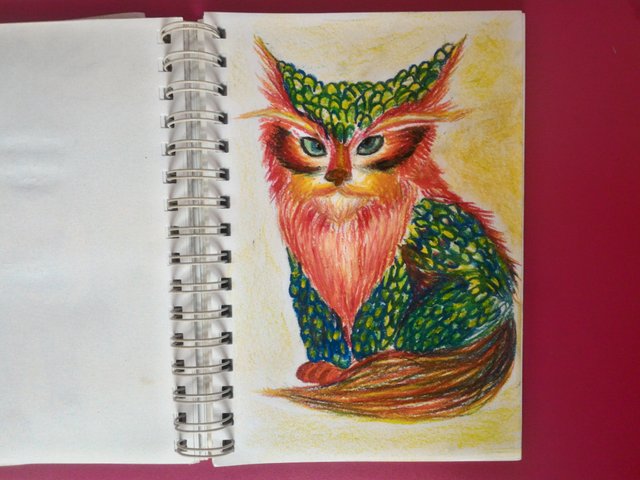 Hello dear Steemians! I finally got some time (though I am staying up) to complete this artwork and post it. Ever since my dad got admitted in the hospital due to dengue fever, I hardly have time for many things as I spend most of my time visiting and taking care of him in the hospital. Anyway, this is the completed fae kitten painting. The medium that I used is oil pastels.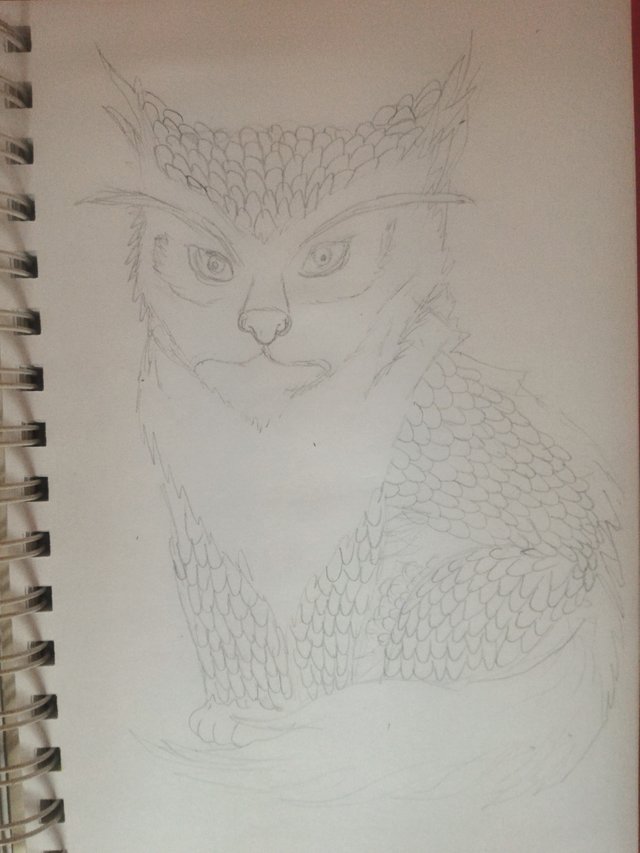 This is the drawing of the kitten. This kitten is unique as it is from the fairy land. It is bright in colour and has feathers on its skin. It has the power to give prophecies about the future. For more information on the drawing, please check my previous post here.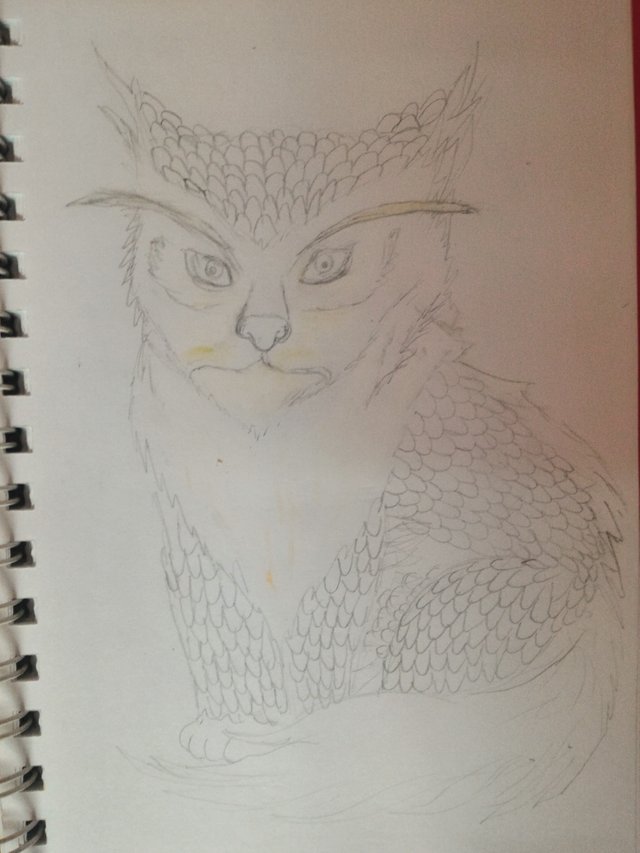 I began my painting with the lightest colour which is white. My white oil pastel did have some patches of orange but it didn't bother me as I will be adding that colour later on anyway.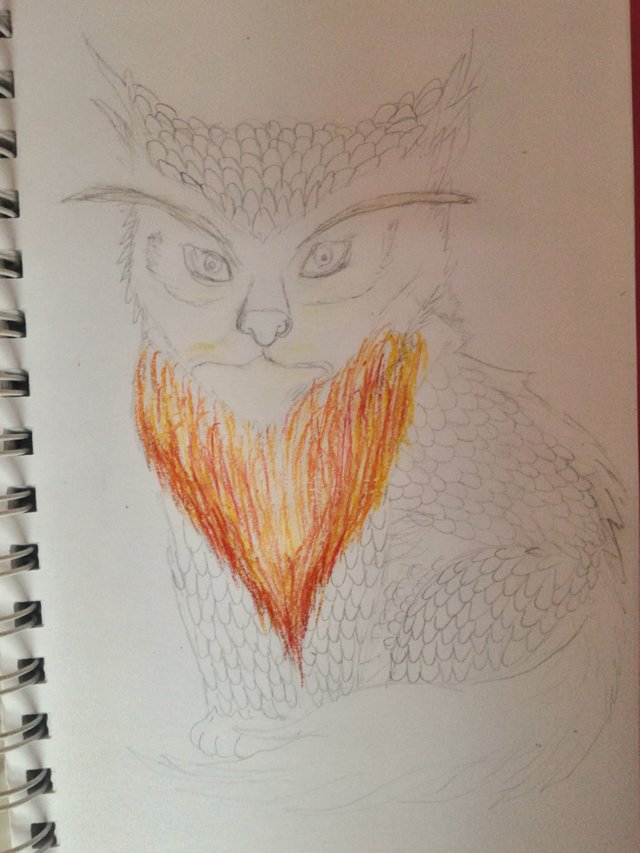 Then I painted some fur on the body of the kitten. I mixed many shades of warm colours such as red, orange and yellow. I made fur like strokes with the colours.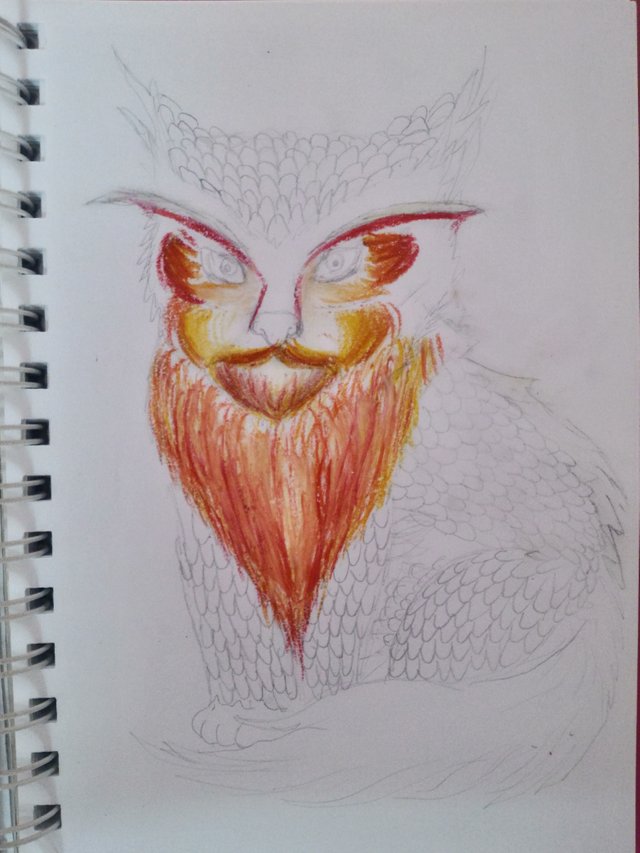 I added some white on the fur to give the kitten a softer look. I also painted some parts of its face including around the eyes.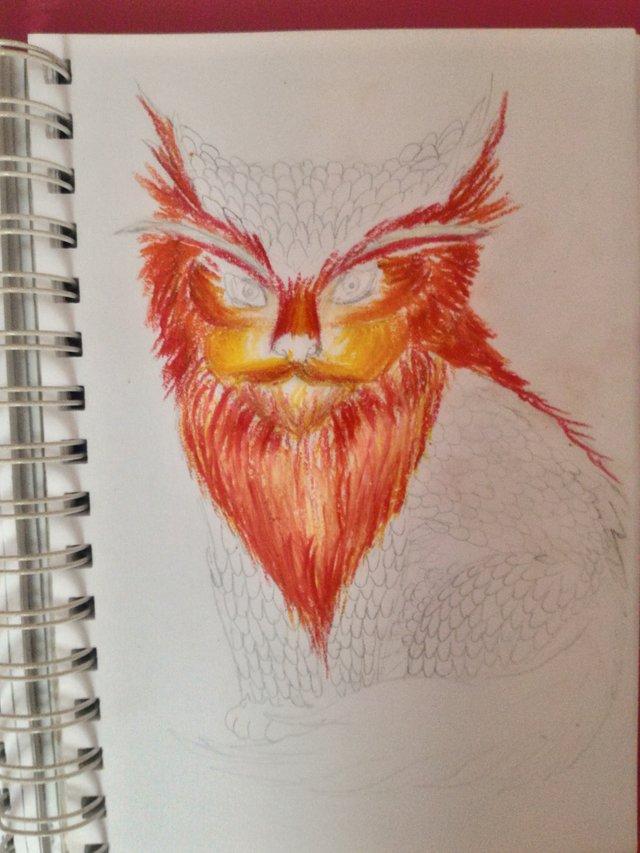 I added more fur. I wanted to paint almost all of the warm colours first before moving on to the cool colours,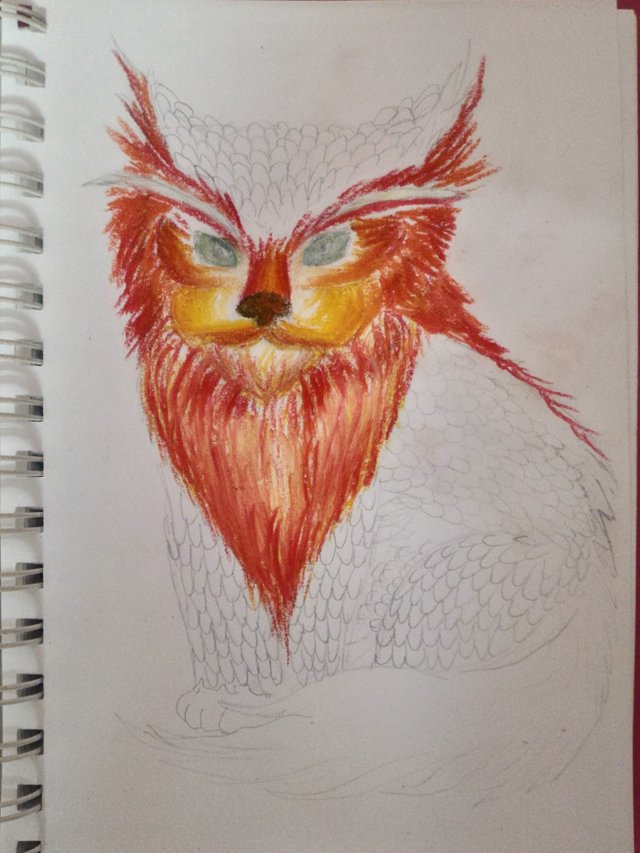 I painted his nose and his eyes :D I feel they didn't turn out well though.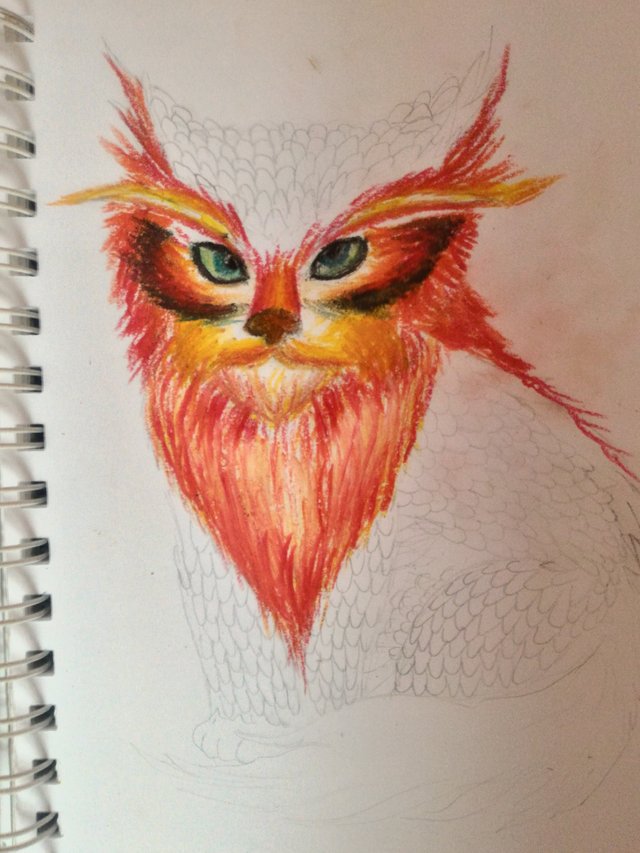 I added some black liner around the kitten's eyes to create intense looking eyes. It is a magical kitten who can tell the future after all. Hence, kitty needed some intense features. I coloured his eyes green. I added some black to intensify some of the darker areas of his face as well.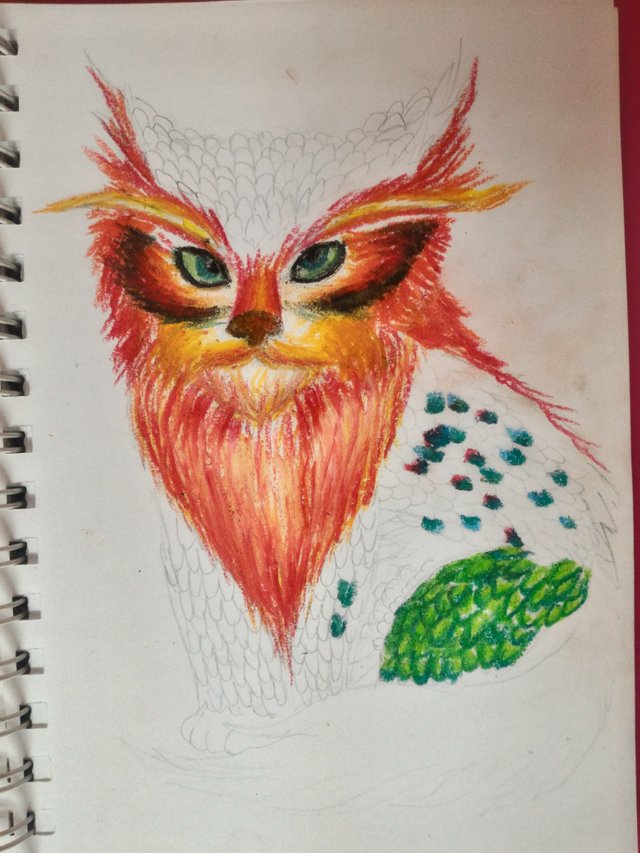 Then, I moved on to paint the kitten's body. I was just experimenting here to see which colour combinations look the best.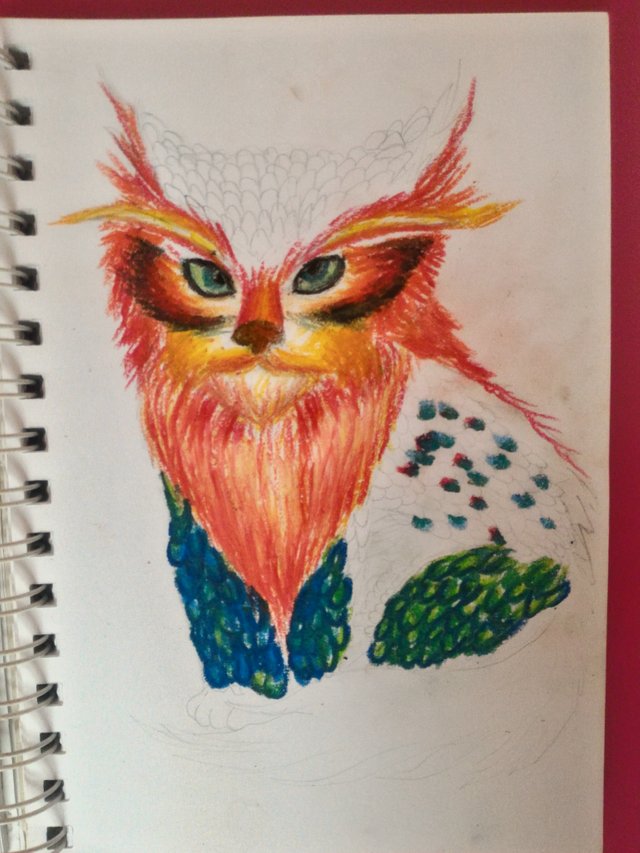 In the end, I decided to mix up multiple shades of cool colours instead of keeping the feathers uniform.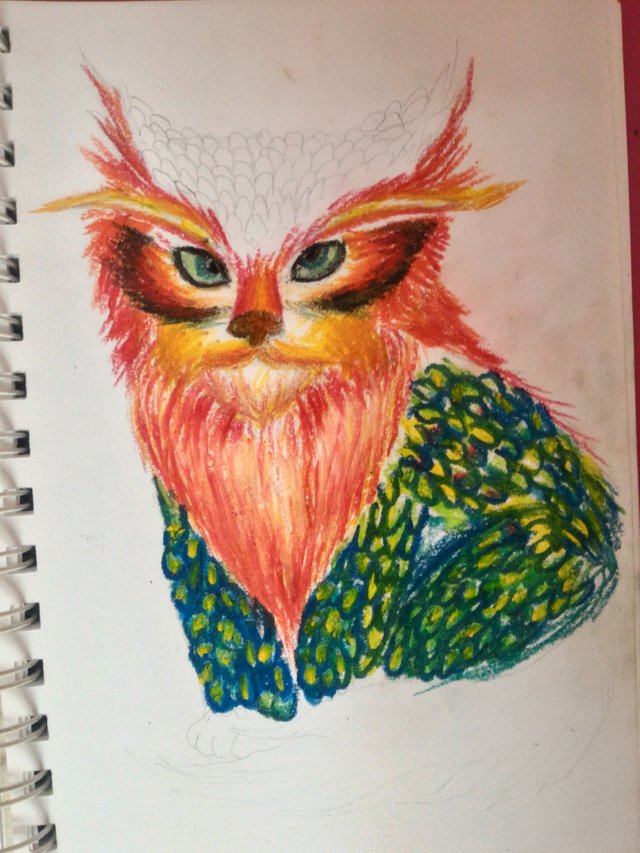 I mixed many colours. I used a few shades of blues and greens for the feathers. Apart from that, I used yellow to create highlights. I also lined them with some dark blue. I finished painting the feathers on his body.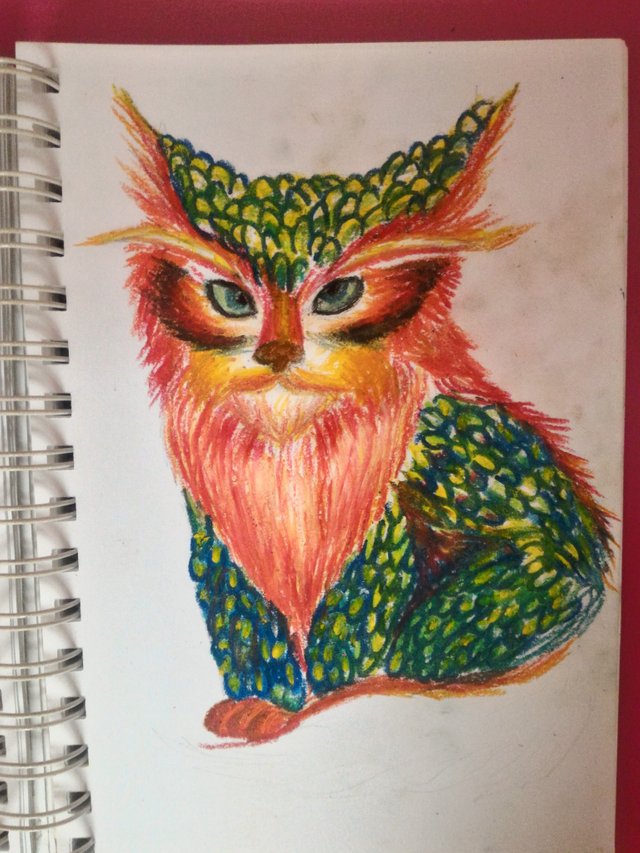 I also painted the feathers on his head. Then, I painted his paw and some fur streaks in red.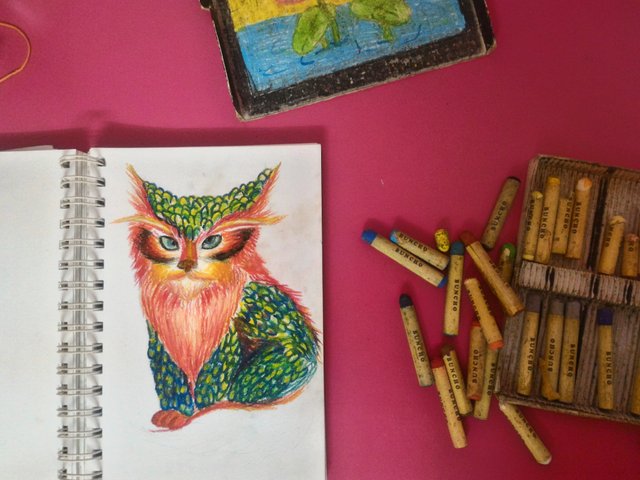 I paused to take a look at my messy table and colours at this stage :D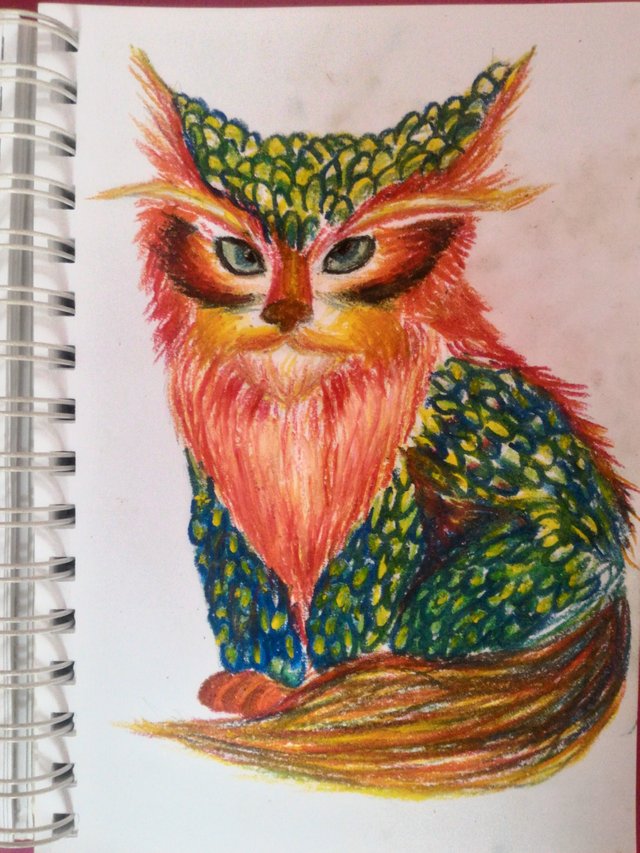 I painted the tail. I mixed almost all of the colours that I have used on the kitten's fur and feathers. I made many strokes instead of colouring directly as that will not be suitable for the kitty's tail.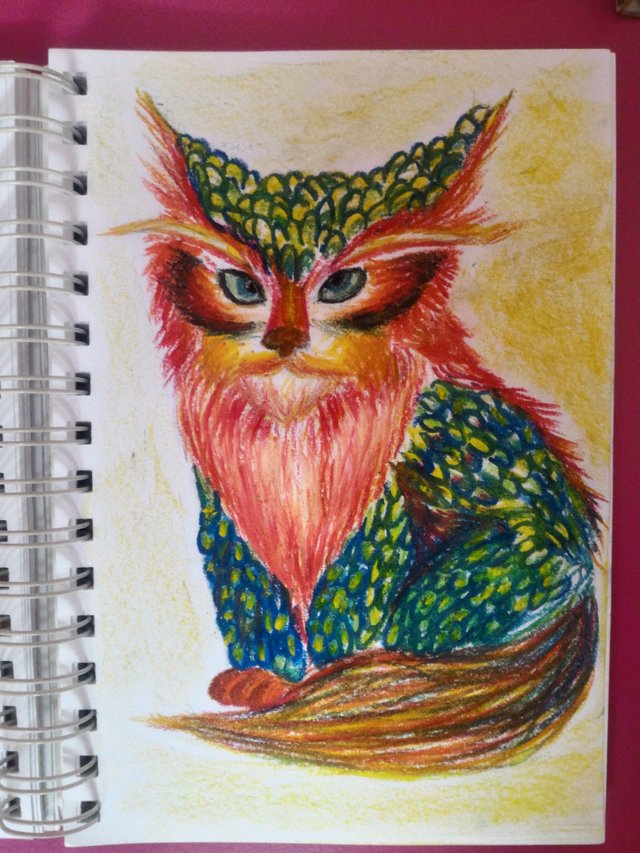 I painted some yellow on the right side of the background to make the light look like it is coming from the right. I am done painting the magical fae kitten! I am thinking of adopting him and naming him Simba although it will cost me diamonds in the mobile game :D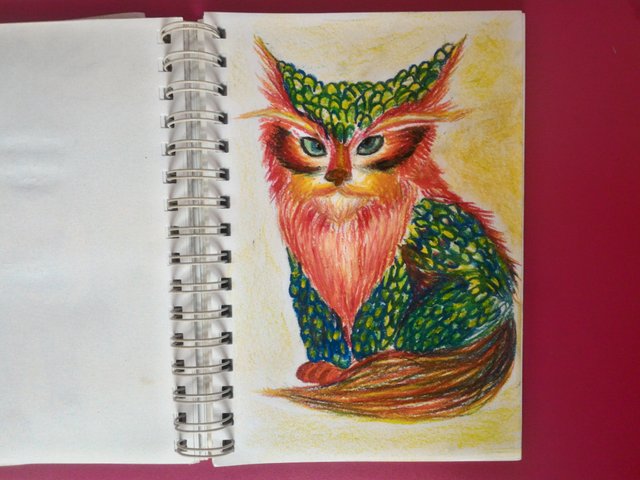 I hope that you like my painting and find my tutorial helpful in case you plan to attempt it. Thank you for reading and have a great day ahead! =)