Hey-yo, friendos o/
It's Friday today and boy, what a busy day for the end of the week @ __ @;;; I feel so tired and it's not even 4 PM yet XD
How's everyone's week been? Good? Bad? A bit of both? ............ meh?
It's been a while since #NewSteem took effect now, hasn't it? Any new reflections/ opinions that you'd want to share???
To be honest, I'm kinda feeling like it's been a great change :D I am learning how to feel OKAY about exercising my downvotes. I am learning that it is not 'mean' to have critical opinion about how things are done. In fact, if you really care about the future of something, if you really want to improve a thingy, you'd probably have critical feedback on that thingy. So, yeah. A spider is learning :)
As for my arting, I've been arting a lot :D But then, my phone died and for some reasons, my entire world stopped? Kinda weird how brain is like that XD;;;; Like, I feel like I couldn't really draw without taking photos of the step by step, and phone was ded so I couldn't draw...............AT ALL :screaming emoji:
But, today I got a new phone so I'm happy again wheeeeeeeeeeeee \o/
And here's a watercolour piece that I did :D A return to traditional arting after I have had to generate digital video contents for 3speak! Kinda feel really good to do a piece on real paper, to be honest :D :D :D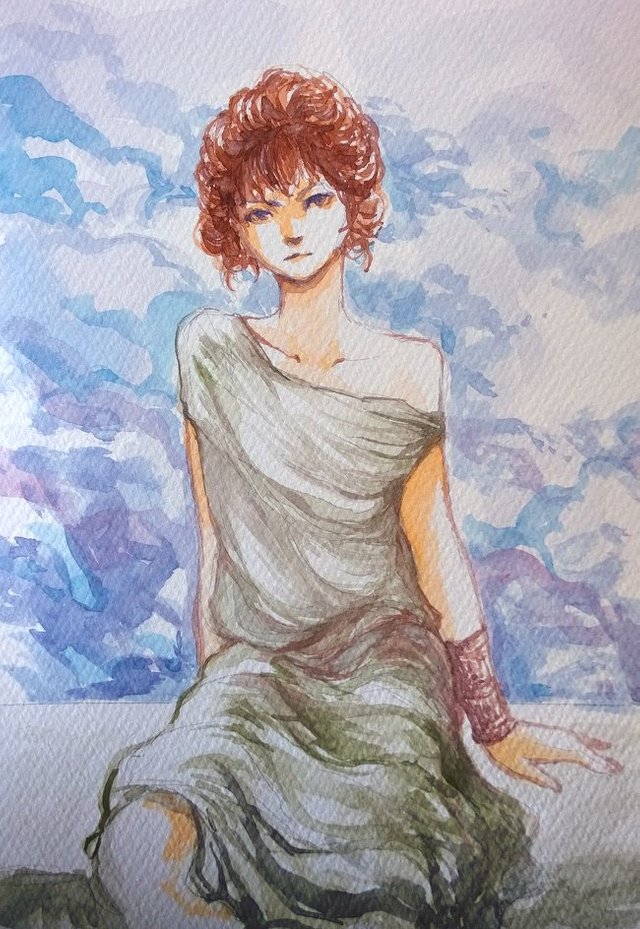 She's based off this older piece that I did with my tiny pencil, .... last year, I think? I had wanted to try to colour her with watercolour but obviously I had drawn that on a printing paper so I couldn't do it to that piece, so I kinda re-drew the same pose / idea on the watercolour pad and this was the result :)
I think ... I couldn't quite nail the vibes, but I feel like I have kinda abandoned my watercolours for a long time so, it felt a bit unfamiliar... :3 Things in life is like that sometimes, dont you think? ....like how the brain loses its capability to do language fluently if you don't use the language often, and how you forget how to play a particular song on the piano if you havent done so in a while, etc. Like, there is no save game. We're always losing things even if we did acquire something perfectly at one point in time in our past. Sometimes thinking about things like this makes me feel anxious.... XD hahahah~
So, that's that for this post. Hope everyone's doing well... Imma try to do some work before it becomes beer o'clock for me XD Have a great weekend ahead, friends <3 <3 <3 !!!
PS. Still got like FOUR days to enter the @archdruid contest, people! The prizes are really delicious, too (look for more information below), so please consider entering :D :D :D!!!

GAMING
EXCITING NEWS!
From the #gaming side, @archdruid has launched the FINAL round for the themed contests: THE PRESENT!!!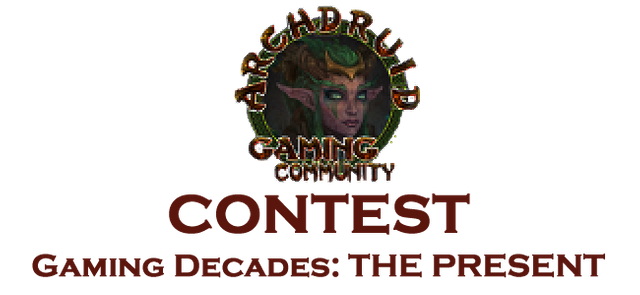 As promised, the prize pool has been BOOSTED!!! It was usually 30 Steems per round, but I decided to put it up to 42 Steems for the FINALE, and then.... the amazing @geekgirl decided that she will personally put 42 Steems out of her own pockets to double the prizes, so I am very pleased to announce that...
THE TOTAL PRIZE POOL WILL BE 84 STEEMS !!!
Prizes' structure:
First Prize (x1): 26 STEEMs
Runner Ups (x2): 14 STEEMs for each winner
Honorable Mentions (x5): 6 STEEMs for each winner
DELICIOUS PRIZES * ___ * !!!
I hope to see a lot of entries <3 Let's celebrate the CURRENT DECADE in #GAMING and make the FINAL ROUND a great BOSS BATTLE ?????!!!!!! \o/
(PS. a lot of people and curators are also paying attention to these contests, and there's always one, two, or a few entries that have been picked up by Curie or OCD curators in the past :D! Not guaranteeing anything, just pointing out a historical fact :D)
That's it for this post :D

Artists' Highlights with C2
On another note, please check out this article that I wrote for the @c-squared's Artists' Highlights a few days ago :) Please check it out! I am featuring TWO artists at a time, and the tenth pair is: @longer and @znkd :D
Log
Issue 1: @Arrr and @thilah
Issue 2: @EdgarUVM and @Zsolt.Vidak
Issue 3: @chrisdyer and @sanderjansenart
Issue 4: @elenasteem and @patschwork
Issue 5: @nyarlathotep and @carlgnash
Issue 6: @mikkolyytinen and @nekromarinist
Issue 7: @azbeen and @barbara-orenya
Issue 8: @rachelsvparry and @jankasparec
Issue 9: @armandosodano and @shibasaki
Issue 10: @longer and @znkd
copyright @veryspider. all rights reserved.
(that means DO NOT USE unless you got my say so in writing!)

To all of you artists out here at Steemit! Hello~ If you ever are lost and lonesome, please join Steem Artists at our discord chat: https://discord.gg/ENN8KCb

We network with fellow artists here on Steemit and we help each other succeed :) Come and say hi~ ^ __ ^






curator for OCD, curie, and c-squared (and c-cubed), helpie, archdruid and akibasteem