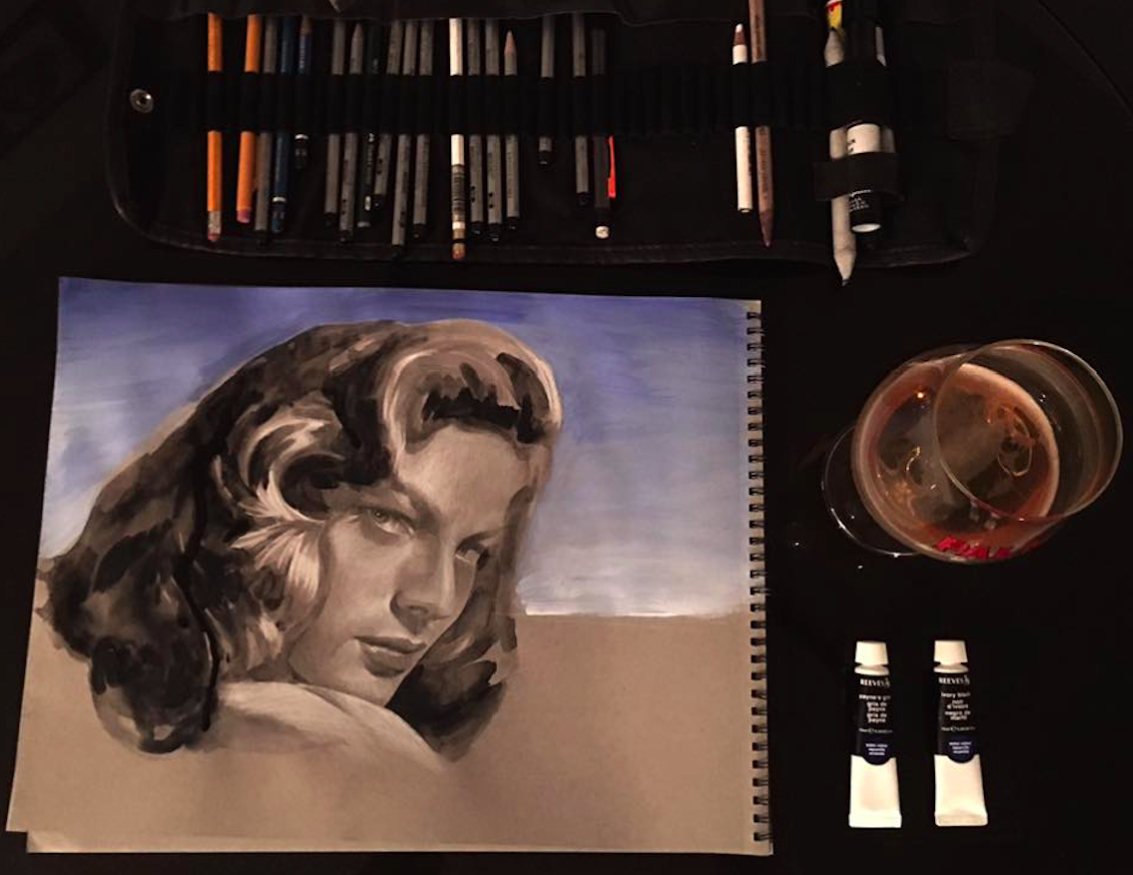 Here's a quick mixed media piece that I completed one night a little while ago. Lately I've been drawing inspiration from 1920s-1960s. Something about the ambiguity of poor camera equipment really speaks to me. It's like somehow despite all odds, the beauty of early actresses (and actors alike) transcends their surroundings and really strikes the viewer. I feel this aspect of film is too few and far between. Anyways, I'll go into my supplies and brief synopsis of techniques for my artsy fartsies. PS: it always helps to accompany some late night drawing with a nice hop-filled IPA (this time it's Lagunitas).
✏ Lately I've been working a lot of my realism drawings on Toned Gray Sketch Paper. It's not the highest quality but it's good enough and is really fantastic when you're looking to pop with some subtle (or not so subtle) highlights. I like to work with a combination of drafting pencils, and once in a while even just a nice classic mechanical pencil (to get to reeeeal fine areas).
✏ Now here's the fun part and where that handy IPA will help guide you along and say it with me now: crosshatching, crosshatching, crosshatching. Your best lover and your worst nightmare all in one. The fragility of building and building tones, the tediousness worse than the classic "watching paint dry". However, get your hands used to the motions and the payoff truly shows in your work.
✏Hair is probably most artists' least favorite venture about working on a portrait, so my technique? The wondrous world of watercolor. I truly enjoy its almost "sloppy" feel, while being truly organic.
In this certain piece I threw in a simple gradient background with thirty nine cent craft Acrylic paint. Backgrounds shouldn't ever really be too detailed (or focused for that matter), so I truly enjoy just laying down colors wherever, however, and just feeling free with it.
✏Now the most satisfying of all: those highlights. I prefer to use a nice and simple White Prismacolor Pencil and just lay it where it goes, as simple as that.
✒ I'd really love to hear what inspires you all! I'm always looking for inspiration and love to know what makes people move!
✒Let me know what you think of my first post. Likes, dislikes? What would you like to know more of?
PS: Whoever's "inspiration" strikes me may just be one of my future posts. I see a time lapse coming soon!