In every fruit bearing plant, there is a newly bloom flower. Just like these plants, it can be compared to someone's journey. A fruit of sacrifices and a flower of experience. Since the day that we faced our different journeys in life, we give hardworks and put efforts on it to have a great satisfaction outcome.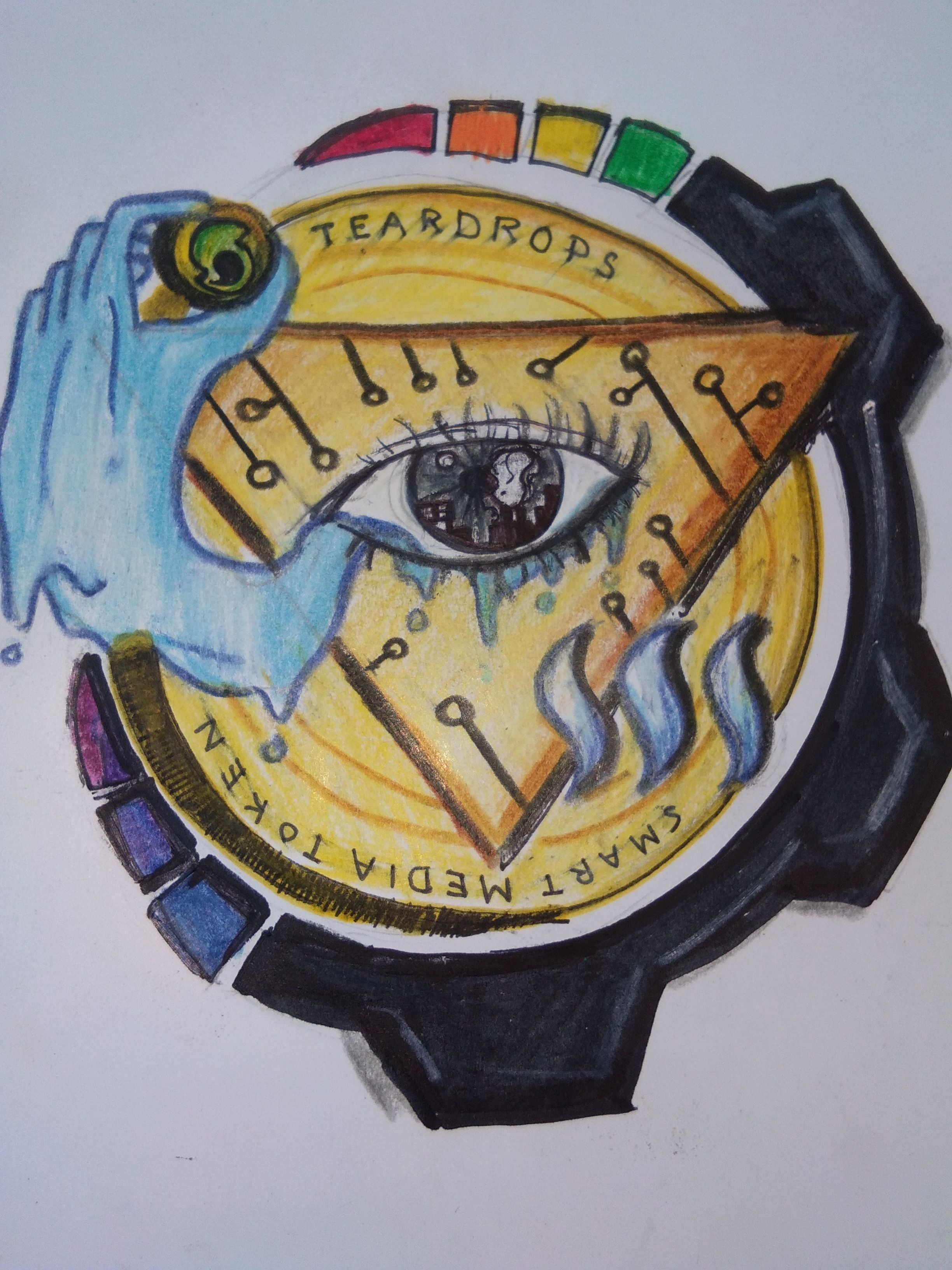 Mr. Terry or also known as @surpassinggoogle is a very known person in this community. He is a great motivator to every young bloggers in steemit. His name "surpassing google" really surpasses google. By his kindness, hardship and empathy to other individuals especially to me, made me realized that he hand over what google cant hand.
As an influential and helpful citizen in this community, Mr @surpassinggoogle or Sir Terry/SG made a project entitled TEARDROPS.
Teardrops is an imaginary smart media token (SMT) that gives bounty or award to those people who shared their stories behind their success.
A drops of tears means a lot; tears of joy, tears of sufferings, tears of sadness, tears of loneliness and many more. Behind that tears, a story was made as it drops.
The meaning behind the concept and each symbol that comprises it.
This drawing has many symbols and in every symbol has its own meaning comprises to it.
• The eye.
The eye is where the the tears start because every drop of tears has a story behind it and as you look closer to the eye, you may see a building and infrastructure. It symbolizes that the different experience of every citizen, there is an equivalent bounty for it.
• The tears.
As you can see on my drawing, a tear is forming a hand is holding a coin with a golden logo of steemit. A tears is the sacrifices and struggles we faced and had cried for million times.
• The coins.
In my drawing, you can see two coins, the one that the tear is holding and the one that is used as a main background. The background coin symbolized the smart media token and the other coin that the tear is holding is the bounty that we can gathered in steemit.
• The inverted triangle with a schematic diagrams.
A triangle and an eye can be symbolized as an Illuminati but, it is not an illuminati beacuse it is inverted and this prove that in all our hardworks to achieved our dreams is not an evil purpose, that is why it is inverted. The schematic diagrams symbolizes the modern technology in our modern society.
• The seven colours of raindow.
Seven different colours of rainbow symbolizes the seven continents in the world that comprises the different countries. The rainbow has different contrast colours that is why I used it because all continents has its different state of living.
• The gear.
The gear at the right is where the seven colors of the rainbow meets. It symbolizes the unity of every countries.
Thank you everyone and Godbless
Please give your support and encouragement as a witness to Mr @surpassinggoogle! Thank you 😊
GREAT DAY AHEAD STEEMIANS!