An epic victory that no one knew about. The final\ Ein epischer Sieg, von dem niemand wusste. Der letzte Teil
Hello, my friends!
New story of a pig Svinni.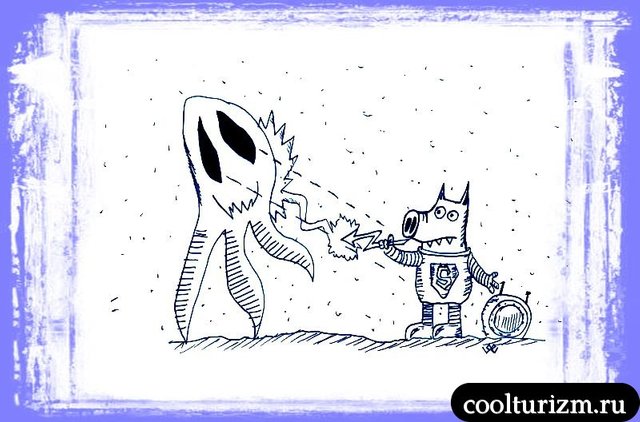 So Svinni got in where he shouldn't. The piglet stuck his nose into the pyramid at the bottom of the Atlantic Ocean. No, this was not the mysterious sunken Atlantis of shaggy legends. Because Atlantis was accidentally flooded by the pig himself. Oops!
Creatures with long-forgotten names began to hypnotize the pig, trying to make Svinni an obedient slave. They even tried to give him a quar code, but they broke off because the pig did not have a smartphone. The ungrateful pig turned out to be too thick-skinned and only scratched the skin where the beam hit. Or maybe the spacesuit helped. Such overalls are capable of a lot!
The creatures joined forces and began to process the pig with the whole crowd. As many as sparks fell from their eyes (from their eyes, not from the eyes of Svinni). And Svinni got tired of this disgrace and he reached into his pocket. The pocket contained electric lightning from murky space monsters. A very powerful weapon, it works even under water. In fact, there is no electricity there at all, the piglet calls these lightning so for at least some understanding of the process. The strange creatures could not find any arguments against electric lightning and were incinerated. Oops again! Greta's hysterical face appeared in the face of the pig, screaming that the rights of alien creatures should not be violated, one needs to be more tolerant. But the pig brushed aside these hallucinations clearly inspired by aliens. And the pig also destroyed all these strange devices. Just in case. Just let the scientists get their hands on the deadly toys, they will quickly blow up the whole world with the help of the military. And then they will cry in their last minutes that they just tried for the sake of science. And at the same time Svinni destroyed the pyramid too. There was some equipment in the bathyscaphe for such things, you never know who you will meet under water. Even Cthulhu is afraid to swim in some underwater areas. Water covers 2/3 of the planet and no one knows what is going on there in the secluded corners of the underwater kingdom.
Now the bottom is quiet and boring.
P.S. The hypnotic ray is no longer there, but people still behave strangely and inadequately. It turned out that the ray was not in the business at all. People themselves are the blacksmiths of their misfortune.
Oops again!

Also kam Svinni dort rein, wo er nicht sollte. Das Ferkel steckte seine Nase in die Pyramide am Grund des Atlantischen Ozeans. Nein, dies war nicht das mysteriöse versunkene Atlantis der zotteligen Legenden. Denn Atlantis wurde versehentlich vom Schwein selbst überflutet. Hoppla!
Kreaturen mit längst vergessenen Namen begannen das Schwein zu hypnotisieren und versuchten, Svinni zu einem gehorsamen Sklaven zu machen. Sie versuchten sogar, ihm einen Quar-Code zu geben, aber sie brachen ab, weil das Schwein kein Smartphone hatte. Das undankbare Schwein erwies sich als zu dickhäutig und kratzte sich nur dort, wo der Strahl traf. Oder vielleicht hat der Raumanzug geholfen. Solche Overalls können viel!
Die Kreaturen schlossen sich zusammen und begannen mit der ganzen Menge das Schwein zu verarbeiten. So viele wie Funken aus ihren Augen fielen (aus ihren Augen, nicht aus den Augen von Svinni). Und Svinni wurde dieser Schande überdrüssig und griff in seine Tasche. Die Tasche enthielt elektrische Blitze von düsteren Weltraummonstern. Eine sehr mächtige Waffe, die sogar unter Wasser funktioniert. Tatsächlich gibt es dort überhaupt keinen Strom, das Ferkel nennt diese Blitze so, um zumindest den Vorgang zu verstehen. Die seltsamen Kreaturen konnten keine Argumente gegen elektrische Blitze finden und wurden verbrannt. Ups wieder! Gretas hysterisches Gesicht tauchte im Gesicht des Schweins auf und schrie, dass die Rechte der außerirdischen Kreaturen nicht verletzt werden sollten, man müsse toleranter sein. Aber das Schwein wischte diese Halluzinationen beiseite, die eindeutig von Außerirdischen inspiriert waren. Und das Schwein hat auch all diese seltsamen Geräte zerstört. Nur für den Fall. Lassen Sie einfach die Wissenschaftler die tödlichen Spielzeuge in die Hände bekommen, sie werden mit Hilfe des Militärs schnell die ganze Welt in die Luft jagen. Und dann werden sie in ihren letzten Minuten weinen, die sie nur um der Wissenschaft willen versucht haben. Und gleichzeitig zerstörte Svinni auch die Pyramide. Für solche Dinge gab es im Bathyscaphe einige Ausrüstung, man weiß nie, wen man unter Wasser trifft. Sogar Cthulhu hat Angst, in einigen Unterwassergebieten zu schwimmen. Wasser bedeckt 2/3 des Planeten und niemand weiß, was dort in den abgelegenen Ecken des Unterwasserreichs vor sich geht.
Jetzt ist der Boden ruhig und langweilig.
PS Es gibt keinen hypnotischen Strahl mehr, aber die Menschen verhalten sich immer noch seltsam und unangemessen. Es stellte sich heraus, dass der Strahl überhaupt nicht im Geschäft war. Die Menschen selbst sind die Schmiede ihres Unglücks.
Ups wieder!