A few days ago I a came across another cool mural. This time it is nowhere near where I live, but in the historic city-center of Mexico City. The exact location is the small and unassuming Calle Regina (between Mesones and San Jerónimo, and just off the corner from the major street Isabel la Catolica), which has been declared a pedestrian-only street. As such it offers a welcome relief from the noisy and dirty motorist traffic that dominates most other streets. Apart from the typical cafes and ice-cream shops that flourish in these pedestrian environments, this street has another neat attraction to offer: a mural of the Burrón Family.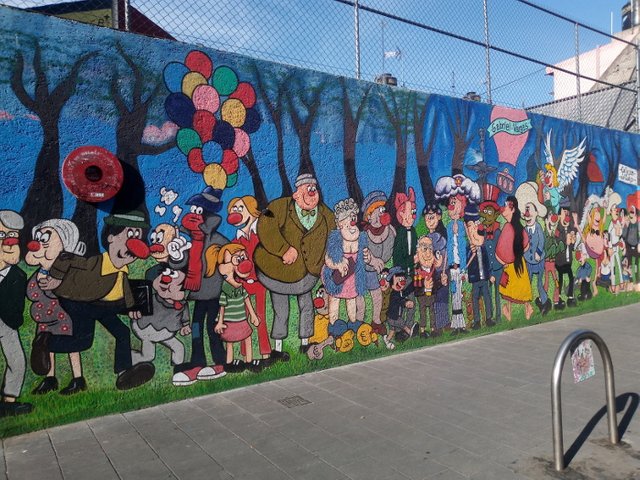 Iconic Cartoon Characters
Created by Gabriel Vargas in the 1940's, La Familia Burrón enjoys huge popularity among Mexicans of all ages. Portraying a typical family living in the Mexican capital, the Burrón family have come to represent what many people consider Mexicanness in all its multifaceted forms, including the resourcefulness and stupidity of its members. Quite similarly to The Simpsons, the stories and characters are so life-like that many people recognize themselves and each other in them, giving them a chance to laugh at themselves.
Both cartoons are also marked by a diverse number of characters who make regular appearances, thus weaving a multi-colored backdrop to every story. Another similar characteristic for both cartoons is that even though they spend years and even decades experiencing many turns in their world, all of the characters are timeless, always staying the same age. However, unlike their famous American counterparts, the Burróns appear exclusively in print media, and have been around for a good half a century longer than The Simpsons.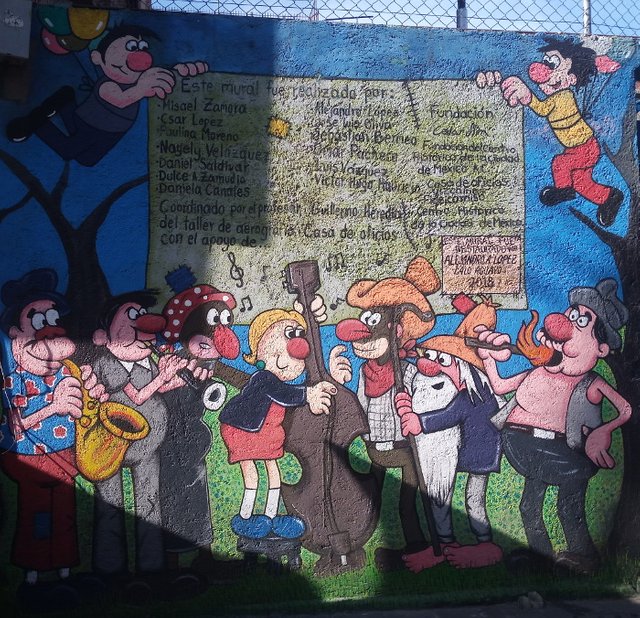 The wall the mural is painted on surrounds a so called "garden", which is supposedly a park, but due to its shortage of plants I'd say a playground is a much more appropriate designation. Right next to the entrance the mural shows a large list of names of individuals and organizations that contributed to realizing this project.
The mural is a take on another very famous Mexican mural, the Sueño de una Tarde Dominical en la Alameda Central (Dream of a Sunday Afternoon in the Alameda Central) by Diego Rivera. For those who are interested, the original can be seen in the Diego Rivera Museum, located only a few blocks away, next to the Alameda park.
If you liked this, check out my developing series on Mexican murals:  
Please check out these great communities I'm contributing to: 

#ecotrain | What is EcoTrain | Discord Community

#cyclefeed | Introducing CycleFeed | Discord Community

Join us on Discord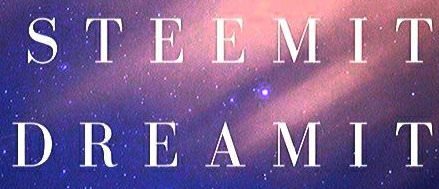 Introducing SteemitDreamit | Discord Community