I've always had a thing for ornamentation, the German language and magical crusaders. It's fun to find all three in one work of art.
The first thing to notice is the beautiful attention to detail on every part of the piece. Zoom in on the flag, the cape, the armor... every material has its own texture. The flag seems to have a gold stroke, the armor shines in beautiful yellows and cyans, and the cape, while seeming a bit faded, bulks up the usage of the color palette in a dynamic way that greatly improves the design.
This is something that new artists need to pay attention to as well. Something may be very beautifully done, but most of the time, elements need to be in the company of others so that they may complement each other. If this person were only armor and sword, with no flag or cape, it would be less balanced. The ornamental relief would not have been enough to hold the piece together over a soft background. Perhaps with another background, it would be another story.
The German text seems to say something along the lines of Sie wird kommen und Spring nach ihr führen, which Google Translate says would mean "She will come and lead spring after her", but Spring in German means "to jump" in English, and "Spring" in English is translated as Frühling to German, so either the author made a mistake or I'm reading it wrong.
The relief is beautiful and worthy of being studied. Circles, braids, flowers... wind on the breastplates, stars on the torso, crowns on parts of the leg. The armor on the legs is very tight, and the hands are too small, making me think that they may be a little exaggerated, but I wouldn't know, I'm not an expert in armor.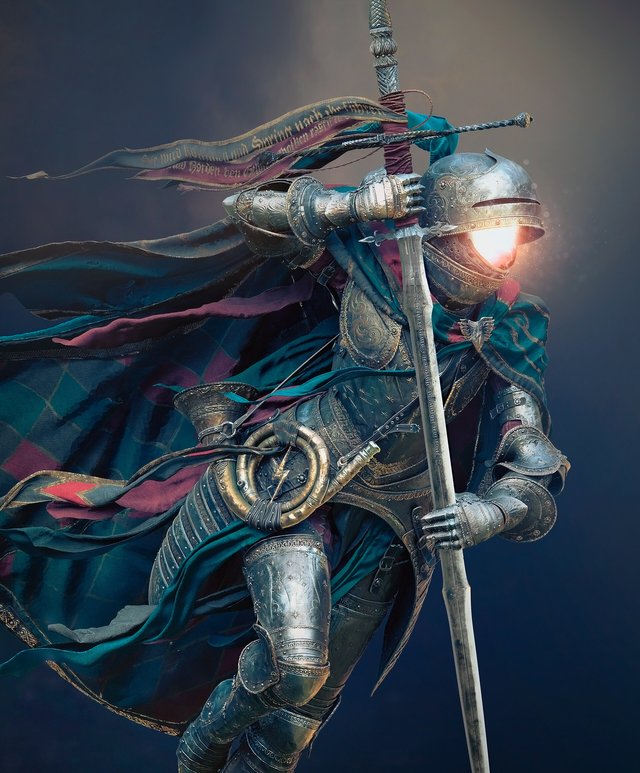 Work in progress — "Herald of the tempest" by Michael Black on Artstation